2009 Yorkshire Regional Championship - Championship Section retrospective
11-Mar-2009
The perennial dark horse of Yorkshire banding took the title on Sunday night. No one will under estimate Rothwell now then...
---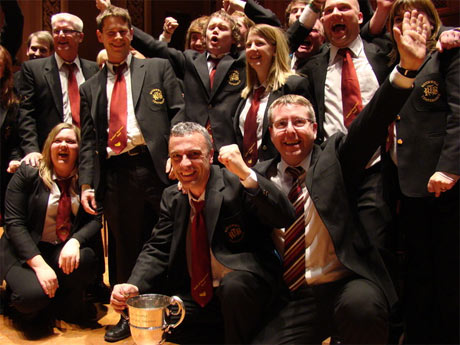 Time to celebrate: Rothwell enjoy that winning feeling ...again

No one will be under estimating Rothwell Temperance from now on.
After winning the Yorkshire Regional title for the first time in their history, the hard working, self supporting band from just outside Leeds has finally come of age.
It has taken them a while, because unlike others they have been more reticent than most when it comes to self-promotion and congratulatory hyperbole – despite a CV of contesting achievement many a rival would give a big chunk of sponsorship money for.
Honest

There is something honest, straight forward, respectful and decent about Rothwell in banding terms. You don't hear a lot about them week in week out between major contests, major signings are rare, high profile promotions rarer still. They come to contests well prepared, well drilled and invariably well under the radar of the likes of competitors, audiences and 4BR.
Time and time again though they produce performances that mirror those particular virtues too – borne of hard graft in the bandroom and a respect for the musical direction taken by their MD, Dave Roberts.
Bradford 2009 was no different.
The approach can sometimes work against the band both in and out of the adjudicators box.
Cloak of musicality

The lack of the more obvious theatricals from the MD and his players can give the impression of honest endeavour rather than dramatic inspiration, but it is cloak of musicality that invariably blinds the eyes of observers in the cheap seats of the hall rather than deafens the ears of the men in the adjudicators box.
4BR has not been alone in suffering musical myopia at the end of a Rothwell performance.
The harder I work

As the golfer Gary Player once retorted to a cynic who thought him unworthy of winning top honours, 'The harder I work the luckier I become…' – and not many work as hard at getting lucky as Rothwell.
A CV that now boasts a Masters title, Pontins and Swiss Open victories, a top six place at the National last year and now the Yorkshire Regional title, is one that is not borne of serendipity.
Variety of reasons

Here they took the title for a variety of reasons – all of which found a resonance in the enclosed world of the adjudicators box, if not the open kaleidoscopic free for all of the packed St George's Hall.
There were those who felt Rothwell were not in the hunt for the title, let alone a qualification place on the night (4BR included it must be said), but there were also just as many who had them right in the mix too.
The key to their success perhaps lay in the remarks given by judges Nigel Bodice and Steve Sykes before the announcement of the results. They talked of consistency and security, confidence, shape, tempi and dynamics.
Basic stuff really – especially at this level – but basic stuff that went AWOL with far too many performances on what was a somewhat disappointing contest evening.
Steve Sykes was right when he said that perhaps some bands felt this music was 'old hat', and had tried to reinvent 'Salute to Youth' in a way that lacked a certain respect for the subject matter.
Lost rather than won

Rothwell were victorious because too many of their rivals found ways of losing a contest that was there to be won.
Nothing wrong with that at all. It may not have been truly inspired, but it wasn't lucky either. It was just a job well done – very well done in the opinion of the two men that counted.
And that is all that counts at a brass band contest – the opinions of others can be brushed aside with good humour (and they were when the 4BR Editor came to offer his congratulations on stage). Rothwell will no longer be such a dark horse – a touch grey perhaps but never a high priced outsider – not now.
Conundrum

The contest started with one heck of a conundrum – Black Dyke.
Drawn number 1 the news had precipitated the type of rush for the doors usually reserved for the latest sale at the Bradford branch of Poundland. 15 minutes after the official start time, Dyke began the contest – and the questions as well as the eyebrows started to be raised.

It was undoubtedly a brilliantly played performance – despite nervousness in some solo lines. Nicholas Childs wanted to stamp his authority on the contest from the word go – and they certainly did that with the full cornet section playing the opening fanfare, followed by one heck of a tempo drop in the fifth bar that sounded as if the band had stalled.

It was also one heck of a move away from the specifics of the score, and as the performance unfolded with startling precision and ensemble clarity other little moments of individualism arose. A pulled back bar here, a separation of quaver pick up there, emboldened dynamic variances.
Benjamin Button

You were left both breathless and a touch bemused at the same time. Magical or misplaced you wondered? It felt like a brass band version of the film Benjamin Button – it was certainly born the right age of 47, but then getting progressively younger.
The audience loved it, but you suspected that after the remarks given by David Read at Blackpool, it was one that was either going to win by a huge margin or one that could come a cropper.
In the end the conundrum continued – 4th place. Even the result didn't tell us if they had done something brilliant or something bonkers either.
We had them as winners – so did many more, but you did wonder what the judges felt was actually wrong with it. With those many risks surely it was destined either for glory or glorious failure. 4th seemed a bit of a cop out.
Uncle Joes Mint Balls

With the audience all a glow as if they had just digested one of Uncle Joes Mint Balls for tea, Powerfuel Hatfield were next on stage.
This was a much more straight forward reading of the score from Graham O'Connor, true to the spirit of the Vinter inspiration. Solid, enjoyable - nothing much wrong in fact. We had them 6th, the judges 9th. They were a touch unlucky not to have come higher.
Running flush

Hepworth meanwhile delivered in spades – a full running flush in fact.
They also opted for the full fat delivery of the opening fanfare, but thereafter Ian Porthouse stayed very close to what was written on the score (despite a rather pointless draw back to end the piece).
In turn he was rewarded with some exceptionally fine solo playing (sop, euph – winning the 'Best Instrumentalist Prize' for James Fieldhouse, and solo cornet in particular) and a bass led sound that laid a foundation of balanced authority to match the rock solid ensemble work from the rest of the band.
It came as no surprise that it ended up where it did – fully deserved in fact.
Disappointing

Carlton Main was the other band that could relax before the contest. Qualification secured, they only had pride to play for – and that was badly dented by a wayward and somewhat lacksidasical performance under Russell Gary that occasionally thrilled, but all too often disappointed. 7th place could have been a lot worse.
Skelmanthorpe on the other hand played above themselves. Like his brother, John Roberts opts for the less theatrical approach to the baton business, and although the ultimate reward on this occasion went to his sibling, he will also have left Bradford glowing with satisfaction after he led his band into 6th place.
Like Rothwell this too was a performance full of solid merits, laid out with a musical intellect that respected the spirit of the Vinter score. It had its moments of unease here and there, but overall it was a commendable performance that held great encouragement for his young band.
Wheels off

The first band really to lose the contest rather than not win it was Brighouse & Rastrick.

This was heading for the top of the pile for two thirds of its duration – and then the wheels came off.
All of Garry Cutt's good work was blossoming in the opening two movements – secure ensemble, solid unpretentious soloists, a warmly balanced band sound, clear rhythms and respectful dynamics. Then it went peetong.
The final 'Relaxation' was anything but – scruffy and imprecise to start followed by the lyrical interlude that was mess, and a reprise that began with a bump start and ended with a whimper. Why it all ended this way was a mystery – it really was class up until that point. It gave the judges the easy option – and they took it by placing them 5th and out of the London running.
Solidity

Rothwell were next up, and the solidity of their playing was surely a major factor in them claiming victory.
The opening was properly delivered in terms of numbers and beefiness and the following fanfare and rhythmic motifs were neat and tidy. We made the note that this was 'armour plated' playing – not perhaps the prettiest thing aesthetically, but hard to ignore and immensely reliable.
The safe treatment of the 'Romance' was solid and unpretentious fare (the judges particularly liked the solo playing of James McCabe who won the solo prize), whilst they had plenty of stamina in reserve for a flowing 'Relaxation'.
It was as purposeful as a Geoffrey Boycott forward defensive stroke – not thrilling, but highly effective, and it resonated in many parts of the hall and certainly in the box. That is all that counts.
Jackson Pollack

Where Brighouse had lost the contest in the last third of 'Salute to Youth', Grimethorpe lost it by the end of the first.
Bold and at times certainly brilliant, it was a performance bedevilled by error and small slips. Allan Withington's interpretation was respectful yet vibrantly shaped, but this was no picture perfect Vermeer, more an occasional Jackson Pollack – all splashes of brilliant colour.
By the time they finally found their usual precision their moment had passed and even a quite breathtaking final movement wasn't enough – and they knew it.

Grimethorpe will return, but not at London, after they ended up in 3rd place.
Lull descended

After the almost cataclysmic efforts leading contenders had crashed against the harbour wall that was Vinter's masterful work, the inevitable lull descended.
Marsden were decent value for their 8th place after a well directed performance from Glyn Williams that had echoes of Fodens at Blackpool and what Brighouse three bands earlier.
Just the occasional sense of fragility undermined them, but there was still enough quality around the stands to ensure they finished in a safe midfield berth.
Blow

Hammonds meanwhile were dealt the type of blow that will test their resolve to the full.
11th place following a performance that was rich in style and character (although it did contain it fair share of wobbly moments) seemed harsh.

Mike Kilroy was the pick of the euphonium players on his farewell appearance and Morgan Griffith's approach was admirably musical and emotive (his intensity at the end of the 'Romance' was palpable). That it didn't find favour in the box was a pity as there was enough evidence to suggest that it was perhaps worthy of a top six finish.
Not so, and the prospect of relegation to the First Section is a very real possibility.
Strange one

So too Yorkshire Imps, after a performance that strangely for one directed by Richard Evans, was so lifeless.
Perhaps it was the more deliberately chosen tempi (and the score does indicate a bottom line that modern tastes would find sluggish), but it never sounded resilient, romantic or relaxed – just hard graft. It came as little surprise that it ended up where it did.
Rounded off

What was overall a slightly disappointing contest was rounded off by Stannington, with a performance that was a little rough and ready around the edges, but had all the basics in the right place.
Derek Renshaw only asked of his troops what he knew they could deliver, and they did that on the stroke of 9.00pm to close the proceedings albeit on a slightly underwhelming note.
Results left

All that was left was the result – and after a brief interlude for the speeches the 2009 Yorkshire Area fell into place with its usual gasps of astonishment from the packed hall.
First came Skelmanthorpe, then Brighouse. More gasps as Dyke were announced in fourth and Grimethorpe in third, and then the murmurs as people tried to work out who would be going to London.

In the end it was Hepworth and then an absolutely delighted Rothwell. No Grimethorpe or Brighouse, but two of the new breed of Yorkshire bands that have been knocking on the door now for some time.
Not even 4BR will be underestimating either of their chances come the Royal Albert Hall in October.
Iwan Fox