2009 Yorkshire Regional Championship - First Section retrospective
11-Mar-2009
There was a sense of Law and order about Wakefield Metropolitan's win in the First Section...
---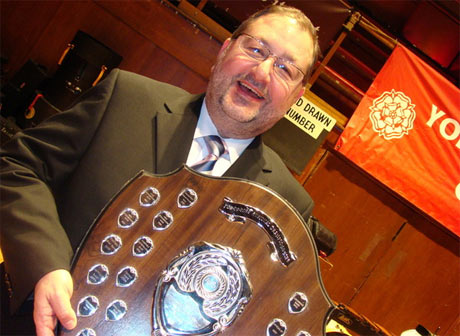 Law and order: Norman Law leads the Metropolitan branch of Wakefield to the title

With Gordon Brown's visit to the USA, the attack on the Sri Lankan cricket team, the announcement of quantitative-easing and Gail Trimble and her student team being stripped of its University Challenge title, the news that Manchester Grammar School is to introduce the International GCSE (iGCSE) into its curriculum didn't quite have the impact in the National news as it may have done.
iGCSE is a rigorous assessment of a student's knowledge and understanding of the subject – and given the rigours of Graham Cole's 'Pentacle' set work, one thing is for certain – it would have come in handy here to sort out the bands in an order for Harrogate qualification.
Clever piece

This clever piece of writing is testing the bands to their limits – and in many cases, beyond.
The North West area faired pretty well, whilst those at St George's Hall on Saturday found it the most taxing of pieces to perform.
Indication

The First Section in Yorkshire has tended to be extremely competitive in the past – and it was once again – although the overall standard of playing wasn't really an indication of a set of bands that are ready for promotion to the Championship Section. This was a slightly disappointing contest.
'Pentacle' was just about in the grasp of the best couple of bands here, three at the most – but in a field of 12 that rather defeats the object of the contest in the first place.
The composer, Graham Cole gave an excellent assessment of what he'd heard prior to the comments from judges Malcolm Brownbill and Colin Hardy, and made a number of cleverly oblique comments that were diplomacy personified.
Generous

Colin Hardy and Malcolm too were generous in their public assessments, but you felt that they too were being diplomatic in their remarks, which were very generalised.
As with the North West Region it was sections two and four of the test piece that had a major influence in dividing the bands – in simple terms some found the music and brought it to the fore, others not.
A number of bands took the opening a little too quick with the result that the detail didn't always come across, whilst the Fire section required a courageous sense of adventure and daring approach to the descriptive music which too many opted out of.
Commended

The bands and MDs though have to be commended for their efforts. In educational speak, the top bands passed this examination with distinction, a few came out with merit, whilst most others scraped a pass.
It will be Wakefield Metropolitan who will make their second appearance in three years at Harrogate after a barnstorming performance.
Norman Law literally inspired his troops into producing their best when it really mattered in a performance that benefited from musical insight from the middle and utilised a common sense approach to the tempos in relation to the acoustic of the hall.
It was confident and spirited playing from start to finish, razor sharp, atmospheric and delightful to listen to. They were clear and deserved winners.
Confidence

Talking of confidence, there was no shortage of it in Hade Edge's performance.
Simon Wood's young band played without fear or trepidation, a real reflection of the MDs insouciant appearance. It was clear that he'd left no musical stone unturned, and the playing was tight, clean and effective (the blips were so minute they didn't take the edge of anything) whilst their soprano player Michael May was in cracking form to take the solo prize.
What was really impressive though was the intensity of concentration from start to finish with some notable percussion contributions from the young timpanist (complete with red streak in his hair) who was simply terrific.
Dividing line

If the West Yorkshire outfit hadn't qualified, they would have gone home aggrieved, but in truth but there wasn't too much of a dividing line between them and third placed Drighlington.
MD Kevin Belcher asked only what he knew his band could deliver - at times pulling back the tempo to allow the detail to come through without detracting from the musical picture. They put aside any uncertainties and by its conclusion they must have known they couldn't have really done anything more to try and gain a qualification place.
Gods

The gods smiled on Meltham and Meltham Mills at the draw, and the perennial contest openers could relax for an hour or so after they were drawn number seven.
Although they eventually took a little time to settle theirs was a performance that brought out a lot of the detail with some excellent dynamics. Just a few too many scrappy ensemble moments possibly cost them in the end – they were close to producing a very good account though
Safe rather than sorry

Fifth spot went to Miles Davison's Stocksbridge. The ensemble and percussion playing was particularly good with lots of dynamic contrasts, but overall it lacked that sense of musicality that the top two bands in particular brought out of the score. Safe rather than sorry, it deserved its final placing.
Away from the top five, the standard started to fall away, with many of the bands struggling to produce a consistent performance across all of the movements.
Dug deep

Old Silkstone was one - never sounding at home with the music. That said, they dug deep and found just enough form from within to finish in sixth place. The uncertainties around the stand seemed to be transmitted to Alan Exley in the middle, and the two were not on the same wavelength at times.
Hebden Bridge also gave a fully committed, no holds barred performance under MD, Dennis Hadfield, despite only having three basses.
They started off well but a poor second section knocked their progress off track and although they recovered somewhat to end, the damage had been done and they had to be content with 7th place.
Kelly's Eye

Neil Jowett's Lindley drew Kelly's Eye and they never settled off the number 1 draw until it was far too late in the day to make any serious impact on the overall results. It was as if they knew their chances of success were blown before they blew a note.
It was much the same too for Knottingley, and whilst there was a clear effort to try and draw the music from the score from Dr Owen Wedgewood, it was all too fragile and error strewn to have made any more of an impact than it did.
Well intentioned

Slaithwaite too – plenty of well intentioned effort, some notable individual moments of excellence and the sense of musicality trying to be sought, but the technicalities were never matched to the same extent and 10th place was an understandable return.
Yorkshire Co-op meanwhile produced a real old mix and match performance that was full of a host of ideas – few of which sounded as if they were ever in danger of really coming off.
Nerves and silly mistakes bedevilled a performance from a band that has enjoyed many a better day here at this contest over the years.
Evaporated

Finally, Cornerstone Brass, and a band that must have gone into the contest with plenty of confidence, especially after their fine display at Butlins.
All that evaporated though just about from the world go, with a litany of unforced errors, sloppy ensemble work and lack of balance that was a country mile away from the playing we heard in Skegness.
Coming last would have come as a bit of a shock for sure, but in truth, this was a performance that never got started. It was a hard old debut, but they will be back we are sure.
Crackers

Two cracking performances won through on the day – and deservedly so. Both Wakefield and Hade Edge had the stamp of championship quality about them and Colin Hardy and Mal Brownbill recognised it too.
After them though it was a bit harder to be as enthused about what you had just heard – listening to 10 bands of such variance at this level is a concern.
A difficult set work has certainly sorted the best from the rest, but 'Pentacle' isn't that hard a test piece for bands with real championship credentials – and Wakefield in particular proved that.
Malcolm Wood