2009 Yorkshire Regional Championship - Third Section retrospective
11-Mar-2009
An enjoyable affair in the Third Section, where a young band from Garforth became once and possibly future champions...
---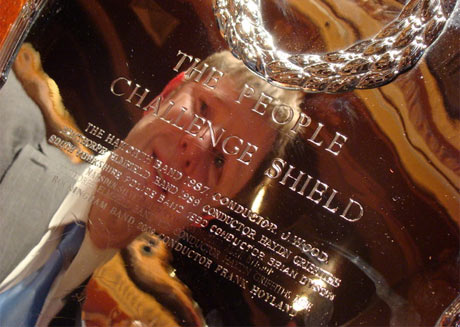 Garforth reflection: Steven Bailey checks his winning smile...

The opening contest of the Yorkshire weekend proved to be an enjoyable affair where the cream of the bands rose to the top.
This was also one contest where there must have been almost universal approval of the judge's decision too – Simone Rebello and Ian Brownbill picking the two outstanding performances and putting them through to Harrogate.
Best bands

They did have their work cut out lower down the results table for sure, but when it came to Garforth and Crofton Silver, there was little doubt that the two best bands had shown the form that deservedly booked their trip north in September.
Talking of judges however, the composer Andrew Baker made a pretty good impression of one prior to the announcement of the results.
Clever chap

His detailed analysis of his work revealed just what he wanted to hear – and all you were waiting for was for him to tell you what the bands did wrong! Thankfully he was very enthusiastic and complimentary and didn't give the game away. Clever chap though.
Both judges spoke warmly in appreciation of the piece and of the band's efforts in tackling it. Simone was particularly looking to see if the music came to light especially in the second movement, and being an accomplished percussionist she appreciated the efforts from her colleagues, who enhanced just about every performance on the day.
Spot on

Ian Brownbill meanwhile was spot on with his analysis too – making sure the audience was left in no doubt of what he and Simone were looking for in terms of style, tempi, dynamics and musicality.
Both Ian and Simone are musicians of the highest calibre, who we should be seeing at a higher level more often. There is a fresh perceptiveness about how they go about their work.

Garforth conducted by Steven Bailey were excellent value for their victory.
Their bold approach was obvious from the start with half the band standing up to playing the opening themes. It certainly paid dividends and with continued excellence in the internal balances, clean rhythms, solid soloists and secure ensemble it was soon clear this was going to be a performance to savour. It was – and it got its just reward.
Early marker

Crofton Silver conducted by Tim Sidwell (and what a weekend for him as he was in the Hepworth ranks on Sunday too) set the marker from their early number 3 draw.
Theirs was a performance of real confidence, solid playing, a great stylistic approach and cracking solo playing that nailed their qualification place. Ex Pennine Brass soprano Mark Wears, showed his class in taking the solo award and his fellow colleagues were not too far behind either. At most other areas this one would have picked up the top prize.
Unlucky

Garry Hallas can count himself a tad unlucky that he came up against two such fine performances to beat Emley.
They rounded off the contest in fine style with a performance rich in character, solid basic values and a real touch of swagger in the final movement. Just the odd moment of uncertainty in the middle section cost them on this occasion, but it was a very effective and encouraging performance nonetheless.
Good account

Another band that gave a good account of themselves was Gawthorpe, directed by Stephen Bradnum off the number 1 draw.
They got chance to tune their ears to the acoustic courtesy of the National Anthem and they settled well, and although there were times when not everything went according to plan (the 2nd movement had a few odd spots) they persevered and finished a deserved 4th.
Started well

David Ashworth and Wetherby & District Silver started so well, but just when it seemed that something very nice was developing, the second movement killed off their chances of coming any higher than their eventual 5th place. They did recover to finish in style, but the damage had been done.
Lofthouse 2000 had come up from the Fourth Section this year and was terrific value for their enthusiastic performance that brought them 6th spot.
This is a band that is a mixture of youth and experience and MD Andrew Whitaker they can be proud of their performance, which never wavered in concentration from beginning to end. It did of course have its moments when not everything went to plan, but the amount of potential here was frightening – especially as there seemed to be not the slightest inkling of nerves!

Challenges

Ian Brownbill had pointed out that one of the biggest challenges for the bands was to marry the basics of the piece with the need to try and show musicality in the styles required in the composer's writing.
That was the difference in the end between the bands that got a mention off the stage and those who didn't – although many of those who didn't produced solid accounts of considerable merit.
Gawthorpe Brass '85 just suffered with a few too many noticeable errors in solo and ensemble lines that robbed their persuasive musical picture unfolding with the promise it showed at its start, whilst Skelmanthorpe 'B' and Philip Garlick can be proud of their first effort since their promotion with a performance rich in character and style, but just a little too error prone to have come any higher.
Best sound

Meanwhile, Captain Gary Clegg's West Yorkshire Police found its feet after a bit of a dodgy start, but when they did they produced a lot of quality playing and perhaps the best ensemble sound of the day.
Having come down from the Second Section, Chapeltown would have been looking to give a strong performance in the hope of making a swift return, but with scrappy ensemble playing and a few nervy solo lines and it just was never meant to be.
Not to form

The two bands that eventually did finish in the bottom two places had days when they just didn't play to form.
Barnsley Metropolitan didn't start well and took time to recover their poise and solidity. When they did it sounded fine, but an overall lack of consistency put paid to any chances of them coming higher. There was promise there though – even if it was in glimpses.
So too Oughtibridge. A lack of general consistency meant they were always playing catch up with the piece, and although they too had those glimpses when their true potential shone through, it wasn't going to be enough to lift them any higher.

Enjoyable

Overall though it was an enjoyable contest – varied in standard from top to bottom, but with all the bands bringing something to the contesting table.
The two best though enjoyed themselves enormously and will be confident of more success come Harrogate. Both are fine bands in the making, and that can only be good for Yorkshire banding.
Malcolm Wood