2009 Yorkshire Regional Championship - Fourth Section retrospective
11-Mar-2009
A decade is a long time in banding - but well worth the wait for Maltby Miners Welfare.
---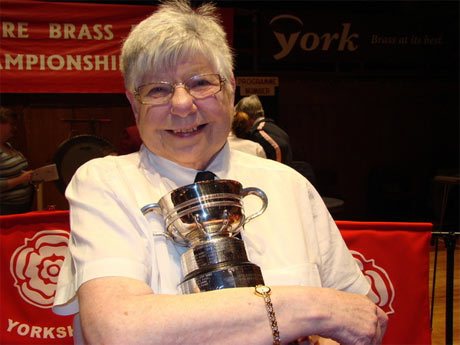 Not letting go! Maltby Miners make it a decade to remember...

As with Blackpool so too Bradford.
Despite composer Frank Hughes delightful pre results speech, the excellent efforts of all the nine competing bands and their conductors, 'The Talisman' once again proved to be a wholly misplaced musical test for the Fourth Section.
Plenty to ponder

Alan Hope from the Music Panel was in attendance during the contest, and he must have known that what he was hearing was not hard working bands playing poorly, but hard working bands trying bravely to play a test piece that was beyond their capabilities.
He will have gone away with plenty to ponder. Yorkshire cannot afford to lose any more bands from its foundation. Seven out of the nine bands were short of players in some shape or form.
Ponderous and flabby

At the risk of repeating ourselves again – the piece is totally inappropriate for bands at this level. As we said at Blackpool - in its original quartet format it is a fine piece, but expanded and plumped up for full ensemble it has become ponderous and flabby. It is cleverly scored without a doubt, but scored inappropriately for this level of performer.
Even after just two weekends of listening to the piece, it has been a demoralising experience hearing bands in need of a musical boost having to plough through a piece that offers so little in return. You can bet this one will soon be covered in dust at the back of the librarian's cupboard.
Little hope

Too often players were faced with parts they had little hope to perform with confidence, whilst conductors were faced with decisions of musicality versus practicality that King Solomon would have baulked at. It is hard to imagine the good playing folk of this county, famed for its cussedness and determination, enjoying rehearsing it.
That said, those fine virtues came in handy – some of the determined efforts from young players in particular were worthy of the highest praise, whilst the conductors all emerged with credit after juggling their resources better than a Bradford single parent on Income Support. It shouldn't have been like this though.
Not to be beaten

In the end it was Maltby Miners Welfare that set their stall out from the number 1 draw and were not to be beaten.
10 years after they last won here, they did it again to book their passage to Harrogate. No wonder their MD, Terry Clifford, told 4BR that he hoped that there would be a slightly easier test piece waiting for them there. A band on the up, Maltby worked hard from the start.
A nice light feel to the opening 'Prelude' was followed by a darker, more melancholic 'Nocturne', which had strengths and weaknesses. The 'Scherzo' was a little edge of the seat stuff (with a fine young soprano player a feature), but a well chosen tempo made sure that it was rhythmically secure right to the end, where the band retained admirable stamina.
Pushing all the way

Pushing them all the way was Thurcroft Welfare, another band that put a long wait behind them to gain a trip north to Harrogate.
Decked out in Brighouse purple and with three hard working solo cornets playing their hearts out from start to finish, this was a strong performance; bright and breezy to open, more tentative in the 'Nocturne', and resolute in the 'Scherzo'.
The band had a tremendous young girl on percussion (and fine euphonium Kieren Williams who took the solo prize), playing just about everything that came to hand, and whilst the overall ensemble playing was slightly scrappy, it did have a sense of style - the benefit of sensible tempos and dynamics chosen by MD Ken Vernon.
Four from four

For the judges David Horsfield and Roy Roe, the best four performances came with the first four bands, and it was Linthwaite off the number 2 draw that just missed out on a trip to the finals.
A slightly odd band set up may have actually helped them on this occasion; 5 basses and the timpani behind the sop chair.
That percussion section helped the band retain rhythmic pulse in the upbeat 'Prelude', and whilst the 'Nocturne' was uneasy with a few nervous moments, the 'Scherzo' was bright, and once again, well driven by the excellent percussion.
Unlucky

For 4BR, Huddersfield & Ripponden could count themselves a little unlucky that they didn't make it through to the finals.
A full compliment of players around the stand produced a fine, warmly balanced sound, topped by an excellent young solo cornet player. This was also well directed by Tony Jaeger-Fozard, and a well shaped 'Nocturne' seemed to set them up nicely for the technical 'Prelude'.
That was a little scrappy, and whilst it did tire it retained its balance and warmth to the very end. We liked it, but the men in the box thought it worthy of just 4th spot. Unlucky.
Good old musical sense

Fifth place eventually went to Armthorpe Elmfield, directed with good old musical sense by the experienced Hayden Griffiths.
If that meant tempos on the slow side then so be it, but there was much to admire in the approach that tried to minimise the inherent weaknesses in the overall ensemble. The 'Nocturne' was a little strained in places and a tired 'Scherzo' just lacked flow, but it was a brave effort nonetheless.
Colourful

So too with Wilsden in sixth place.
Rounding off the contest, the debutants (who had the youngest player too in Jorden Deardon) produced a colourful performance that certainly didn't lack for confidence. There were scrappy moments and some understandable problems with tuning in the second section, but a bravura approach to the 'Scherzo' was certainly full of the appropriate vibrant life.
Grand job

Another MD to emerge with credit was Gavin Somerset, who did a grand job with Deepcar, despite the obvious problems encountered by his band trying to overcome the technicalities of the piece.
They had certainly come to make a mark – their white shirts seemed to have been dipped in extra strength 'Persil', and whilst some of the more complex writing saw them struggle, they had a super young girl on solo cornet, a neat euphonium and two cracking young lads on percussion.
There were a few older heads as well, and despite an errant baby opening its lungs in the last movement, they held form to put in an encouraging performance on a very difficult set work.
Admire

There was much to admire also in the other debutants, Worsbrough. Although the band did struggle in places, some well chosen tempos from MD John Hopkinson enabled them to get through each of the movements without too many nasty scrapes – although he did have to give some verbal encouragement and direction at times.
Another band with two excellent young percussionists, and with a young girl on solo cornet who was very nearly 100% perfect, this was a performance of real grit, determination and considerable debutant merit.
Medal for her efforts

That just left Carol Caton and the Friendly Band (Sowerby Bridge), who really does deserve a medal for her efforts, and a better test piece from the Music Panel for next year.
With players missing around the stand, the MD chose sensible tempos, juggled resources and made sure she made eye contact with all her charges. It was understandably nervous, but when they played as an ensemble they still produced a warm, balanced sound.
It did struggle to end, but congratulations to the all for battling it out. This was a fine effort, which needed the encouragement that a well chosen test piece would bring. This one wasn't.
Future?

If in future we are to hear more bands at this level, not less, then Alan Hope and the Music Panel will have to ensure that it takes note of what it heard in its heartland of Yorkshire. The admirable White Rose virtues of hard work, grit and determination will never be enough if works like this are not to erode the confidence of grass roots banding both here and all around the country.

Well done to Maltby and Thurcroft, and to all the competitors too. The Music Panel, please take note though.
Iwan Fox