2009 Midlands Regional Championship - Introduction and preview
9-Mar-2009
The days of over crowding, bad backs and dodgy burger vans are now long gone in the Midlands
---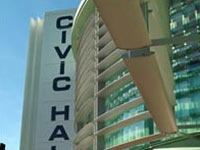 Despite its numbers, the Midlands Regional Championships used to be seen as something of the 'poor relation' of the Area family: A bit like a well meaning council house family – lots of kids and poor accomodation.
Not now they ain't.
Harry spankers

Since the move to the plush new surroundings in Bedworth things are on the up. The council have come up with a revamp on the housing front, and the Civic Centre and Nicholas Chamberlaine Technology College are brand 'harry spankers' – light and airy, plenty of comfy seating and excellent cooking facilties.
Gone are the days of the old Burton on Trent Town Hall, back breaking chairs and the old ramshackle burger van in the car park. Progress eh?
It means that 76 bands have a set of venues 'fit for purpose', and the hard working Midlands Regional Committee something that reflects the amazing amount of graft they put in too. This is one heck of an operation.
Doing OK

Midlands banding is doing OK for itself too. There is still a healthy turn out at local contests, the Butlins event in Skegness has been a major boost and the bands are putting in competitive, although not startling, performances at the majors.
Last year they provided one National winner in Wellington Telford at Harrogate, as well as five other top 10 finishers, although the Albert Hall qualifiers came a disappointing 10th and 19th.
In overall numbers the region has lost a few bands over the years (the peak was close to 100 at the end of the 1990's), but it still can boast a Fourth Section of 21 contenders and a Third of 15 this year.
Too many

A few notable names are missing though, such as Raunds Temperance, Audley, Creswell Colliery, Syston , Dunchurch and the students of University of Warwick (although their non appearance is due to a shift in term times rather than a decline in their membership), but it is nice to report Hucknall & Linby, Burbage Silver and Ceramic Brass all making a first appearance.
As with other regions there are still too many Championship bands – 13 is a ludicrous number, and whilst re-grading would put pressure on the other sections, the Area does need a stronger presence at the top contests such as London and the British Open than it does at the moment.
Still, we have got somewhere better to visit and enjoy a great weekend of banding…
Championship Section:
There should be a decent old contesting bash in the top section, with 13 bands battling it out for the two priceless tickets for the Albert Hall.
The area isn't having the best of times of it in Kensington of late - the last top six finish was back in 2004, whilst the last time the region sent an extra band to London was in 2001. The dulcet Black Country tones are not heard celebrating in 'The Goat' pub like they used to when Desford ruled the world 20 years ago.
Still, things could be worse.
There are more than handful of bands capable of taking this contest by the scruff of the neck and doing well at Kensington, and the likes of Desford, GUS, Pontins winners Sovereign etc can give anyone a run for their money if they hit top form.
Then you can't write off Staffs, Newstead, Thoresby, Ratby etc, etc… The more you look, the more interesting it becomes.
Derek Broadbent and Brian Buckley should have plenty to ponder over then on Sunday afternoon.
First Section:
There is a large well matched field of contenders in the First Section – 16 in fact, with 11 of them having either taken part at Pontins late last year, Butlins earlier this season, or the West Midlands Contest at Derby just a few weeks ago.
That should mean that any early season rust has been well and truly scraped off and a number will come to the Civic Hall stage confident of claiming the two qualification places on offer.
Last year the region sent three bands to Harrogate where they came 6th, 7th and 11th, so there is a high level of competition for certain. The region last had a National winner in 2006, and has produced four top six finishers in the last three years.
Brian Buckley and Derek Broadbent will have plenty to enjoy then – although the test piece has been causing quite a few problems so far at the regions. Lets see what the Midlanders make of the fives of 'Pentacle'.
Second Section:
The bands at this level are starting to show their true colourrs once again, and although this is the smallest field of the weekend, its promises a great deal.
11 well matched bands will have to impress Colin Hardy and Chris Wormald (both of whom were busy last weekend in Bradford) and with just four of the contenders not already having had an early season run out, there should be a few bands and supporters travelling with expectations of success.

Last year's qualifiers came 6th and 14th respectively at Harrogate, but the region has had three top six finishers in the last three years and last produced a National winner in 2004. Time for another one then…

Third Section:
The large field of 15 bands in the Third Section seem to be a well matched lot too – 9 of them have already had a contesting run out this season – some very succesfully too.
The region has a fine record to maintain at Harrogate also.
Last year Wellington Telford returned home as National Champions, whilst the students of Warwick came 5th and Matlock 18th. In seven of the last eight years a band from here has made it into the top six come the finals – including two winners, a runner up and two thirds. That's a record to be proud of in anyone's books.
The test piece is sorting the bands out, although it will be in the reach of the best here for certain. Colin Hardy and Chris Wormlad will have plenty to look forward too then.
Fourth Section:
Great to see a turn out of 21 bands in the Fourth Section – meaning three bands making it to the Finals.
What the bands will make of 'The Talisman' though is anyone's guess. It has been a very hard test of musical character indeed in both Blackpool and Bradford – and it may well take more than its fair share of casualties here too. Hopefully not too many.
Nice to see two newcomers making it to the stage this year in Burbage and Ceramic Brass, and we hope they enjoy the experience and want to come back again.
Last year's qualifiers came 3rd, 18th and 20th at Harrogate, so something to prove for whoever gets the nod this time around, and a first National winner since 2001 would be nice come September also. Fingers crossed then.