2009 West of England Regional Championship - Introduction and preview
9-Mar-2009
As always there is always a warm and friendly atmosphere down in Torquay - now all it needs a bit more headline contesting success...
---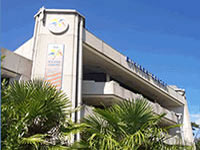 The West of England Championships is one of the most vibrant contest weekends around.
The region may not have enjoyed a National Championship success, but the lower sections are fertile breeding grounds for quality bands and players, who invariably go on to pick up a winners medal or two at Kensington..
Warm welcome

The welcome here is always warm and friendly and Brian Elliott and his team do a fine job in making sure things run smoothly at a venue which provides just about everythig you need under the one roof.
The main hall has a decent acoustic and is usually pretty full for the top section on the Sunday afternoon, and although the Arena does have its acoustic problems, the organisers make sure the tent is close enough to the action to pick up all that is going on.
Numbers wise

Numbers wise the area is holding up pretty well – up 2 in fact from 12 months ago.
It is a still a sadness that a band such as Bodmin, who won the title here in 1999 are unable to compete, whilst there is no Gosport, Torrington or Oakhampton this year in the lower sections.
That has been offset though be the great news that Bratton, St Breward, Torbay, Lostwithiel, Test Valley and Wilton Youth return.
You never quite know what expect at Torquay either – from the e-mail debate over last year's top section result, to 4BR seeing a percussionist playing the timps and a soprano at the same time in the Fourth Section a few years back!

It's all incredibly friendly and its a weekend where rivals meet for a good old drink and chin wag. If only all contests were like that.
Championship Section:
The curse remains in place. Not since 1996 has a band retained its top section title here, and it would be some achievement if Mount Charles was to do it this year.
Those looking for positives could suggest that having such a diverse set of potential victors shows just how well matched the bands are in this part of the country.
Those with a touch more cynicism in the veins may well retort that it is more to do with the fact that so many of them haven't really got the true stamp of championship section quality about them to retain a title that a truly top class band would hoover up year after year.
The truth is somewhere in between of course.
As with every other area, there are too many bands competing in the top section – 11 this year. Look at the results gained at London over the last 15 years.
One top six finish and just six other top ten finishers in 31 attempts. Last year, the qualifiers came 16th and 20th at the Albert. The last time 3 bands made it to Kensington was in 1994.
That said, it does make for a cracking contest, full of colour and controversy (last year was particulary rich in both) and with just the two qualification places up for grabs, there is so much to play for. It is no wonder that many of the more fancied outfits bring in outside help.
Will the curse remain in place come Sunday night? Will the region finally send two bands to London capable of posting top 10 finishes? Will the internet airwaves be crammed full of the vented spleens of disgruntled players after the results?
We suspect so, but you never know? A domestic battle between the likes of Mount Charles, Flowers, Woodfalls, Camborne and the rest wouldn't be the same without it.
First Section:
Unlike the Championship Section, this year's First Section has an authentic look about it. There are a host of bands that could win this contest in some style and then head for Harrogate confident of becoming the first West of England band to bring back the First Section National title.

A few have come close in the past and in the last couple of years the qualifiers have put up decent performances (8 out of the last 10 bands have made it into the top 10 come the results). Last year's qualifiers came 4th and 8th – solid returns in anyone's books.
'Pentacle' has already shown itself to be a stern test of musical character in the North West, but it also allowed the best bands to bring their quality to bear too – and there are a few here who could well do that and more.
The likes of St Austell, Otterbourne, Chalford, Lympstone, Poole and Portishead have all shown decent form of late, so Nigel Boddice and Alan Fernie may have a lot to think about in the Forum on Saturday.
Second Section:
The Second Section has been through a bit of a lull in the last couple of years, after the amazing rise of St Keverne and St Dennis saw the two bands take the regional title in fine style, win at Harrogate and move on swiftly to play in the top section.
That has meant that the contest has had to find its right level once more, and in the last two years the qualifiers have put in solid performances at Harrogate without suggesting they could return home with another National title.
Last year's bands came 8th and 13th, but there was a feeling that the overall regional standard was on the up (not just of one or two individual bands).
The test piece is proving to be both popular and taxing, but the quality bands should be able to find their way through its traps and push for a qualifcation spot. Then it is on to North Yorkshire.
Third Section:
Although the region hasn't produced a National Champion since Test Valley won in 1999, the bands that have qualified from Torquay have been posting solid returns at Harrogate in the past few years.
2nd and 9th last year was pretty good stuff, and only once since 1999 has the region failed to get at least one band in the top six. The bands that qualify have a proud record to maintain, but you feel they could well enhance it this year.
'The Once and Future King' is a fine work that is testing but not overtly punishing, so Paul Norley and Simone Rebello will have plenty to enjoy on Saturday morning.
As for a winner? A host of bands from Bream to Weston with plenty of stops in between should mean that the hall will be pretty full of listeners all day hoping not to miss the victors.
Fourth Section:
Always good to see a decent turn out in the Fourth Section, and although there are a few bands missing from last year, there are also quite a few returnees too.
'The Talisman' is a tough old ask of any band and there could well be quite a few strugglers. The piece is proving to be very difficult indeed, but the region should be able to cope better than most, as in the past few years they have produced a host of quality bands that have gone on to do well at Harrogate.
They haven't been able to return home with the National title since 2002, but at least one band has made it into the top six, and for the past two years all three qualifiers have ended up in the top 10.
That's a fine record, and you feel there are plenty of contenders who could well improve on that if they get the nod from the judges on Sunday morning.