2009 Welsh Regional Championship - Introduction and preview
9-Mar-2009
There is an argument for quality over quantity, but Wales is getting short on numbers…
---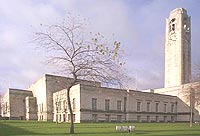 If it's a question of quality over quantity then Wales appears to have the answer: 40 bands, 1 European Champion, 2 National winners from Harrogate.
The problem is, it's the wrong answer to the right question.
Alarming rate

Wales is losing bands at an alarming rate of knots – nearly 20 since the turn of the Millennium in fact. If it carries on like this, the contest could be run on one day in Swansea and still have time for a break halfway through for everyone to watch Wales play in the 6 Nations. It is becoming a huge worry.
This year for instance there are only 7 bands in the Fourth Section – two years ago there were 15. Where have they all gone?
It's not just at the lowest level either, this year one of the most famous names inWelsh banding has failed to make it to the starting grid – Parc & Dare, 15 times a top section regional champion. Then there is Mid Rhondda too, and lesser, but equally as important bands such as Severn Tunnel, Blaenavon Concert, Cwmbran, Treherbert and Oakdale – the backbone of Welsh banding.
North Wales

As for North Wales? Great to see Point of Ayr back of course, but what of Menai Bridge, and Royal Oakeley, Duffryn Nantle, Gwernafield, Holywell, Conway, Abergynolwen, Trefor, Harlech and Rhyl?
Having three champion bands in 2008 doesn't hide the fact that Welsh banding is in number trouble.
What else explains the fact that out of the 40 bands on display at the Brangwyn Hall on the weekend, a quarter of them are deemed to be Championship Section quality? 10 bands in the top section? Come off it.
Charlotte Church

As a result, the First Section has only 6 entrants, the Second 11, the Third 6, and the Fourth 7. It's as top heavy as Charlotte Church in a boob tube.
It is even more puzzling because the organisation here is very good and a number of contests, such as the Welsh League and Welsh Open have been revitalised, whilst the National Eistedfodd itself, is the only brass band contest in the UK to be screened live on national television.
It's a problem that is now in urgent need of being sorted out. The Welsh love to debate and discuss, but are by nature great procrastinators too.
40 bands, 3 champions - but 3 separate organisations in South East, West and North Wales too. Each as proud as each other, each with its own aims and objectives.
Perhaps that's where the real answer lies to the question of quantity and quality.

Championship Section:
With Cory's continued excellence at the Royal Albert Hall, Wales will once again send three bands to Kensington in October.
The qualification heat is off the European Champions, but that is not to say they will be taking things lightly. With European qualification for Linz 2010 up for grabs, there is still a great deal to play for.
Cory will be also be looking to regain their domestic supremacy too after Tredegar's coup d'etat last year, but they will know that both they and BTM are now much closer to their coat tails than ever before.
It would be a major surprise if the trio not in the frame once again come the results, but the contest has thrown up the odd surprise result over the years – so all three won't be taking anything for granted.
First Section:
The First Section won't detain the audience very long on the Saturday, but it should still provide decent enough contesting entertainment. No Mid Rhondda this year either, so things are looking a bit on the thin side.

The region has a pretty solid record at the National Finals over the last few years – Beaumaris winning of course last year, and since 2004, eight out of the ten qualifiers have come in the top 10.
Hopes will be high again this year if the likes of favourites Tongwynlais and Point of Ayr make it through again. Tongwynlais in particular are a solid championship band in all but grading and will be hard to beat and in Harrogate if they get through.
What the Welsh make of Graham Cole's 'Pentacle' will be interesting – six bands playing a piece based on fives. Short and sweet then.
Second Section:
11 well matched bands in the Second Section all hoping to get to Harrogate and retain the National title, after Point's heroics last year.
The region has an excellent reecord to maintain too – providing the winners for the past two years, as well as two other podium finishers and a 5th place.
It is a bit more questionable this time if the quaifiers will do as well, but there are a few confident bands on display, from all parts of the Principality. That could mean a good old North/South battle for glory – just like in years past.
Third Section:
Another small field of contenders in the Third Section – just the six bands, and not the greatest of records to uphold come the Finals either.
In fact Wales last produced a Third Section winner back in 1992, when Beaumaris came home with the trophy, and it would be a bit of a long shot if that record is broken come September.
Perhaps the best hopes rest with the likes of Cross Keys and Ynyshir if they get through, but each of the sextet will fancy their chances of getting to North Yorkshire.

There are short scores of the test piece on sale on the Jagrins trade stand too - so you can have a gander just how good the piece is too.

Fourth Section:
Finally, the Fourth Section and another small field of just seven bands to provide the early morning entertainment on Sunday.
Nice to report the return of Corus (Port Talbot) after quite a few years away and also Ystradgynlais and Pontypool, but not so good news elsewhere. There were 15 bands in this section just two years ago remember.
Wales last posted a National title winner in 2000, when Beaumaris B were the winners, and although there have been some solid results since – five top six finishes, only one band has made it to the podium.
Last year's qualifiers came 8th and 14th, and it would be a surprise if whoever gets to Harrogate this year does any better than that.