2009 North West Regional Championship - Postcard from Blackpool
3-Mar-2009
From Albert and the Lion to Hitler, via banding history and the Welsh diaspora. Blackpool has it all...
---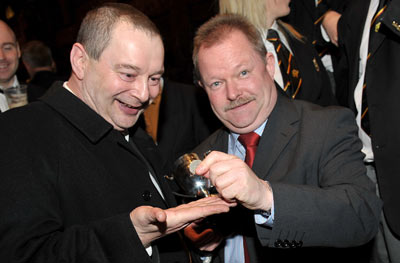 Eachway bet! Garry Cutt pays up to Alan Wycherley
Picture: Ian Clowes

More pictures of Blackpool at: http://www.pbase.com/troonly/09_nw_people

As the monologue 'The Lion and Albert' by Marriott Edgar recalls: "There's a famous seaside place called Blackpool, that's noted for fresh air and fun, and Mr and Mrs Ramsbottom went there with young Albert, their son…
And you know what happened to Albert don't you now? The same thing that happened to Jason Katsikaris.
He was gobbled up whole, by something that didn't like what he was doing…
Fun and games

It all rather summed up Sunday at Blackpool in fact. Fresh air and rain (no snow this year) and plenty of fun and games at the Winter Gardens, with an unexpected twist or two to end.
The Winter Gardens themselves are an odd old place. Its faded glory has become something of a music hall joke – there is plenty of peeling stucco, grubby magnolia and remnants of 1970's carpeting, but it still commands a sense of grandeur and occasion.
Hitler

It was recently revealed that Adolf Hitler had decided that Blackpool was to have been the fun resort for the members of the Third Reich if the Nazis had won the last War. Just how he would have defeated the fearsome landladies on the Golden Mile was never revealed, but by all accounts he was quite taken by the place.
It may also explain why the Winter Gardens wasn't bombed – a pity, as the Luftwaffe could have done a decent job on it.
When full though, it still throbs with life – the central walkway a great aorta of banding humanity, as players, conductors and supporters mingle around the slot machines and bars waiting for news of results or to pop into the nearest hall to listen to a rival band. Despite the damp and the dankness, there is still a proud sense of banding community on show.
Great days past

However, as the honours board in the entrance shows, its great days are past.
Headline acts in the last two years have been the pub singer come chanteuse, Jayne MacDonald and the execrable Roy 'Chubby' Brown. It is no longer a place for the high arts then, despite Peter Bates comedy white trainers…
Talking of honours boards however, each of the five winners were making their own little bit of lasting history.
Fodens of course equalled the record of CWS (Manchester) in winning the top section for a fourth consecutive year, whilst Wardle made it a hat trick of titles by winning the First Section.
Eachway bet

Meanwhile Garry Cutt was so confident that Fodens would win that he bet Alan Whycherley the princely sum of 50p that they would do – and he duly paid out in full (see above) much to the soprano players delight, as Alan also predicted that at least one of the more fancied bands would miss out on the day!
Dobcross Silver put their name on a winner's trophy for the first time since 1976, whilst Eccles finally made it a seaside double by adding the Fourth Section title to the one they won Skegness a few months back.
Topping them all though was Oldham (Lees) with an unprecedented fifth title in a row in different sections – a record for the entire history of the Regionals Championships going back to 1945. Not even Chubby Brown could beat that.
Excellent help

74 bands eventually made it to the three separate stages this year, and Peter Bates and his excellent team of helpers did a fine job of keeping things on track from 9.00am until 8.00pm, even if there was a blip in getting the draw for the Fourth Section up before the first band had taken to the Opera House stage.
By the time Fodens had been announced as winners in the top section the contest was even half an hour ahead of schedule, giving the supporters and players of the winning bands an extra bit of time to quaff a pint or two more in the bars. It is some impressive effort.
Worry

What wasn't as satisfying though was the number of bands who couldn't field a full compliment of players. All the bands who took to the stage a few bodies short should be heartily congratulated, but we counted 15 out of 19 of the Fourth Section bands who had gaps in the ranks.
If that isn't cause for concern at an area as historically as strong as this one then we don't know what is.
Welsh diaspora

Being St David's Day, Peter also made sure the Welsh diaspora felt at home too, so in the Opera House box a bunch of daffodils welcomed both Brian Buckley and David Read – although the nearest Wales came to an actual victory was with Nick Sheppard of Blackburn & Darwen who came runner up in the First Section.

Still, you could always chance your arm on the bandits, or even the parking meters, which predictably for a town built on slot machines for its wealth only took a bagful of pound coins to allow you to park for the day.
Five great contests all under the one roof, plenty of places to keep you fed and watered and all topped off with that most unexpected of finales…
Mr Katsikaris may not agree, but Blackpool really is a place full of fresh air and fun….
Iwan Fox