2009 North West Regional Championship - First Section retrospective
3-Mar-2009
High fives for Wardle Anderson Brass as they work out the way to Harrogate via musical Pentacle route.
---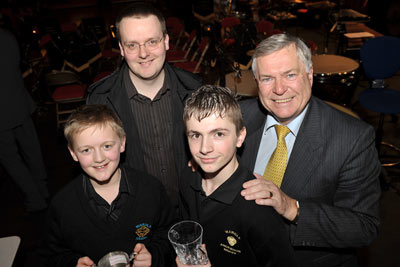 Young stars: Composer and adjudicator congratulate two happy Wardle stars
Picture: Ian Clowes

More pictures at: http://www.pbase.com/troonly/09nw_1st

A brass band contest can sometimes be like a visit to the dentist: Nothing to worry about until the big needle comes out from behind his back.
Making sure you go with your pearly whites in good nick beforehand is therefore essential if you don't want to feel the pain.
Root canal work

There may have been quite a few bands here on the weekend that knew that they were in for a bit of root canal work on Graham Cole's 'Pentacle'. However hard they had tried to brush it up to scratch in the weeks beforehand, the piece was still giving more than a few some bad musical toothache.
The good news though was that most bands came away with smiles as wide as a crocodile – the top six bands especially.
'Pentacle' has caused plenty of debate of late (particularly on discussion forums as adjudicator Colin Hardy pointed out) and there were questions about its suitability for the First Section.
After a long but enjoyable contest, many of those doubts remain, but from a listening perspective (and it's a personal opinion), if the bands were good enough they showed that it was a piece that brought out the best in them.
Held high

In the Empress Ballroom on Sunday morning (where the acoustic is not the greatest) a good batch of the 12 competing bands could hold their heads up high after they became the first region to take on this most daunting of test pieces. Time will tell over the next three weeks if the piece really is a fair test at this level.
Thankfully, although not all came away sporting smiles like Donny Osmond, neither did too many leave with more teeth missing than the 2009 Blackpool gurning champion.
Enough clues

Colin Hardy didn't go into forensic detail in his remarks prior to the results, but he gave enough clues as to what he was looking for. Musicality and solid technical construction seemed to be his overriding criteria, with the fourth movement (Water) crying out for intuition and emotion.
Tempos were important too – too many MDs fell into the trap of thinking speed would camouflage technical deficiencies, as well as over prominent percussion, but Colin knew which ones were doing the business and which ones were employing a bit of old flannel.
Wardle Anderson Brass certainly did the business and Sean Conway and his band will make their third successive trip to Harrogate courtesy of a commanding performance.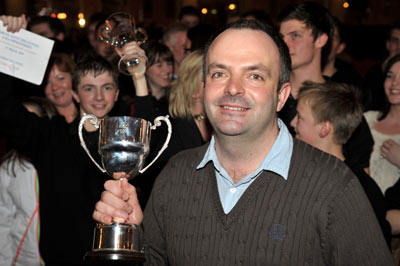 My way is the Conway: Sean Conway picks up his ownhat trick prize
Picture: Ian Clowes

It perhaps wasn't a clear cut victor (3rd for us) but the clean lines and the amount of detail that was brought out, together with the stylish ensemble and solo playing at sensible tempo markings gave were excellent. This is some band in the making.
Joining

Joining them there will be Blackburn and Darwen, after MD Nick Sheppard led their continued good form (they now go into the Championship Section in 2010) with a cracking show that fully justified their trip to Harrogate.
As with Wardle, it was clean, neat and tidy in execution and although the odd variation in the tempo markings took the edge off its flow at times, there was an admirable sense of solidity about the playing from start to finish. Nick Sheppard had clearly given plenty of thought to how he was going to structure the piece and it paid dividends once more.
Missing out

With only two qualifiers, somebody had to be the unfortunate bridesmaid and that was Ashton-under-Lyne directed by Martyn Evans.
Their interpretation appealed to many in the hall (4BR included) but not quite enough for Colin in the box. There was plenty of good clean playing and a lot of detail, but the somewhat swift tempo's proved to be their undoing, and they missed out on qualification. It was close though.
Solid performances

Manx Concert Brass and MD Ian Clague were delighted to be announced in 4th place, and so they should be after a solid performance that did the basics well. They didn't have the overall impact that the top three in overall quality but the approach was well thought out and the common sense approach had much to admire.
Longridge will have wished that they could have delivered an opening section that was every bit as good as their last. If they had it could have been a very different outcome, as once they'd regained their composure they produced a thrilling performance with a wickedly quick finale that was edge of the seat stuff.
Peter Christian's Bollington certainly brought out the music from the score and the MD deserves credit for the sensible approach to tempi and dynamics. It didn't always gell together as it should, but Peter never pushed the band beyond its limits and by virtue of some good ensemble playing they were rewarded with sixth place.
Strong quartet

The quirks of the draw served up an appetising quartet of bands that rounded off the contest - Vernon Building Society Poynton, Freckleton, Ashton and Blackburn & Darwen were all expected to be strong contenders.
Unfortunately Vernon Building Society Poynton under Kevin Gibbs didn't really hit their straps and eventually came 7th (6th for us). At times it was excellent, but some varied choices of tempi meant that it never quite flowed consistently.
Tydlesley was another band that suffered with inconsistency – from the choice of certain tempos to some of the ensemble and solo playing. The musical intentions of Robert Taylor in the middle were admirable but on this occasion they weren't quite matched by his band.
Much was expected of Freckleton who were handicapped before the contest by the 4BR kiss of death, as we had tipped them to win. This was one that got away from them though (although coming 9th seemed a tad harsh in context with other performances on the day - we had them 4th). It never quite settled and the lack of consistency was its undoing – although it was no better or worse than many of its rivals.
Stern challenge

Unfortunately, Mossley like many others found the piece to be something of a stern challenge. It was a nervy, uncomfortable performance (and they didn't look like they enjoyed it to be honest), but credit goes to MD Duncan Byers for allowing his band to try and find the music from the complex score.
That just left Haydock and Blackpool Brass who opened the contest in somewhat underwhelming fashion, and it came as little surprise that they ended up in 11th and 12th places come the results.
Haydock never really seemed comfortable with the piece from the outset but once they settled they did produce some well controlled playing in both the ensemble and solo lines. The damage had been done early on though.
It was a similar story for Blackpool Brass too - they just never settled and the home town band never got the opportunity to show what they were really capable of with just occasional glimpses of their true form.
Air of confidence

Wardle Anderson Brass along with Blackburn & Darwen will fly the North West flag in Yorkshire in September, and having mastered the challenges of this piece, they can look forward to Harrogate with an air of confidence.
'Pentacle' proved to be a very stern test piece – one that in other regions not blessed with the overall quality of bands as the North West will take an inordinate amount of casualties. The best coped here and coped well, but the majority found it a test that their abilities could not over come.
Now comes Yorkshire…
Malcolm Wood