2009 North West Regional Championship - Second Section retrospective
3-Mar-2009
Cracking piece, cracking playing, but New World Sketches did catch a few out. Not Oldham (Lees) though who delivered a performance that Barack Obama would have been proud.
---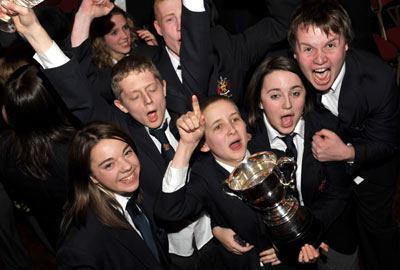 Youthful champions: Oldham (Lees) celebrate with pop and crisps...
Picture: Ian Clowes

More pictures at: http://www.pbase.com/troonly/09nw_2nd_section

The first thing to say about Dan Price's 'New World Sketches' is that it is an absolute cracking piece from a talented composer. We are sure all of the bands will have enjoyed working on the piece ahead of their regional contest, if this contest will be anything to go by.
Style and character

The piece cries out for style and character, and as always in contesting, some did it better than others. The piece though can lead conductors and players into a false sense of security – the score is seductively easy at first glance, but soon reveals itself to be as tricky and devious as Richard Nixon on a Watergate tape.
Those who failed to appreciate the subtle markings and stylistic instructions failed to make a mark on the day – those who did, came high up in the prize list. Just how it should be really.
Doing themselves justice

Adjudicator Malcolm Brownbill gave an in-depth assessment of what he'd listened too. Knowing the standard of bands in the North West, he said he expected a few better performances than he actually got, and in all honesty you had to agree with him – quite a few didn't do themselves justice.
Those who captured the style in the opening 'Side Walk' were invariably the ones that did the same in the second, 'Deep South' and the finale 'Rodeo', and went on to come in or around the qualification places. Those who opted for volume, percussive effects and overblowing, did not.
Malcolm Brownbill did state that the bands that transmitted their enjoyment of the piece found reward too – this really is a piece to be played with a sense of enjoyment and vibrancy.
He also went on to say he'd heard four pretty good performances, with two very good performances that were put through as the qualifiers. The winners he felt just had that extra edge of quality in the main solo lines.
Oldham winners
The one thing you can say about Oldham (Lees) is that they deserved to go through as winners.
All the basic requirements were in place from the word go – with a super batch of young soloists playing with real confidence. John was able to mould the band sound to accommodate the style of each of the movements, and so by the time they were enjoying a real old romp through the 'Rodeo' that hard work had been done and the sense of enjoyment ran free.
It was a mightily impressive performance from a mightily impressive band.
Experience

Joining them at the finals in September is Silk Brass (Macclesfield), who benefited from the experience and know how of Jim Cant, the ex Faireys bass trombonist.
This was a performance of solid competency, played with style and confidence, solid technique and subtle musical features. The style of the playing was infectious as it spread from solo cornet to Bb bass, and some of the solo work in particular was as good as any we heard all day.
Missing out

The unfortunate band missing out on this occasion was Flixton under the direction of Alan Hobbins, who delivered an excellent performance. They can consider themselves unlucky to miss out, as at just about any other area they would have qualified in comfort.
This was stylish playing, admirably light and breezy when required, darker and deeper in tonality when need too, with neat soloists and a lovely balanced to the overall band sound.
It must have been a close call for Malcolm on whether to go for Silk Brass or Flixton for the second qualification place, but if the Manchester outfit maintain this standard for the rest of the season they won't be disappointed too often.
Rich in style

United Co-op 2000 Brass was the last band to perform in the Empress Ballroom, and like the three who finished above them they delivered a well thought out performance rich in style, but just a little edgy in places where enthusiasm got the better of them.
You could tell Jamie Meredith and his band enjoyed the piece – perhaps just a bit too much on this occasion!
Fell away

Outside the top four the standard started to fall away somewhat and it was a question of consistency in execution and style that robbed many of a chance to have challenged for a podium place.
Middleton delivered a performance that was of the 'hit and miss' variety, and despite finishing 5th they never really seemed totally at ease. When it was good it was very good, but when it wasn't it was pretty average fare –a pity really as it had the makings of a possible top three performance with a little more care.
Hoover (Bolton) certainly managed to bring to life the style and character of the music, but in doing so they produced an error strewn account that took the gloss of what was a very vibrant reading from MD, Lee Dunkly.
Neil Samuel's Rainford seemed to be going all very well indeed, with an opening that was bang on stylistically. A slightly untuneful middle section though led to a scrappy third, and by the end they must have known that this wasn't going to be their day – and so it proved in 7th place.
Encouraging parts

Besses o'th' Barn had the unenviable task of playing number one, and despite having plenty of experience around the stand (including Kevin Donaldson on soprano) they couldn't quite gell together.
When they did, they sounded very good indeed, but at present they are a band rebuilding and are not quite yet the sum of their encouraging parts. It will come we are sure.
Tough going

Old Hall Brass found the piece tough going, and it was noticeable tuning issues that undermined their chances of coming any higher than their eventual 9th place. When it did fall into place the band produced a warm sound, but perhaps nerves or just a lack of concentration at times robbed them of valuable points.
The bottom three bands found it very tough going for various reasons.
Delph just didn't nail any of the three movements as well as they would have wanted to, and seemed to have one of those days when nothing quite went right. You can see it in players faces on these occasions – that raised eyebrow, the wry smile, rolling eyes to the skies. There was plenty of each for what was a disappointing contesting day at the office.
Raised eyebrow

Talking of raised eyebrows, quite a few would have been raised with the final position of Haslingden and Helmshore, a band that has made great strides in the past couple of years.
It certainly wasn't a great performance, and whilst they had more than their fair share of nasty blips and clips, the sound of the band and the neat sense of style in each of the three movements could have seen them come nearer to the top six. They must have known they hadn't played well though.
MacDonalds

Finally, Eccleston who had a day they'll want to forget, as nothing really went right for them.
Perhaps it was nerves, but from the word go they seemed to lack confidence and never got into the style of any of the three movements. Perhaps none of the band has ever ventured over the Atlantic, but on this occasion they sounded as if the nearest they had come to the USA was the local Eccleston branch of MacDonalds. A decent band having a real off day.
Congratulations though go to Dan Price for a cracking piece and Oldham (Lees) and Silk Brass (Macclesfield).
Both bands brought out the and style of the piece brilliantly and their sense of enjoyment came shining through. Anybody who plays and listens to the piece over the next few weeks should have an enjoyable time too, but as bands found out here, if you underestimate the work in any way at all, it could prove to be very costly indeed.
Malcolm Wood