2009 North West Regional Championship - Third Section retrospective
3-Mar-2009
A contest that had something for everyone - from plenty of cracking playing to the odd crackpot bit of percussion work. No problems for Dobcross though as they took the title in fine style.
---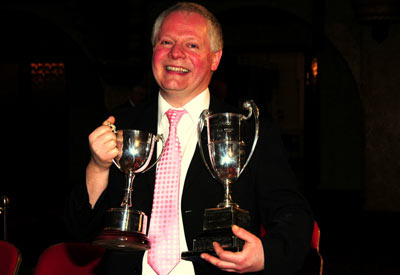 Moore the merrier: Grenville Morre enjoys winning his own silverware
Picture: Robert Fletcher

More pictures at:http://www.pbase.com/troonly/09_nw_3rd_section

Dobcross Silver, Douglas Town, and Lostock Hall Memorial claimed the three qualifying places through to the Lower Section National Finals to be held in September in Harrogate in an entertaining Third Section contest.
And it was a contest that had everything from good solid playing to downright abuse of percussion, with decibel levels that at times could have been heard in Southport let alone 10 yards away in the box for Derek Broadbent to ponder over.
Crash, bang, wallop

For those who did decide on the crash, bang, wallop approach, Derek punished them in no uncertain terms.
The three movements of 'The Once and Future King' – 'Tintagel', 'Lyonesse' and 'Badon Hill' certainly made for a fine test piece and was a credit to the composer who was in the audience to hear many of the bands performances. It allowed the best to shine, tested technique and musicality and set enough traps for the unwary or those bordering on the idiotic, to fall right into.
Overall standard

The overall standard of the playing on show was good, with very nearly all of the 20 competing bands making fine contributions.
Skelmersdale Prize opened the contest with a steady performance that had a great deal of merit, but like so many that followed it was the second movement 'Lyonesse' that caught them out. 6th place was a decent return though.

Hawk Green Marple in 8th place also had some nice moments, but an untidy opening left a lot of catching up to do, and they could have no complaint with their eventual outcome, whilst Greenalls gave a mixed performance where too much detail was missing, and did not have enough dynamic contrast to end up higher than 11th.
Bravery stakes

In the bravery stakes City of Chester won plenty of admirers, but despite a nice warm sound, poor intonation and internal balance detracted and 14th place was the result.
Douglas Town followed with a really well thought out performance where conductor Gordon Higginbottom certainly gave the music space and time to flow. With some fine playing in the second movement a feature they were always going to be in the hunt, even off such an early draw, and it was fully justified that they eventually came 2nd and booked their place at the Finals.
Bad day

BMP Goodshaw on the other hand had a bit of a bad day, with insecure ensemble and poor tuning. Despite a fine effort from the band's soprano player, they were well off the pace and 19th was perhaps expected.
Trinity Girls meanwhile gave what at times was a truly exciting account that seemed to be building towards a possible qualification marker before they just ran out of steam on 'Badon Hill' and faded into 10th place. It was an encouraging performance though.
Unlucky

Ramsey Town could count themselves a little unlucky, after a performance that perhaps deserved higher than 17th. They really tried to bring the music out in each of the three movements, and whilst it was nowhere near perfect in execution, it was always interesting. .
Super stuff

Following them came what turned out to be the winning performance from Dobcross Silver under the direction of Grenville Moore.
This was super stuff, full of quality in the ensemble and benefiting from secure soloists who played with real confidence. The MD chose tempos that were spot on too, and the percussion in particular enhanced the overall musical picture by being subtle and controlled. Even with the finishing line in sight they kept their style and form admirably. It was a deserved winner.
Awful

Pemberton Old Wigan JJB B had a poor day not helped by the percussion section who at times inflicted grievous bodily harm on their instruments - the bass drum especially.
Why the usually excellent Peter Ashley decided this was the ideal approach in the acoustic of the Spanish Hall was beyond us – it was simply awful, drowning the good work form the rest of the band.
Pemberton were not the only band to take this rather badly thought out approach – but they were the worst exponents of it by far. It was a harsh lesson learnt in coming 16th.
Solid enough

Eagley meanwhile were solid enough to come 12th without ever suggesting they were in the running for a podium place, whilst Dobcross Youth gave it there best shot and certainly didn't disgrace themselves in coming 20th.
It was hard work, but Brian Lamb encouraged his troops to the bitter end and they can take encouragement from their on stage performance.
Moments

Former National champions Formby showed that they are now a band starting to make a mark at this level with a performance that really did have its moments to come 7th, whilst Valley Brass (Haydock) suffered from not being able to give the music a sense of warmth and flow – it was a bit stilted and cold to come 18th.
Whitworth Vale & Healey meanwhile played with confidence, but just when the performance was building towards something significant it just got over excited, scrappy and overblown, and they fell away to 9th place. It wasn't far off a really good one though.
Highest order

Lostock Hall Memorial gave a performance that fully deserved its 3rd place and a trip to the finals with a rendition that at times was of the highest order. There was so much detail to the playing, security in ensemble and solo lines and a lovely sense of style from start to finish. On another day it could well have picked up the title itself.
Boarshurst were neat and tidy overall, but just needed that extra bit of quality to push them up any higher than their eventual 13th place. The signs were there though that their time may come sooner rather than later.
Best souding band

Many people fancied the chances of Uppermill, and for us they were the best sounding band of the day.
Perhaps they can feel slightly unlucky not to have got a qualification spot but whilst the outer movements were full of vibrant life and colour, the middle section was perhaps a touch too safety conscious, and with the other qualifiers taking a few more musical risks, that approach may just have cost them the chance of a return trip to Harrogate.
Detail

Morecambe meanwhile delivered a good reading of the piece, with the detail coming through, but it just fell short of a top three place in 5th, as the stamina faded in the last section and the focus, which had been so evident at the start, was lost amid a few too many scrappy moments. Again though, it was close to being a very good one.
Finally, Stalybridge Old, who had a mixed day in coming 15th, but for a band that is certainly rebuilding it did show that they were putting down solid foundations under the baton of MD, John Binns. Better things will come later this season we are sure.
Overall it was an enjoyable contest, with a test piece that had something for everyone in it – including those percussion players who felt they had to make a mark more than most!
Derek Broadbent gave an excellent summing up to the audience on what he had heard and thanked all the bands for a most enjoyable contest. The region wills end three highly competitive bands to the finals.
Dave Tinker