2009 North West Regional Championship - Fourth Section retrospective
3-Mar-2009
It may have been a piece of cake for Eccles and a few others on the Sunday morning, but The Talisman certainly didn't do the majority any favours as a piece to get them to Harrogate.
---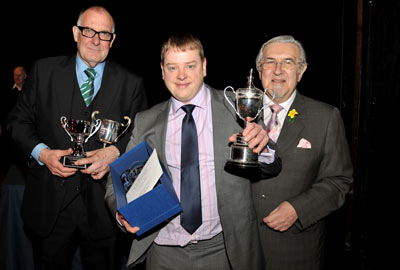 Another prize falls into the musical Webb: Les Webb takes the Fourth Section silver
Picture: Ian Clowes

More pictures at: http://www.pbase.com/troonly/09_nw_4th_section

Sunday morning. 19 bands and a very difficult test piece.
Four and a half hours later and you were left in little doubt why bands at this level are starting to take evasive action from the Regional Championships. This was a numbing experience at times.
You cannot blame the bands and their MDs that took the decision to turn up on this one (3 dropped out). 19 brave performances; a couple very good, a handful of decent ones, the rest struggling. The piece was a disaster.
Heaven help

The North West has a fine reputation for strength in depth at this level, but it doesn't help when a work is so patently misplaced. Medals should be given to the MDs and players for having to plough through this bloated bit of musical exhumation. Heaven help the bands at other areas.
Written as a quartet over 40 years ago, 'The Talisman' should remain as such.
Padding it out, however skilfully at times doesn't make it into a successful fully blown ensemble work. It is still constrained by its original musical intent – so readily shown by the construction of the opening bars of the piece.
Flabby

Trying to add 17 different parts plus percussion to a work that originally had four balanced lines is a near impossible task, and as a result it was like someone who had put on two stone in weight over the Christmas holidays still trying to fit into their favourite tight fitting jeans. The unsightly flab just bursts out for all to see.
Not even Fern Britton could get away with telling you that this piece benefited from the extra weight it had gained in its new form. Ponderous and bloated – all its original skinny 'carb free' wit and lightness lost in its extra musical poundage.
Inflated

The bands struggled because the piece never allowed them any freedom to do anything other than slog through its inflated stodginess. It was simply too difficult to play with any degree of musical comfort.
The last movement in particular, which in its original form would have skipped along with a light breeziness became a mangled mess as MDs had to try and meet the tempi demands required, with trombones having to play opening lines beyond the vast majority of Fourth Section abilities.
Spot on

Brain Buckley was spot on the money when he stated that there were, '…two quite outstanding bands' and '….seven or eight that were useful'. One suspects the adjective has never been used with quite such oblique diplomacy in a brass banding environment. When he described the playing in the final scherzo movement as sounding, '… like walking through treacle', you knew exactly where he was coming from. That was diplomatic for flaming awful.
Brian highlighted the need for three differing styles of execution, consistency of approach, quality of sound, shape of musical phrasing and rhythmic integrity, the ability to play with pathos, lightness and precision: all wonderful virtues in top section banding let alone in the Fourth Section.
Forget them though when it takes all the skill, patience and hard graft of bands at this level just to play the notes.
Class apart

The best bands did manage to play the work – although even the deserved winners, Eccles Borough, fresh from their recent Butlins triumph had more than their fair share of problems.
What stood out however was the quality of their ensemble sound, the confidence of their soloists and the direction of Les Webb, which took a notch of two from the tempi to allow for clarity. The second movement in particular was class apart on the day.
Force

Joining them at Harrogate will be Cheshire Constabulary and Rivington & Adlington.
The force was certainly with Cheshire, with a performance that reflected the confident way in which they took to the stage. Solid ensemble work, sensible tempos by MD David Woollam and a cracking finale made sure they were right in the mix. The request for September leave will already be on the Chief Constable's desk we suspect.
Rivington were also decent value for their qualification too – especially as the band only took to the stage with 2 tubas.
Intelligent

An intelligent bit of conductorship from Malcolm Wilson tailored the dynamic approach so everything was well balanced from start to finish, and even though the two lads on bass would have been knackered by the end, they will have savoured the celebratory pints in the bar.
Just missing out was Pilling Jubilee, who we felt may just have done enough to secure a place at the Finals. This was a performance as dapper as the MDs suit and tanned shoes, and it may just have been the lack of stamina that cost them in the final analysis, as it just tailed off in the final minute or so of the piece.
Exposed

After these bands came a host of performances that had both strengths and weaknesses – some cruelly exposed by the piece.
Greenfield was well directed by Stuart Black (who later appeared in the cornet section with Blackley) and even though he looked about 15, he drew a mature account form his band, with a lovely bit of playing from the young girl on euphonium.
Coppull & Standish also produced a mature account in a well drilled approach, where the 4 trombones balanced nicely with the rest of the band. It too just tired towards the end, where tuning issues perhaps robbed them of the chance of coming any higher. We liked a lot, and they may feel a little aggrieved that they didn't make it into the prizes.
Nelson Brass meanwhile seemed to heading for a possible qualification place only to lose impetus with a very scrappy final section, despite some fine work from the solo cornet player.
Strong old show

Darwen too produced a strong old show to come 8th, from the early number 5 draw that just about held its own throughout the day. It was just let down by untunefulness at times, as for the most part it was a performance as rosy as their jackets.
Tarleton & District and Gillian Bould were another that opted for the bright and breezy approach (especially in the first movement), but an untidy final section just robbed them of the valuable points that the excellent solo playing from the young cornet, flugel and bass trombone created. A medal too should go to the heroic single percussionist!
Struggles

For the most part, the bands that eventually came 10th downwards all struggled – to varying degrees of discomfort. They all tried their very best though to overcome their limitations, but the piece proved too difficult and we really do wonder how many of these bands enjoyed rehearsing hour after hour in the run up to the contest. Not many we bet.
Farnworth just about met all the challenges set, with a fine contribution from the experienced gentleman on solo cornet and a sweet soprano, whilst Besses Boys (and girls of course) opened the contest with some cracking playing, only to fall away as their youthful enthusiasm was undone by a lack of stamina. There was some fine playing from the young girl on solo cornet and the lad on flugel though.
Blackley may have been short on numbers (3 on the top end) but delivered a performance as colourful as the MDs crimson shirt, with the team of young solo players all producing fine sounds and secure technique.
Hit and miss

Carrbrook meanwhile rounded off the contest with a bit of a hit and miss affair (they too were lacking a bass and cornet), whilst Sale Brass were also lacking in overall consistency, although they did have a very decent duo in the sop and solo cornet.
Golbourne tried manfully, and a very young band should go home delighted with their efforts – if not the result. Short on player strength, this was a brave effort from all concerned and the MD should take a great deal of credit in using his limited resources intelligently and not just blowing away from start to finish.
Meanwhile, Denton (with the MD Graham Smith wearing shirt the size of a bedspread) was also marshalled with intelligence too, and despite the obvious limitations it was an encouraging performance, especially as they had just 5 cornet players.
Bottom three

The bottom three did really struggle, with Parr suffering from balance problems (the strong sop was good, but more than a little beefy), although there were times when they just about got to grips with the piece, and they did have a fine young flugel horn player who was something of star performer.
The youngsters of Friezeland really did try their best (and this piece must have tested their enthusiasm) and a great little euph player and young solo cornet were real plus points. It was a brave old effort, well directed by Tom Haslam, which understandably not up to contesting scratch on the day, still showed a great deal of future promise.
Unlucky

Finally Hazel Grove who perhaps can count themselves more than a bit unlucky to be bottom of the pile, after a performance that had real moments of quality and understanding (for us at any rate), which seemed to bring the music to life. Perhaps the strong cornet end just over compensating for other areas of more noticeable weakness marked them out from the number 2 draw as not to Brian Buckley's liking. If it was then it was hard luck.
No problems for Eccles though, and now that they have brought their seaside form to Blackpool they will be looking to see if they can get the organisers to ship in a bit of Scarborough sand to the front of the International Conference Centre in time Harrogate. Then they will really feel at home.
Iwan Fox