2009 Yorkshire Regional Championship - Introduction & Preview
2-Mar-2009
Yorkshire provides brass band contesting with its emotional heart beat, so is it still pumping away strongly or is it in need of a bit of pacemaker help?
---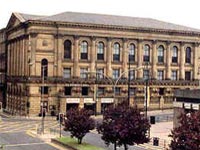 Where the North West provides the boiler room for the banding movement in this country, Yorkshire continues to be its beating heart.
Variable moments

It's a heart that has sufferred a few variable moments though in recent times, dropping in banding pulse rate from an Olympian high of 80 bands in 1983 down to a potential A&E emergency rate of just over 50 a few years back.
Thankfully that wake up call has been heeded and now there is a stable number of just under 60 taking to the stage year in year out (57 this year – no change from 2008). There is more musical muesli in the Yorkshire diet now.
Credit

Much of the credit for that goes to the organisation found here – led by the infatigable Peggy Tomlinson, and backed by a great bunch of volunteers and helpers. They have taken a realistic look at their health and acted accordingly – nothing too radical, but certainly something progressive.
That said, the region only produced the one National Champion in 2008, and unlike its North West counterpart, the lower sections here are not as strong as they once were in numbers or standard, as was shown by only two top six finishers in Harrogate.
Workshops

Workshops and masterclasses are held throughout the year and once again there is a Youth Adjudication Panel being held to broaden the musical experience for those under the age of 16. It all helps, and the signs are that it is beginning to bear fruit too.
Peggy and her team are also actively encouraging new bands to enter the contest, and this year we see three in the shape of Cornerstone Brass in the First Section, and Wilsden and Worsbrough Brass in the Fourth.
Losing the likes of Sellers and now Pennine Brass in recent years has been felt of course, and there is no YBS Concert or Tingley Band this year (although both hope to be back for 2010), but seeing three brand new bands make it to the stage is cause for a healthy option pint in the St George's Hall bar on the weekend.
Championship Section:
As always there is a great contest in store on the Sunday evening, although you do have to question whether Yorkshire really does have 12 true Championship Section standard bands.
The four that did get to London last year were certainly that, and came back home as winners, fourth, sixth and seventh, but there is a feeling that this really is a contest of two distinct levels. The top bands are as good as any on their day, but there are a number that should be trying their luck in the First Section.
As for this year's battle?
Black Dyke will of course be favourites after just about everyone else has decided to have an early spring clean of playing personnel or conductors. Stability counts and some rivals have been doing passable impressions of jellies on a tumble dryer.
Dyke and Carlton Main can concentrate their minds on other musical matters due to their pre-qualification for the Royal Albert Hall, but that leaves a nap hand of bands battling it out for those two golden tickets to Kensington come October.
New players, new MDs and even new identities in some cases, will Brighouse be able to deliver a London appearance for David King courtesy of Garry Cutt, or can the 'new' Grimethorpe gell together under Allan Withington?
Can Hepworth overcome the recent loss of their principal cornet to Grimethorpe, or can the new Hammond's turn back the clock and regain old form? Will Imps find success with Tricky Dicky or will Marsden be drinking pints of their sponsors ale in celebration come Sunday night?
What about the two new bands of Skelmanthorpe and Stannington too, not forgetting Powerfuel Hatfield.
Talking about stability though, why not Rothwell? Not a flicker of upset there for the regions perennial dark horses.
Nigel Boddice and Steve Sykes will of course not be bothered by all the shenanigans but will be looking out for the best performances on the day, so as always it promises to be an intriguing contest as well as a highly enjoyable one.

No wonder St George's Hall will be packed out on Sunday night.
First Section:
With Malcolm Brownbill already having been in the box at Blackpool, a number of bands may well have taken the opportunity to check out just what he was looking for in a winning a performance there.
On this occasion though he is joined by Colin Hardy and both men will have a lot to look forward to on Graham Cole's 'Pentacle' – a piece that has been causing a few furrowed brows up and down the country over the last few months.
The region has been a bit hit and miss of late come the Finals, with last year's qualifiers coming 2nd and 10th. The region has produced four champions since 1998, but also its fair share of 'also rans' too.
Last year's qualifiers Skelmanthorpe and Stannington have since been promoted, and so it will be interesting to see which bands step up to the plate and show that they are potential championship bands in waiting.
There will be a great deal of interest in the appeaance this year of Cornerstone Brass, who made such an impact on their contesting debut at Butlins earlier in the season, whilst the likes Stocksbridge and Hebden Bridge, who both also did will at Skegness, may well be bands to look out for.
Others too should not be discounted in what looks like a cracking contest in the making.
Second Section:
No National win since 2003 for the bands qualifying from Bradford, and last year's representatives, Slaithwaite and YBS Concert, came 4th and 9th repectively.
The region hasn't got bad record of late, but it is not one to shout home about either – there has been no podium finish at Harrogate since 2003, and quite a few bands have found out that Yorkshire isn't always the best come the Finals.
What then can Malcolm Brownbill and Christopher Wormald look forward to on Sunday afternoon (as well as the members of the Youth Adjudication Panel)?
A well matched field could see the title go anywhere, but there are a few bands that should fancy their chances a bit more than their rivals. Look out for the phoenix of Dodworth one more, or the solid contesting forms of Kippax, Grange Moor, Strata, Holme, Barnsley and Horbury.
The piece has plenty in it to bring the best and the worst out of the bands here – it is a deceptive work that may take quite a few casualities along its way.
Third Section:
It is much the same story in the Third Section, where Yorkshire hasn't produced a National winner since Skelmanthorpe in 1993.
Since then a couple have come close, but there hasn't been a podium finisher since 2001 and only 1 top six finisher too.
Simone Rebello and Ian Brownbill will have plenty to ponder over then as the band's tackle Andrew Baker's enjoyable 'The Once and Future King'. If some performances are not up to much then it could sound more like drawing blood, rather than a sword, out of the old musical stone.
There are signs that things are picking up at this level, with some decent shows from the likes of Garforth and West Yorkshire Police at Butlins, and Crofton at Pontins late last year.
Apart from that though its been baren contesting pickings, so a Yorkshire revival is long overdue.
Fourth Section:
There is some good news to report for the White Rose County in the Fourth Section, where two brand new bands make it to the stage in Wilsden and Worsbrough.
That really is something to cheer about, but there are still only 9 bands in total – a real worry.
Peggy Tomlinson and her team are trying hard to drum up contesting interest at this level, but the problem in Yorkshire comes from the top of the banding structure. Get that sorted and this section would be healthier in terms of numbers and musical standards.
The latter was shown at Harrogate last year where the two representatives could only muster 12th and13th places respectively, and although the region has produced six podium finishers in the past six years, one victory since 1995 also tells a story too.
'The Talisman' is a difficult work and David Horsfield and Roy Roe may have a difficult time of it trying to pick a winner.
Bands in decent recent form should fancy their chances though, with Maltby Miners, who came 4th at Butlins perhaps the short priced favourites at the Bradford branch of William Hill.