BBC Radio 2 Young Brass Soloist Final 2009 - retrospective
24-Feb-2009
Malcolm Wood was at the RNCM in Manchester on the weekend where Stephen Sykes took a white knuckle ride to become the Radio 2 Young Brass Soloist of the Year.
---
RNCM Concert Hall
Manchester
Saturday 21st February
Finalists: David Moore, Lauren Reeve-Rawlings, Stephen Sykes, Matthew White
Accompanied by the Black Dyke Band
Conductor: Dr Nicholas J Childs
Presenter: Frank Renton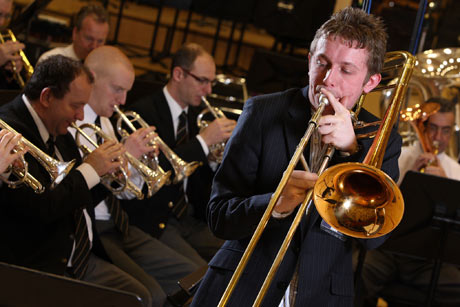 The winner in action: Stephen Sykes becomes the 2009 winner
Picture: BBC

The ability to play a musical instrument remains a technical craft. In contrast, making music is very much an art form. However, there is an argument to suggest that musical expression is also a craft - one of communication. To become a great musician you must be able to master both former elements to produce the latter outcome.
The BBC Radio 2 Young Brass Soloist Final for 2009 featured four young players who demonstrated that they are well along the way to doing just that.
This was the best and most keenly contested final since its inception 2004. Unlike previous winners, Stephen Sykes was not the name on everyone's lips before the announcement of the results.
Gregson highlighs
Professor Edward Gregson highlighted the areas that he and fellow judge Nigel Seaman, were looking for from the finalist's performances – and it was not just a question of technical craft and artistic music making either – that incalculable essence of communication was all important too.

And with that in mind, they were in no doubt that Stephen should be declared the victor following a recital performance that he described as having '…all technicalities and musicality that myself and Nigel had been searching for'.
Strengths
Nigel Seaman echoed Professor Gregson's comments, adding that the differences between each performer on the night had been minimal – but enough to separate them out. In previous years those margins had been much, much wider.
Calm and composed winner
The 18 year old trombonist was the last of the contenders to compete and was a calm and composed presence on stage.
Stephen chose 'Stardust', a favourite amongst all trombonists, and Wilby's 'White Knuckle Ride', and the former British Open Intermediate Solo Champion, who is currently Principal Trombone of the National Youth Orchestra of Great Britain, was able to produce a recital demonstrating great tonal qualities and bringing out the style of the music in both pieces that gave him the edge on the night.
That calm composure was certainly evident on the Wilby – a fearsome piece of technical skill, played with nonchalant aplomb.
In taking the title, Stephen will now get the opportunity to perform with the BBC Concert Orchestra live on BBC Radio 2's 'Friday Night is Music Night' and feature in concert with an as yet unnamed leading top section band.
Not quite all White
Euphonium player, Matthew White, set the exceptionally high standard of the competition. A previous finalist, this accomplished performer can consider himself a little unlucky not to have taken the title.
Matthew not only showed his qualities as a performer, but also as a composer on the night too, with his own composition 'Improvisation for Euphonium' which took its inspiration from the music of Nat McIntosh.
This was a display of technical virtuosity, backed only by Black Dyke's Lee Skipsey on percussion that included multiphonics and gravity defying technique. It was very impressive playing.
The Leyland euphonium player then opted for 'A Lament for the death of Rev Archie Beaton' and music from Norway, with 'Two Folk Tunes from Valdres', which is based upon the dance 'Halling after Ulrik i Jensestogun' and the beautiful Lullaby (Bådnlåt).
The rock inspired opening gave way to more lyrical thoughtfulness and ended a recital of immense character and confidence – perhaps just a touch over confident in places as at times not everything quite came off. His though was the name on the lips of the majority of the listeners before the announcement of the results.
Mellow Moore
David Moore is currently studying trumpet at the RNCM, but for the BBC competition returned to his first love of the flugel horn.
David began with Michael Nyman's piece, 'Flugel Horn and Piano' which has been re-scored by John Parkinson to become 'Flugel Horn and Band ' and which was given its premier performance last year by John Doyle.
The extensive technical and musical hurdles were overcome with a light facility and his ability to mellow his sound was a real delight, particularly during the slower section. In contrast, David's final offering of 'Children of Sanchez', was upbeat and full of vibrancy, but perhaps suffered in comparison as being something of a flugel 'lollipop' nowadays.
French first
Finally, Lauren Reeve-Rawlings, the first French horn player to reach the final.
Gilbert Vinter's 'Hunter's Moon' is a real fun piece with hints of 'Londonderry Air' within the music. The soloist really enjoyed herself too with a vibrant performance, before closing with the famous 'Rondo from Mozart's Concerto Number 4', which was agile and pulsating, but not totally flawless in its execution.
Dyke entertains
Black Dyke conducted by Dr Nicholas Childs accompanied the soloists with real understanding on the night and they top-and-tailed the entertainment with 'Walking with Heroes', as well as featuring their own version of a star soloist in Richard Marshall, with a flawless performance of 'Willow Echoes' and the 'Finale' from the 'Organ Symphony'.
That just left the all important thoughts from the adjudicators and the announcement that Stephen had been declared the winner.
Shock

Having recovered from the shock, he then gave a wonderful reprise of 'Stardust' before Frank Renton interviewed him (a really great addition to the night) where he gave his reaction and acknowledged his parents, Steve and Joanne for their support.
There was no formal announcement given about the competition for 2010 but such is the success of the event, one is sure to follow.
The competition's final will be aired on BBC Radio 2 on Friday 27th February at 9.30pm and afterwards via www.bbc.co.uk/radio2 or courtesy of the BBC iplayer.

Malcolm Wood