2009 Regional Championships - Salute to what Youth?
23-Feb-2009
4BR wonders what Gilbert Vinter would have thought if he had been asked to 'Salute' today's youth instead of that of the early 1960s...
---
It was Philip Larkin who wrote: "Sexual intercourse began in 1963 (Which was rather late for me) between the end of the Chatterley ban and the Beatles' first LP"
For the youth of 2009, it would invariably begin before the last page of 'Nuts' magazine and the first song on the latest Eminem CD.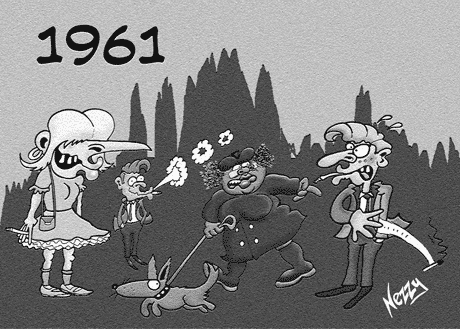 Black and white times - 1961

Inspiration

When Gilbert Vinter wrote 'Salute to Youth' in 1961 to be used as the Regional test piece the following year, he could not have dreamt that its inspiration would have changed beyond recognition.
In 1962, young people looked and dressed like their parents – the generation that had endured the Second World War. Tweed, beige and small black ties for the lads; big skirts, bee-hive hair and terrible glasses for the girls.
Teenagers didn't exist – you were child and then an adult – with a noticeable gap in between, when lads collected stamps and read Charles Buchan's 'Football Monthly' and girls learnt to knit and swooned over stories in 'Princess Magazine', which always had a picture of a horse on the front for some unknown reason.
The Beatles were a struggling combo in Hamburg, a glamour magazine meant 'Horse & Hound'.
Simpler life

Life was simpler – and very black and white – colour television on the BBC was still five years in the future. Computers were the size of a Morris Minor car, mobile phones were unheard of and the silicon 'chip' was thought of as being a fried potato based delicacy you had with mushy peas and cod fillet. Pathe newsreels were still being shown in cinemas.
Cars were called the 'Cortina', 'Consul' or the 'Alpine' and the M1 motorway had only been opened for two years. Everyone smoked.
Romance

The mini skirt was three years away, the top films included 'West Side Story', 'King Kong versus Godzilla' (or for those thinking a bit more risqué – 'Girls! Girls! Girls!') and the rebellious youth listened to records by groups called 'B-Bumble and the Stingers' or for those with something more romantic on their minds, Frank Ifield singing 'Lovesick Blues'. 'Top of the Pops' hadn't even been thought of.
Football didn't rule the airwaves – 'Match of the Day' was still two seasons in the future although Brazil was the world champions in Chile. Yorkshire was the best cricket team in the world; the Superbowl wasn't even thought of, Rod Laver won the tennis Grand Slam and Graham Hill the F1 title. Spurs won the FA Cup.
This was the era when Gilbert Vinter 'Saluted' the youth with three movements entitled, 'Resilience', 'Romance' and 'Relaxation'.
Resilience

In 1962 youthful 'Resilience' had just come to an end through National Service. 'Romance' meant just that – the contraceptive pill was still four years away from being available on the NHS, and 'Relaxation' came with holidays in the UK. It was still Butlins rather than Barbados in 1962.
Celebrity culture meant Sophia Loren and the Rat Pack, Prince Rainier and Grace Kelly. Richard Burton was yet to meet Elizabeth Taylor on the set of 'Cleopatra'.
Banding world

In the brass band world, 1962 was the year of Fairey winning the Open and CWS (Manchester) taking the National under Alex Mortimer. Instruments were in high pitch, Rex Mortimer was the recipient of the Iles Medal, the 'Baton of Honour' went to Harry Heyes. Brighouse & Rastrick won the Quartet Championship of Great Britain, and Jim Shepherd was the Champion Soloist.
And everyone smoked even more.
Pear shaped

It is hard to imagine just how bland and unexciting the early 1960's must have been before everything went pear shaped and moral disintegration of youth occurred, as Philip Larkin so memorably put it, in 1963.
Can you imagine then what Gilbert Vinter would have wrote if he had to 'Salute' today's youth culture?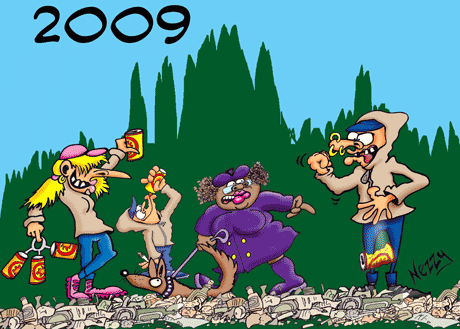 The youth of 2009...

Today's youth

The resilience of the 'Hoodie' and 'Joy Rider', the romance of 'Dogging' and the highest rate of teenage pregnancies in Western Europe, the relaxation of soft drugs, cheap alcohol, and mobile phone ring tones. His music would have sounded like Stockhausen on an acid trip.
This is the world where pre teen girls wear clothing with the Playboy brand emblazoned on them, and teenager girls go out on the town on freezing cold nights wearing next to nothing and sporting more tattoos than could be found on a Liverpool docker.
Young men put stuff in their hair Denis Compton would have baulked at, sport earrings like Romanian gypsies and drink lager out of bottles instead of beer out of pint glasses with handles on them.
Swearing

Swearing has become an accepted means of verbal communication, whilst people write in numbers instead of letters to express their immediate thoughts to their closest friends on mobile phones the size of a Swan Vesta matchbox.
Teenagers smoke.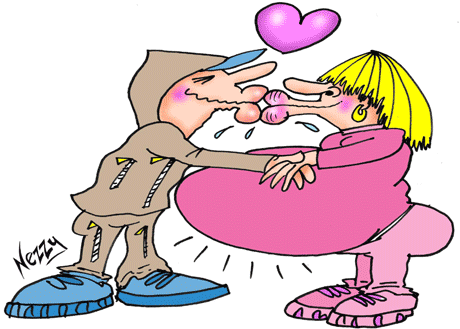 Looking for Romance in 2009...

Celebrity

Everyone wants to be a celebrity. Sex sells everything. The UK is multi cultural, multi lingual, multi channelled, multiple pileups on motorways and multi peopled fights outside nightclubs on a Saturday night.
2009 is a banding world where volume and technique has superseded timbre and musicality. Forget the instruction 'fast as possible' as Vinter requested in the final movement of 'Salute to Youth' in 1962. Today's bands they would leave their 1962 counterparts behind in a puff of high performance blue smoke – but not the better for it.
Different age

It is a different age all right – one that many feel may be all the worse for far too many youngsters finding out just what Philip Larkin was talking about 46 years ago.
However, it is also exciting and edgy, full of incredible young talent, opportunities galore, fun and independence. In fact it is full of resilience, romance and relaxation – but not perhaps as Gilbert Vinter would have known it.
That's a pity really, because somehow you think he may well have enjoyed the challenge of 'Saluting' it all after all.
Iwan Fox