2009 Regional Championships - A year older, a year closer to the grave?
23-Feb-2009
4BR looks at the latest facts and figures as the brass band movement prepares for its annual health check around the country. Are we in good shape this year?
---
The annual health check of the brass band movement in the UK takes place at various drop in centres around the country over the next few weeks.
From Blackpool to Torquay, Stevenage to Dundee the patients will file in and perform their prescribed workouts in front of one, maybe two, adjudicating GP's and a few hardy onlookers.
Diagnosis

And the diagnosis?
Individually it varies of course – some patients are in rude health, others feeling their age, quite a few in terminal decline. Most are muddling through with a bit of home care help here and there from foreign workers on day visas.
Collectively though? Well that's a different matter all together.
This year there are a total of 490 (following 3 late withdrawls from the North West) bands listed as entering the musical surgeries up and down the country.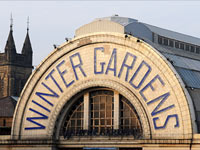 Biggest turnouts

The biggest turnouts are to be found in the North West with 75 bands making the trip to Blackpool (right). Bedworth will see 77 Midlands bands; London & Southern Counties will provide 76 at Stevenage and the West of England, 74 at Torquay.
Meanwhile, Yorkshire has 57 entrants in Bradford; Scotland will field 48 contenders in Dundee; Darlington will see 42 from the North of England, whilst Wales (below) will muster 41 in Swansea.
Last year 506 bands made it to the various stages. 16 bands have disappeared – over 1 a month.
Losses

Since the 2008 Regionals, the North West has had a net loss of 3 bands; Wales and Scotland have lost 2 each; Midlands are down 4; London has lost 3; North of England has lost 3.
Only the West of England has gained numbers - 2 bands - and Yorkshire stays the same.
How's the old pulse rate now?
Previously, 4BR has looked at the facts and the figures surrounding the eight different regions and it didn't make for comfortable reading. Now it is starting to make you wonder if a couple of Areas could be in line for euthanasia.
http://www.4barsrest.com/articles/2008/art841.asp?l=in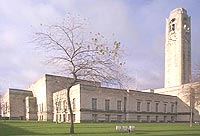 Reasons

Whatever the reasons - times are hard, players are in short supply, the registry rules are a mess, the contesting rules are antiquated, gradings do not accurately reflect the actual playing standards of the bands - it all amounts to the same thing.
We are now a movement that has lost nearly 100 competing bands in a just over a decade. In 1998, over 590 bands took part – this year it will be 493.
And still nothing is being done about it.
BFBB

Forget any type of coordinated action plan being put forward by the British Federation of Brass Bands. They have shown no desire to address a problem that in its way is set to kill them off like a slow malignant cancer.
What mandate do they hold for the whole of UK banding when they themselves promote only an English National Championship? They are a body that has an ever diminishing relevance.
Kapitol answer

The answer lies with the owners, Kapitol Promotions, and the hopeful desire that they wish to radically revolutionise the whole Regional concept.
Kapitol headed by Philip Morris and Nikki Bland has the unenviable task of not only hosting the showcase events at the Royal Albert Hall and Harrogate International Conference Centre, but also to provide financial support to allow for Regional Committees to organise their qualifying contests too.
In theory it is a model that works – regional qualification is the fairest way of all to ensure bands are given the chance to get to the Finals. In pure business and musical terms though, it is an unholy bankrupt mess.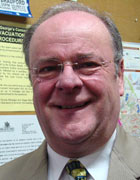 Inherited system

Kapitol inherited a system that they have done exceptionally well to maintain, and in some ways enhance. It is a system however that is now over 60 years old and patently no longer fit for purpose.
It has been tinkered with once – with the introduction of the First Section in 1992, but even that has become a contradiction in terms.
Profits out

Kapitol has put money in and has drawn profits out – but overall, it has earned the right to insist on change – not just for its own benefit, but also for that of the movement as a whole.
Without change the decline in numbers and the health of those left will reach the point were it becomes terminal for all concerned. Those who think the current system is working for anyone's benefit are members of the brass band flat earth society.
Long term

Thankfully, some people are starting to think long term.

Scotland for instance will be setting up a voluntary scheme to get bands to be part of the Area experience without competing. It is a move to include rather than exclude, to be inclusive rather than exclusive.
It is simple but effective thinking – the type of thinking that should start with a complete re-grading of bands up and down the country.
Re-grading

How can we justify a situation whereby there are ostensibly 90 Championship Section bands taking part in the Regional this year, yet only 110 Fourth Section bands?
The structure has become such a mess that in Wales for instance, 11 bands will compete in the Championship Section; yet only 7 will take part in the Fourth and 6 in the Third.
Yorkshire has 12 bands in the top section, and just 9 in the Fourth; Scotland 10 in the top section and just 6 in the Fourth; the North East, 10 in the top section and 9 in the Fourth; London 12 in the top section and 16 in the Fourth.
Buffer section

Meanwhile, the North West will field 11 top section bands and 22 in the Fourth and the Midlands will have 13 in the Championship and 21 in the Fourth. The West of England will see 11 top section bands and 19 in the Fourth.

Where is the pyramid system that was supposed to be finally put in place when the 'buffer' First Section came into being in 1992? The current structure looks like a brass band version of a 1960's tower block – ugly and not very good to live in.
Bands won't like it, but the truth sometimes hurts. There are far too many top section bands. No – that's wrong.
Far too many

There are far too many bands that think they are top section bands. If Kapitol really wants a regional set up based on quality rather than quantity then they should insist on re-grading the bands as soon as possible. If there are anymore than 40 true top section bands in the UK in terms of quality then that is being generous.

Other moves should follow too – opening up the Fourth Section to encourage participation, setting prescribed rules for each individual section, sorting out the 'foreign' imports anomaly – the list is not endless, but realistic and manageable.
Kapitol chance

Kapitol deserves the chance to mould the future of UK wide banding in a way that will benefit everyone.

It is now up to them to see if they are bold enough to do just that. The rest will surely follow, for strong leadership is all that is required.

Iwan Fox