2009 Queensland Band Association Youth Brass Band Camp - McGregor Summer School
13-Feb-2009
Richard Evans returns to the 2009 Queensland Brass Association Youth Brass Band Camp held in conjunction with the McGregor Summer School in Toowoomba January 7 - 17, 2009.
---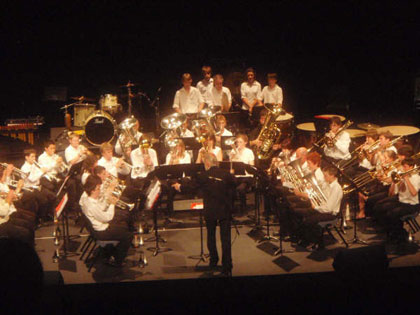 The 2009 Queensland Brass Association Youth Brass Band camp, held in conjunction with University of Southern Queensland's McGregor Summer School, was a highly successful endeavor.
The McGregor Summer School has established itself as one of the premier residential performing, visual and creative arts learning experiences in Australia. Over 500 participants converged on the USQ campus in Toowoomba for the ten day residential arts retreat. 120 students were enrolled in the music courses.
Who was there
With Richard Evans as the Musical Director saw some players returning from last year, some of whom are non-brass banders, and we also attracted a tenor horn player (Meg Thomas, K&N) from South Australia.
Twenty two students were enrolled in the brass band program (including two percussionists) before the commencement of the camp and from the first day almost thirty regulars attended the rehearsals. The number of participants was down from last year across the Summer School. Four QBA players attended the camp which is not a huge contingent and Queensland brass bands need to promote the camp to increase this number.
Professional organisation
The organisation of the venues, concerts, house parents and administration were all handled in a professional manner by McGregor and the music staff which enabled tutors and conductors to concentrate uninterrupted on the musical aspects of the program.
Repertoire
The repertoire this year was of a higher level to continue the challenge instigated last year. The continuity of staff and some repeat attendees helped this aspect. Pieces such as Gaelforce, Mask of Zorro, Let's Face the Music and Dance were part of an extensive list or repertoire which was performed during one of the three performances the band gave during the camp.
Tutors
Tutors were:
Phil Ryan and John Foster – Trumpet/Cornet
Peter Luff – Horn
Bill Barker – Euphonium and Low Brass
Greg Aitken – Trombone and Low Brass
Adam Thomson – Tuba and Low Brass
John Parker – Percussion with assistance from Jamie Nuss
Sponsors and supporters
Music was supplied by Brisbane Brass and Brass Music Specialists.
Brass Music Specialists also supplied a number of brass band instruments – soprano, flugel, tenor horns and BBb tuba on loan.
Percussion gear was generously supplied by John Bloom of the Darling Downs Regional Music Support Centre.
Finale
In recognition of the band's popularity and quality from last year, they were this year given pride of place as the finale to the gala concert at the Empire Theatre.
Greg Aitken