2009 Norwegian National Championships - Second Division preview and prediction
4-Feb-2009
Another promising contest in store in the Second Division with 13 well matched bands all hoping to do enough to gain another step up the Norwegian promotion ladder.
---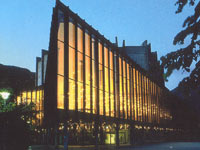 Second Division:

Adjudicators: Elisabeth Fossan and Arvid Anthun
Friday 6th February (10.30)

---
The Second Division produced a wonderful contest here last year – even more wonderful that is if you were an Englishman.
Surreal sight

The sight of the vastly experienced John Hudson bringing all those years of learning under the likes of Howard Snell to bear as he directed Orskog to the title was a delight – barely matched by the surreal sight of Simon Dobson taking to the stage with baton in hair and wearing the type of plimsole daps so beloved of skint students around the world. The music making though was great.
Will any of the conductors make such an impression this year then?
Talking music

Hopefully they will let the music do all the talking, and the usual eclectic choices of own choice music, allied to ambition and bags of talent should make it a cracker.
Bringing decent form to the contest will be the key and there are four bands that came in the top six at SIDDIS that could well be the bands to look out for.
Hornorkesteret Stavanger took the SIDDIS title and will be looking to extend that form here , whilst Haukas, Sagvag and Stangaland enjoyed good results too, coming 2nd, 4th and 5th respectively.
Experienced

The experienced Alexander Brass came 3rd last year and will want to improve on that this time out, whilst the same goes for Brottum, Skui and Gjesdal too.
The three promoted bands could also be in with a shout with Rong perhaps the most fancied to make a real mark. Flesland and Trondheim will also be looking to make an impression at the higher level too.
Kleppe will be looking for a quick return to the First Division following their relegation last year, whilst Gajallarhorn will be keen to improve on last year's 8th place.
4BR Prediction:
Another hard one to pick the winner from, but we think it could be a fight between the SIDDIS bands such as Stavanger, Haukas and Sagvag with Alexander Brass pushing them all the way.
Kleppe too should have enough about them to muster a strong challenge and Rong and Brottum could be in the mix come the results too.
1. Hornorkesteret Stavanger
2. Haukas Musikklag
3. Sagvag Musikklag
4. Alexander Brass
5. Kleppe
6. Rong Brass
Dark Horse: Brottum
---
Alexander Brass Band
Conductor: Morten E Hansen
National Record:
2008: 3rd (Sverre Stakston Olsrud)
2007: 11th in First Section (Morten E. Hansen) (rel)
2006: 5th (Morten E. Hansen)
2005: 9th (Morten E. Hansen)
2004: =5th (Morten E. Hansen)
2003: 10th in Elite Division (Morten Hansen) (rel)
2002: Winners of First Division (prom)
2001: Winners of Second Division (prom)
2000: 8th in Second Division
1999: 11th in First Division (rel)
1998: 7th in First Division
1997: Winners of Second Division (prom)
1996: 3rd in Second Division
1995: Winners of Third Division (prom)
Overall Record:
Winners of First Division 2002
Winners of Second Division 2001, 1997
Winners of Third Division 1995
Last Year: 3rd
Own Choice Selection:
2008: Nautalis
2007: English Heritage
2006: Between the Two Rivers
2005: The Holy War
---
Brøttum Musikkforening
Conductor: Erling Myserth
National Record:
2008: =5th (Erling Myserth)
2007: 4th (Thorbjørn Lunde)
2006: 10th in First Division (Thorbjørn Lunde) (rel)
2005: 6th (Thorbjørn Lunde)
2004: 9th (Thorbjørn Lunde)
2003: Winners of Second Division (prom)
2002: 8th in First Division
2001: 3rd
2000: 9th in First Division
Overall Record:
Winners of Second Division 1999, 2003
Last Year: =5th
Own Choice Selection:
2008: Trittico for Brass Band
2007: Diversions on a Bass Theme
2006: Chivalry
2005: Montage
---
Flesland Musikklag
Conductor: Patrick Randefalk
National Record:
2008: 2nd in Third Division (Svein Henrik Giske) (prom)
2007: 12th in Second Division (Svein Henrik Giske) (rel)
2006: 10th (Bengt Florvag)
2005: 7th (Yngve Nicolaisen)
2004: 9th (Egil Magnussen)
2003: 11th
2002: 5th
2001: 7th
2000: Joint 9th
Last Year: 2nd in Third Division (prom)
Own Choice Selection:
2008: Sinfonietta –The Wayfarer
2007: Dampsanger
2006: The Land of the Long White Cloud
2005: Viking Saga Opus 3
---
Gjesdal Brass Band
Conductor: Jonas Skartveit Rogne
National Record:
2008: 10th (Jonas Skartveit Rogne)
2007: 8th (Reid Gilje)
2006: 2nd in Third Division (Christian Tenfjold) (prom)
2005: 8th (Russell Gray)
2004: 10th (Russell Gray)
Last Year: 10th

Own Choice Selections:
2008: The Present Age
2007: Firestorm
2006: Festivity
2005: The Long Ships
---
Haukås Musikklag
Conductor: Thor-Arne Pedersen

National Record:
2008: 12th in First Division (Thor-Arne Pedersen) (rel)
2007: =8th (Thor-Arne Pedersen)
2006: 7th (Thor–Arne Pedersen)
2005: Winners of Second Division (Thor–Arne Pedersen) (prom)
2004: Winners of Third Division (Thor–Arne Pedersen) (prom)
2003: 11th in Second Division (rel)
2002: 4th
2001: 13th
2000: =9th
Last Year: 12th in First Division (rel)
Overall Record:
Second Division winners 1993, 2005
Third Division winners 2004

Own Choice Selection:
2008: Journey into Freedom
2007: Dances and Arias
2006: Tallis Variations
2005: Connotataions
---
Hornorkesteret Stavanger
Conductor: Clive Zwanswiniski
National Record:
2008: =5th (Clive Zwanswiniski)
2007: 5th (Geir Karlson)
2006: 4th (Geir Karlson)
2005: 8th (Geir Karlson)
2004: 11th in First Division (Russell Gray) (rel)
2003: 8th
2002: 2nd in Second Division (prom)
2001: 4th
2000: 5th
Last Year: =5th
Own Choice Selections:
2008: Firestorm
2007: Chivalry
2006: Variations on a Ninth
2005: The King of Elflands Daughter
---
Kleppe Musikklag
Conductor: Russell Gray
National Record:
2008: 10th in First Division (Russell Gray) (rel)
2007: 3rd (Russell Gray)
2006: 3rd (Eirik Gjerdevik)
2005: 4th (Eirik Gjerdevik)
2004: =5th (Eirik Gjerdevik)
2003: 6th
2002: 4th
2001: 12th
2000: 7th
Overall Record:
Second Division winners 1981

Last Year: 10th in First Division (rel)

Own Choice Selection:
2008: Elgar Variations
2007: Dances and Alleluias
2006: English Heritage
2005: Chivalry
---
Musikkorpset Gjallarhorn
Conductor: Espen Westbye
National Record:
2008: 8th (Espen Westbye)
2007: Winners of Third Division (Espen Westbye) (prom)
2006: 6th (Espen Westbye)
2005: 9th (Rolf Aksel Gilje)
2004: 11th in Second Division (Alan Fernie) (rel)
2003: 6th
2002: 3rd
2001: 5th
2000: 12th in First Division (rel)
Overall Record:
Winners of Second Division 1980, 1989, 1996
Winners of Third Division 2007

Last Year: 8th

Own Choice Selections:
2008: Forest of Dean
2007: The Land of the Long White Cloud
2006: Excalibur
2005: Blazon
---
Rong Brass
Conductor: Stian E. Svendsen
National Record:
2008: Winners of Third Division (Reid Gilje) (prom)
2007: 6th (Reid Gilje)
2006: 3rd (Reid Gilje)
2005: 6th (Reid Gilje)
2004: 11th (Hogne Haugsda)l
2003: 3rd
2002: 11th
2001: 7th
2000: 9th
Last Year: Winners of Third Division (prom)

Own Choice Selections:
2008: Kenilworth
2007: Kaleidoscope
2006: Purcell Variations
2005: Partita - Postcards from Home
---
Sagvåg Musikklag
Conductor: Havard Kroka
National Record:
2008: 7th (Havard Kroka)
2007: 10th (Havard Kroka)
2006: 7th (Havard Kroka)
2005: 10th (Michael Fowles)
2004: 8th (Michael Fowles)
2003: 9th First Division (rel)
2002: 5th
2001: 9th
2000: 8th
1999: 8th
Overall Record:
Winners of First Division 1995

Last Year: 7th
Own Choice Selections:
2008: Tallis Variations
2007: A London Overture
2006: Blitz
2005: Music for the Common Man
---
Skui Brass Band
Conductor: Philip Hannevik
National Record:
2008: 9th (Michael Antrobus)
2007: 3rd in Third Division (Henrik Dalhaug) (prom)
2006: 10th (Henrik Dalhaug)
2005: 12th (Trond Nilsen)
2004: 3rd in Fourth Division (Trond Nilsen) (prom)
2003: 3rd
2002: DNC
2001: DNC
2000: DNC
Last Year: 9th

Own Choice Selections:
2008: Connotations
2007: Symphony of Marches
2006: Renaissance
2005: Partita - Postcards from Home
---
Stangaland Brass
Conductor: Reid Gilje
National Record:
2008: 4th (Reid Gilje)
2007: 6th (Yngve Nikolaisen)
2006: 9th (Eirik Gjerdevik)
2005: 6th (Morten E. Hansen)
2004: 10th (Morten E. Hansen)
2003: 12th
2002: 4th
2001: 10th
2000: Joint 5th
Last Year: 4th
Own Choice Selections:
2008: The Forest of Dean
2007: Variations on a Ninth
2006: Trittico
2005: Tallis Variations
---
Trondheim Politis Brassband
Conductor: Peter Hatfield
National Record:
2008: 3rd in Third Division (Peter Hatfield) (prom)
2007: =10th (Odd Steinar Morkved)
2006: 12th in Second Division (Odd Steinar Morkved) (rel)
2005: =4th (Odd Steinar Morkved)
2004: 3rd (Odd Steinar Morkved)
2003: 5th
2002: 11th in First Division (rel)
2001: 7th in First Division
2000: Joint 5th in First Division
Last Year: 3rd in Third Division (prom)
Own Choice Selections:
2008: Resurgam
2007: Royal Parks
2006: Ballet for Band
2005: St Theodulph
---
Own Choice Selections:
The Saga of Haakon the Good (Sparke)
Tallis Variations (Sparke)
Endeavour (Sparke)
Blazon (Graham)
Swedish Festival Music (Downie)
The Land of the Long White Cloud (Sparke)
Tallis Variations (Sparke)
Heart of a Salvationist (Beijer)
The Forest of Dean (Bourgeois)
Dances and Arias (Gregson)
Aspects of Praise (Himes)
Rhapsody in Brass (Goffin)
Dances and Arias (Gregson)
---
2008 Result:

1. Ørskog Brass (John Hudson) = 97
2. Kopervik Musikkorps (Simon Dobson) = 96
3. Alexander Brass Band (Sverre Stakston Olsrud) = 95
4. Stangaland Brass (Reid Gilje) = 94
=5. Brøttum Brass (Erling Johan Myrseth) = 93
=5. Hornorkesteret Stavanger (Clive Zwanswiniski) = 93
7. Sagvåg Musikklag (Håvard Kroka) = 91
8. Musikkorpset Gjallarhorn (Espen Westbye) = 89
9. Skui Brassband (Michael Antrobus) = 88
10. Gjesdal Brass Band (Jonas Skartveit Rogne) = 87
11. Tysnes Musikklag (Yngve Nikolaisen) = 86
12. Follesø Musikklag (Rune Hannisdal) = 85
13. Vennesla Kristne Brass (Vidar Løvbrøtte) = 84