2009 Norwegian National Championships - Third Division preview and prediction
4-Feb-2009
There is plenty to look forward to in the Third Division - especially as the bands usually have a taste for the classics of the banding repertoire.
---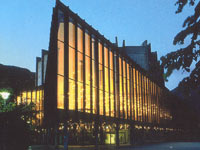 Third Division:

Adjudicators: Harald Eikaas and Jappie Dijkstra
Friday 6th February (16.00)
---
The Third Division has grown both in numerical and musical strength over the last few years here in Bergen.
Choices of repertoire are ambitious (again sometimes overly so) but the overall standard is never short of excellent.
Kenilworth

Last year's contest was a case in point – a number of choices made by the bands seemed on the face of it to be rather over reaching, but the winners and runners up in particular were excellent – playing two classics of the banding repertoire, 'Kenilworth' and 'The Wayfarer'.
Not even the most die hard traditionalist could complain about that, and it is hoped that more of the same is heard this year – playing such repertoire really does improve a band – and its conductor.
Crucial form

Form as usual will be crucial, and there are five bands at least who come to the contest on the back of encouraging results from SIDDIS.
There, Fjell Brass took the honours, whilst Lindas were runner up. Also in the top six there were Gjovik and Hordvik who came 5th and 6th, whilst Bergen Brass Band were 6th in the Second Division.
Grenland meanwhile came 6th here last year and will want to push further up the prize list, whilst there was little to choose between the likes of Borge, Fraena, Hasle and Kjolsdalen, all who were placed joint 8th.
Promoted bands

Tromso will definitely be looking to move up the results list after coming 12th last year, whilst the promoted bands of Torskangerpoll, Frei and the great bunch from Manger Old Stars could be two very competitive outfits.
Meanhile, Folleso will be hoping that their stay in the Third tier of Norwegian banding will be a short one as they try to gain promotion after last year's relegation from the Second Division.
4BR Prediction:
As for a winner? Another difficult one to pick as so many of the bands appear on paper to be so well matched.
We have taken our usual scientific approach to these things and put a pin on a stick and gone for Torskangerpoll Musikklag to make it a double, followed closely by Grenland, Bergen and Lindas with Fjell and Borge making up the top six. Our dark horse are the lads and lasses from Manger.
1. Torskangerpoll Musikklag
2. Grenland
3. Bergen
4. Lindas
5. Fjell
6. Borge

Dark horse: Manger Old Stars
---
Bergen Brass Band
Conductor: Bjorn Breistein

National Record:
2008: 4th (Trond Elnes)
2007: 13th in Second Division (Helge Haukas) (rel)
2006: 5th (Stian Svendsen)
2005: 3rd (Stian Svendsen)
2004: 5th (Stian Svendsen)
2003: 10th
2002: 14th in Second Division
2001: 2nd
2000: 7th
Last Year: 4th
Own Choice Selection:
2008: Variations on a Chord
2007: Diversions on a Bass Theme
2006: A London Overture
2005: The Land of the Long White Cloud
---
Borge Brass Band
Conductor: Oddvar Nostdal
National Record:
2008: =8th (Torstein Aagaard-Nilsen)
2007: =7th (Torstein Aagaard-Nilsen)
2006: 13th in Second Division (Torstein Aagaard-Nilsen) (rel)
2005: Winners of Third Division (Torstein Aagaard-Nilsen)
2004: =8th (Torstein Aagaard-Nilsen)
Overall Record:
Winners of Third Division 2005
Last year: =8th
Own Choice Selections:
2008: Laudate Dominum
2007: Connotations
2006: Partita – St. Theodulph
2005: The Present Age
---
Follesø Musikklag
Conductor: Reid Gilje
National Record:
2008: 12th in Second Division (Rune Hannisdal) (rel)
2007: 10th in First Division (Eirik Gjerdevik) (rel)
2006: Winners of Second Division (Egil Magnussen) (prom)
2005: 9th (Jan Arne Pope)
2004: 3rd in Third Division (Jan Arne Pope) (prom)
2003: 6th
2002: 10th
2001: 6th
2000: DNC
Overall Record:
Winners of Second Section 2006
Last Year: 12th in Second Division (rel)
Own Choice Selection:
2008: The Plantagenets
2007: Royal Parks
2006: Kaleidoscope
2005: Firestorm
---
Frei Hornmusikk:
Conductor: Kim Lofthouse

National Record:
2008: 4th in Fourth Division (Stein Åge Sørlie) (prom)
2007: 14th in Third Division (Stein Åge Sørlie/ John Hudson) (rel)
2006: 4th in Fourth Division (Stein Åge Sørlie) (prom)
Overall Record:
Winners of Third Division 2001

Last Year: 4th in Fourth Division (prom)

Own Choice Selection:
2008: The Saga of Haakon the Good
2007: Laudate Dominum
2006: Inspiration - Jan de Haan
---
Fræna Musikkorps
Conductor: Jens Kristian Mordal
National Record:
2008: =8th (Jens Kristian Mordal)
2007: =7th (Jens Kristian Mordal)
2006: 11th in Second Division (Jens Kristian Mordal) (rel)
2005: 11th (Jens Kristian Mordal)
2004: 6th (Jens Kristian Mordal)
2003: Winners Third Division (Jens Kristian Mordal) (prom)
2002: 9th
2001: DNC
2000: DNC
Overall Record:
Winners of Third Division 2003

Last Year: =8th
Own Choice Selection:
2008: Prillar –Guri – The Voice of the Valley
2007: Royal Parks
2006: Firestorm
2005: Oceans
---
Gjøvik ByBrass
Conductor: Trond Elnes
National Record:
2008: 7th (Thorbjorn Lunde)
2007: = 10th (Trond Elnes)
2006: 8th (Roar Bjerkehagen)
2005: 10th (Roar Bjerkehagen)
2004: 12th in Second Division (Roar Bjerkehagen) (rel)
2003: 2nd in Third Division (prom)
2002: Joint 13th
2001: 12th
2000: DNC
Last Year: 7th

Own Choice Selections:
2008: Resurgam
2007: Festivity
2006: The Plantagenets
2005: Kaleidoscope
---
Grenland Brass:
Conductor: Sigurd Grov Skramsett
National Record:
2008: 6th (Morten E Hansen)
2007: =4th (Morten E Hansen)
2006: 5th in Fourth Division (Rune Hansen) (prom)
2005: 6th (Magne Rutle)

Last Year: 6th

Own Choice Selection:
2008: The Dark Side of the Moon
2007: Forest of Dean
2006: Kaleidoscope (Five Variations on the Brugg Song)
2005: Tryptich for Brass
---
Hasle Brass
Conductor: Frode Amundsen
National Record:
2008: =8th (Michael Antrobus)
2007: 9th (Michael Antrobus)
2006: 5th (Michael Antrobus)
2005: 7th (Tarjei Gilbrant)
2004: 6th (Tarjei Gilbrant)
2003: 10th Second Division (rel)
2002: 5th in Third Division (prom)
2001: 8th
2000: 20th
Last Year: =8th

Own Choice Selections:
2008: Firestorm
2007: John O' Gaunt
2006: The Land of the Long White Cloud
2005: English Heritage
---
Hordvik Musikklag
Conductor: Knut Emil Mjøs
National Record:
2008: 5th in Fourth Division (Knut Emil Mjøs) (prom)
2007: =8th (Knut Emil Mjøs)
2006: =6th (Knut Emil Mjøs)
Last Year: 5th in Fourth Division (prom)

Own Choice Selection:
2008: Images for Brass
2007: Laudate Dominum
2006: Triptych for Brass Band - Philip Sparke
---
Kjølsdalen Musikklag
Conductor: Gerard Rooker
National Record:
2008: =8th (Arvid Anthun)
2007: 2nd in Fourth Division (Arvid Anthun) (prom)
2006: =10th (Helge Øren)
Last Year: =8th
Own Choice Selection:
2008: Tripthych for Brass
2007: Gothic Dances
2006: The Four Noble Truths
---
Lindås Musikklag (Austrheim- Lindås Musikklag)
Conductor: Hogne Holmås
National Record:
2008: 5th (Hogne Holmås)
2007: 4th (Hogne Holmås)
2006: 9th (Pål Magne Austnes)
2005: 5th (Age Torsvik)
2004: 7th (Age Torsvik)
2003: 9th in Second Division (rel)
2002: 8th
2001: 11th
2000: 12th
Last Year: 5th

Own Choice Selections:
2008: Kaleidoscope
2007: Royal Parks
2006: Rhapsody in Brass
2005: Firestorm
---
Manger Old Stars
Conductor: Johannes Mangersnes

National Record:
2008: 3rd in Fourth Division (Johannes Mangersnes) (prom)
2007: DNC
2006: DNC
2005: 2nd in Fourth Division

Last Year: 3rd in Fourth Division (prom)

Own Choice Selections:
2008: The Lord is King
---
Torkangerpoll Musikklag
Conductor: Eirik Gjerdevik
National Record:
2008: Winners of Fourth Division (Eirik Gjerdevik) (prom)
Overall record:
Won Fourth Division in 2008
Won Third Division in 1999
Last Year: Winners of Fourth Division (prom)

Own Choice Selections:
2008: Kaleidoscope
---
Tromsø Brass
Conductor: Tor Kristian Innbjor
National Record:
2008: 12th (Robert Jensen)
2007: 11th in Second Division (Robert Jensen) (rel)
2006: 11th in First Section (Robert Jensen) (rel)
2005: 2nd in Second Division (Robert Jensen) (prom)
2004: 4th (Robert Jensen)
2003: 7th
2002: 8th
2001: N/K
2000: 3rd
Overall Record:
Winners of Second Division 1998
Winners of Third Division 1990

Last Year: 12th

Own Choice Selections:
2008: Journey into Freedom
2007: Dances and Arias
2006: Babylonian Tablets
2005: Blitz
---
Test Piece Selections:
The Forest of Dean (Bourgeois)
Variations on Maccabeus (Norbury)
Blazon (Graham)
Purcell Variations (Downie)
Song of the Eternal (Condon)
The Present Age (Concon)
The Essence of Time (Graham)
Diversions (Sparke)
Kaleidoscope (Sparke)
Toccata Festiva (van der Roost)
Rhapsody in Brass (Goffin)
Tallis Variations (Sparke)
Triumphant Rhapsody (Vinter)
Music for a Festival (Sparke)
Myte (Aaagaard-Nilsen)
---
2008 Result:

1. Rong Brass (Reid Gilje) = 93
2. Flesland Musikklag (Patrik Randefalk) = 92
3. Trondheim Politis Brassband (Peter Hatfield) = 91
4. Bergen Brass Band T(rond Elnes) = 90
5. Lindås Brass (Hogne Holmås) = 89
6. Grenland Brass (Morten E. Hansen) = 88
7. Gjøvik Bybrass (Thorbjørn Lunde) = 87
=8. Borge Brass Band (Torstein Aagaard-Nilsen) = 86
=8. Fræna Musikkorps (Jens Kristian Mordal) = 86
=8. Kjølsdalen Musikklag (Gerard Rooker) = 86
=8. Hasle Brass (Michael Antrobus) = 86
12. Tromsø Brass (Robert Skoglund Jensen) = 85
13. IMI Brass (Per-Erik Petersen) = 84
14. Lismarka/Mesnali Brass (Morten Fagerjord) = 83
15. Langhus Brass (Idar Torskangerpoll) = 82