4BR Band under the spotlight - Redbridge Brass
4-Feb-2009
4BR puts the Butlins Mineworkers Champions under the spotlight to find out a bit more about them, their aims and objectives for the next twelve months.
---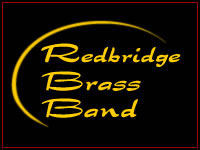 Band: Redbridge Brass
Website: www.geocities.com/redbridgebrass
Region: London & Southern Counties

Major Honours:
Butlins Mineworkers Champions 2009
National Champions of Great Britain – Third Section: 1971
London & Southern Counties Regional Champions: 1988, 1991, 1992, 1996, 1997, 2002, 2003, 2004, 2005, 2007, 2008
---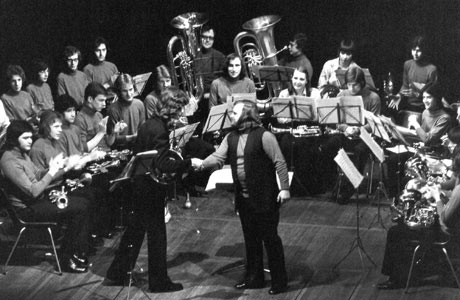 Cool cats: Redbridge circa 1975 - check out the stylish polo necks

Band History:
The Redbridge Brass Ensemble was formed in the latter part of the 1960's by John Ridgeon, and originally started life as part of the Redbridge Music School based in the London Borough. It was initially the top tier of a four band structure encouraging brass playing in that particular part of the capital.
The band started entering contests under the name Redbridge Youth and in 1970 became National Youth Champions of Great Britain. A year later, and again under the baton of John Ridgeon the band became Third Section National Champions, before astounding the banding world by being placed 3rd at the 1972 Grand Shield contest – still as a youth band.
With band members being too old to remain at the music school they reformed as Redbridge Brass Ensemble in 1975 after being promoted to the Second Section.
Influence

The influence of John Ridgeon remained until he left in 1977 and after a number of Musical Director changes the band won the Second Section Area title in 1985 and went on to come 4th at the Finals under the baton of Graham Chambers.
In 1986 the band entered the Championship Section where it has remained ever since.
In 1988 the band won its first Area title and gained sponsorship under the name 'London Electricity Redbridge Brass' until 1993. Since that time the band has been self supporting.

Redbridge circa 2009: Check out the silverware...

Area titles

Further Area titles came in 1991 and 1992 under John Clarke, whilst they produced a ground breaking jazz inspired album called 'Close Enough for Jazz' in 1994.
Graham Wilson led the band to two further Area titles before the arrival of Melvin White in 1998 led to an extended period of success until 2007- including a further five Area wins, four of which were in succession from 2002 to 2005.
The band won the Area for the tenth time under the direction of Rob Wiffen in 2008, whilst they also made an impression at the Al England Masters, coming 4th.
The most significant contesting success in the band's history occurred in early 2009, winning the Butlins Mineworkers Championship at Skegness, bagging £7,000 prize money in the process.
---
Statistics:
Current 4BR Ranking: 26
2008 Contesting Record:
London & Southern Counties Regional: Winners
All England Masters: 4th
Grand Shield: 9th
English Nationals: 14th
National Finals: 17th
2008 Prize Money won: £950
2009 Contesting Record:
Butlins Mineworkers Championship: Winners

2009 Prize Money won: £7,000
---
4BR Eight Year Ranking Progress: (World of Brass/4BR Ranking to February 2009)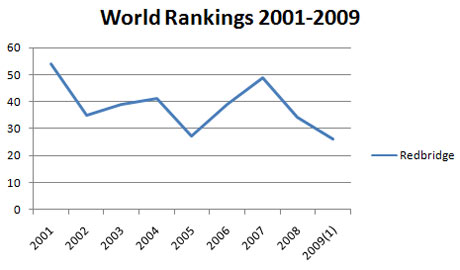 When the 4BR rankings first started, Redbridge ended 2001 as the 54th ranked band in the world. Since that time they have experienced up turns in ranking form as well as downturns.
At the end of 2002 they rose to 35th only to fall back to 39th and then 41st by the end of the 2004 season. A big leap in 2005 saw them climb to 27th, before two further falls in 2006 and 2007 saw them drop first to 39th and then 49th respectively. At the end of 2008 they had returned upwards to 34th in the end of year rankings.
---
Personnel: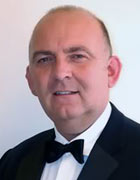 Professional Conductor: Jeremy Wise
Jeremy was born into a musical family and began receiving tuition from his father at the age of six. He was awarded a Music Scholarship to St Albans School where he studied under Simon Lindley and an Exhibitioners Scholarship to the Royal Academy of Music studying trumpet and piano.

He has featured in a number of TV and Radio Broadcasts and toured Australia, New Zealand, Canada and Europe as a performer.
As a musical director he has enjoyed considerable success with many bands, most notably John Laing Hendon, First City Brass and The Cory Band. In the mid 1990's he was the resident conductor of the Brighouse and Rastrick Band and in 1993 was the first recipient of the BBC Young Conductor of the Year Award.

He has appeared as guest conductor in Germany and Switzerland and with the current National Champions - the world famous Grimethorpe Colliery (UK Coal) Band.
Jeremy has once again turned his attention to a London band and as its new musical director is very pleased to be conducting Redbridge Brass.
Current Players:

Principal Cornet: Ralph Brill
Solo Cornets: Clive Miller, Phil Littlemore, T-Jay Mackenzie
Soprano: Martin Britt
Repiano: Amanda Fitch
2nd Cornets: Jane Flower, Lizi Sawyer
3rd Cornets: Kathy Sutton, Nick Garman
Flugel: Alan Roberts
Solo Horn: Megan Morgan
1st Horn: Simon Jones
2nd Horn: Fiona Roberts
Solo Baritone: Colin Leggett
2nd Baritone: Ali Wood
Solo Euphonium: Lisa Brill
2nd Euphonium: Lauren Petritz-Watts
Solo Trombone: Jayne Murrill
2nd Trombone: Dave Wallace
Bass Trombone: Tim Morgan
Eb Tubas: Chris Bearman, Chris Gilbert
Bbb Tubas: Graham Patterson, Alan Howard
Percussion: James Sear, Daniel Floyd, Adam Broughton, Bobbie Sullivan, Mark Handley, Rosie Evans
---
2009 Aims and objectives: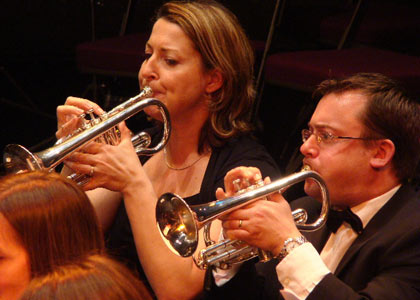 Heading forth - Redbridge came 4th at the Masters in 2008

Contesting front:

Band spokesperson Tim Morgan told 4BR: "There are five main contests for the band to look forward to this year, starting at Stevenage and the Area contest. We are not taking anything for granted here and qualification for London is the minimum priority.
"After that we really want to try and qualify for the British Open, although we know that is going to be difficult at the Grand Shield, whilst we are looking forward to both the Masters and English Nationals, as they are high quality contests with many of the top bands to play against."

Non contesting front:

"We are hoping to be able to release a new CD some time this year and we have a Listen to the Band recording coming up in March.
"We tend to get a lot of corporate work each year to keep the band going, although much of it comes in at short notice. Last year we went to play in Dubai for instance. We want to promote more of our own concerts too and we have had a greater amount of interest shown in the band since our Butlins win. That shows what success brings."
---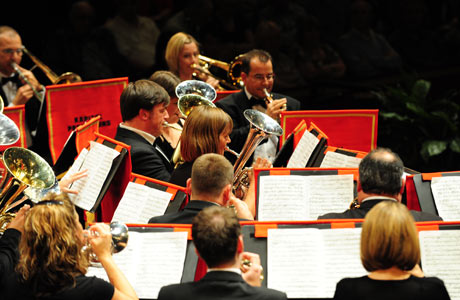 National appearance? Redbridge could well be heading for another London Final later this year

4BR Predictions:
It could well turn out to be a very significant year for Redbridge if they can build on the success of the Butlins Mineworkers Championship.
There were hints in 2008 that Redbridge were finding consistency under the baton of Jeremy Wise, and although that didn't quite materialise as they would have hoped, there was a sense of self confidence and permanency about their form in their win at Skegness.
This is now a very solid outfit – no real star performers in the ranks, but a host of experienced campaigners. They may just lack that cutting edge of having a 'star turn' so to speak if the test pieces later this year are showcase technical tour de forces, but they now look and sound as if they can cope with just about anything that comes their way.
The Area title is theirs for the taking, and it would be a major surprise if they didn't make it a hat trick. After that though they will have to be on top form if they are to make a real impression at the Grand Shield and claim a place at the British Open.
There will also be some pressure on the band to show that last year's Masters result wasn't a one off, and they will have to improve if they are to make a better mark at the English Nationals.
After that its up for grabs – the Nationals should suit the band and its much improved sound quality, and who knows, by then they may well be playing at the British Open too.
Now that would be interesting.