2009 Action Medical Research Championship - retrospective
4-Feb-2009
Malcolm Wood looks back on a day of brilliant entertainment in Blackpool that is still need of a bit of marking research from the organisers.
---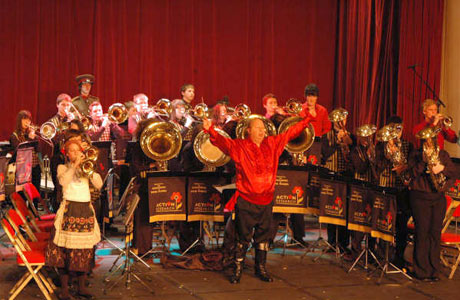 Comrades in Arms: Youth Brass 2000 take the Action Research title
Picture: Niki Stirzaker

All things come to an end - and on Sunday evening Rochdale Borough Youth's four year dominance of this event was ended by the brilliance of Youth Brass 2000 directed by Chris Jeans.
Youth Brass 2000 have really began to make a name for themselves this year (perhaps they should be called Youth Brass 2009?) and their hard work is beginning to pay off in a big way. There was no denying that they were worthy of the 2009 title.

Spread of points
Once again however, the day was tempered by the spread of the entertainment marks.
Two years on from Stephen Tighe's problems, the thought was - 'Oh no, not again'.
Was there really a 30 points difference in the quality of entertainment? You could be fooled for thinking some of the performances weren't that great the further you went down the results table – but you would be wrong. It is the marking criterion that was once again at fault.
What is entertainment?
The phrase 'what is entertaining to one person, may not be entertaining to another' is perfectly true, but at this contest, innovative ideas were met by the reply - 'sorry its not what I wanted to see'. Yet this comes just over a year after two leading judges in banding said at Butlins that innovation was the way forward.
Bands here have used their initiative for years, yet on Sunday, it seems they were now being told that this wasn't the way to approach such a contest.
You can sympathise with the bands for being totally confused. It would appear that it is not only the marking criterion that is out of date and damaging.
Short of innovation

With such a system to work with entertainment judge Gordon Higginbottom was also short of innovation too.
Gordon made a number of small valid points, but overall his synopsis of what he had seen and heard was anything but inspiring, uplifting and encouraging. The sense of disappointment from young players hoping to be told something positive about their efforts hung heavy in the air after his rather pedantic appraisal.
Quick and effective

This event is brilliantly run and organized, but now more than ever, the contest needs judges that can tune into the imaginations of young people and relate to them quickly and effectively.
Richard Evans still retains that impish humour (his speech was uplifting, witty, but also pointed and accurate) but why not make this a truly 'Youthful' event and get other recognizable stars that inspire young minds, to be part of it with him?
Paul Lovatt-Cooper for instance went on stage prior to the results and had the players and audience in the palm of his hand within 20 seconds. So why not the likes of David Childs, Les Neish, David Thornton, Simone Rebello, John Doyle and many more besides?
Basic result

The overall result was basically correct – basically that is.
However, there were real understandable grumbles from those who felt that they were being unduly penalised for their efforts by a system that is both crass and damaging.
With such outstanding efforts from all the competitors (seating plans went out of the window this year) it is perhaps time the organisers also caught up with the sense of innovation too.
Outstanding winner
Youth Brass 2000 were simply superb – end of story.
They opted for Peter Graham's 'Call of the Cossacks' and the whole idea was so expertly delivered – from choreography to the playing. MD Chris Jeans came on dressed as one of Comrade Stalin's finest, whilst the players delivered from memory. It was stunning.
The 'Cossack Fire Dance' was razor sharp whilst flugel player Alice Norman was outstanding in 'Doyle's Lament' – worthy of the man himself. It really was terrific stuff right to the end, and with 1st place in the music category and 2nd in entertainment, it was more than enough to take the title. The band also took the prize for stage deportment and Alice for the being the best soloist. This is some band.
Pirates in second
Elland Silver Youth and Samantha Harrison went for a piratical theme that was superbly thought out both visually (they deservedly won the entertainment section) and musically.
Dressed in various nautical attire their opening number, 'Bound for Sea' was judged to be the most entertaining item of the contest, and was full of fun and humour that was never misplaced.
Elsewhere they enjoyed dropping anchor on 'What do you do with the Drunken Sailor?' and 'Sailors Hornpipe', whilst some of the best playing came from Philip Varley on cornet in 'Tico, Tico'. Not content with that, the band's singer in 'Hine e Hine' was extremely accomplished and come the end of 'Get Happy', the band had delivered the goods in excellent fashion.
Defending Champions dethroned
Eric Landon's Rochdale Borough couldn't have done anything more in defence of their title than they did with a fairy tale inspired theme influenced by Disney and Mary Poppins.
Once again it was all from memory and presented with such slick professionalism. 'Disney Fantasy' started things off before from behind the back cloth elevated on poles, the band brought the house down with 'I Wanna Talk Like You'.
Snow White and the Seven Dwarfs was truly inspired - complete with dwarfs playing glockenspiels and xylophones, and the soprano soloist was classy as was the closing 'Supercalifragerlistic' complete with Mary Poppins trying to overcome her dyslexia. Impressive stuff, but alas it wasn't meant to be on this occasion.
Fire-eating Sellers
Sellers International has been extremely innovative in the past couple of years (players levitating and being sawn in half) and this time they opted for an American gangster theme – complete with fire-eater and coffin!
They were also one of the few bands to choose a quiet piece ('Moon River') and play it quietly too – a fact that Richard Evans did make a point of.
After shooting the principal cornet to open, the 'Dragnet Theme' led to a trip down Tony Soprano territory with 'Just a Closer Walk with Thee' before Joe Murray recovered from his wounds to produce an excellent 'Sugar Blues'.
The comedy boxing match with music from 'Eye of the Tiger' was a hoot, and the popular 'Sing, Sing, Sing' complete with fire-eater and the percussion team playing stools was sparkling. 'Semper Fidelis' with MD, Mark Bousie, taking a back seat to allow the central characters to step forward to take their respective bows rounded off a fine show.
Sellers finished 7th the entertainment stakes, but 2nd for music – a rather disappointing mismatch of results for a consistently fine effort.
Young Houghton
Houghton from the North East was one of the youngest bands on show and they also opted for a Disney Theme that was full of fine playing (but some poorly miked singing) and plenty of clever visual choreography (the dancing in 'Under the Sea' from 'The Little Mermaid' was great).
A neatly put together programme earned them 3rd place in the entertainment section and 12th in the music to come a well deserved 5th overall. They are a band to look out for.
In sixth came Poynton Youth. The band's euphonium player was impressively composed in 'One Voice', whilst 'Trumpet Blues' was slick and upbeat. Their best playing came from principal cornet Danielle Miller, on 'Share My Yolk' – delicately played with real feeling, whilst the neat humour came in 'Cat Walk' with the appearance of a Pink Panther or two.
American from Stockport
Stockport Schools paid homage to all things Americana – complete with MD Phil Pavey in typically garish Yankee costume.
There was lots of good playing – from the opening 'Birdland' and a fine performance on cornet of 'Georgia on my Mind' to the excellent 'The Good, The Bad and The Ugly', reviving memories of Stan Lippeatt in his Mexican pomp all those years ago!
Slick and well thought out, they fully deserved its prize as the band showing the most potential.
Top of the Pops

Wardle meanwhile opted for a 'Top of the Pops' theme, complete with a Jimmy Saville lookalike. Lee Rigg's band played extremely well – from the famous theme tune to Robbie Williams, (featuring a very good guitarist) and the brilliant 'Rock Around The Clock' - complete with dancers. They had to settle for 8th overall, but it was another performance full of wit and intelligence and plenty of thought.
Enderby on the other hand opted for an African core to their performance. They opened in fine form with the march, 'Army of the Nile' and there was plenty to admire in 'Music from The Lion King' including some belting singing, and overall it was a well put together programme by Trevor Hounsome that knew its limitations.
Great debutants
Bare Trees Community played extremely well to finish 4th in the music stakes – but their entertainment package of an American theme didn't sit right with Gordon Higginbottom – who placed them 13th.
The march onto the stage with 'Stars and Stripes Forever' gave them the 'Best March' award whilst euphonium Harrison Healy, gave an excellent performance of 'Amazing Grace'. This was followed by a bright 'Twelfth Street Rag' and a selection of all the best bits from 'Hawaii Five 0' to close. John Collins and his young band can be proud of their efforts on the day.
Ginger Bread?

Well done also to Oldham Music Centre for its 1970s theme. The march 'Goldcrest' was bright and breezy and there was some effective quartet playing in 'The Irish Blessing'. 'Trumpets Wild' was a real throw back whilst there were plenty of parents of a certain age who particularly enjoyed 'Sweet Ginger Bread Man'. 11th place, but a fine effort by Jonathan Leedale and his players – who must have thought the 1970's were a weird old time!
Further back

Even further back in time went Macclesfield Youth, as Louise Renshaw led her troops through a themed programme of life in England during the 1950's - complete with Garden Party and Fete with the Rose Queen.
It was all very tastefully done - the ladies (including the MD) dressed up and the back row cornets elevated to project the sound. They were yet another band that had given a great deal of thought to their performance, and the link to 'Don't Stop Me Now' brought the music bang up to date with a real sense of vibrant fun.
Encouraging

That just left Tees Valley and Tewitt Youth - both producing very encouraging performances.
Tees Valley did superbly well with just 21 players on stage. The music of Neil Heftie was showcased in 'L'il Darlin' and 'Cute' (both neatly played) and they wrapped up things nicely in 'Mack the Knife'.
Stuart Gray has a band with bags of potential here, and it was nice to see him coaxing and encouraging his troops throughout – a great display of encouragement and inspirational leadership.

For Tewitt Youth, there was plenty to admire and praise in their marine theme that included plenty of cracking comedy moments.
There were little ships bobbing up and down on the waves below the stage, fifteen blokes doing their Morecambe & Wise interpretation of 'There's Nothing Like a Dame' and a no-holding back, 'Yellow Submarine' to close, where anything and everything went on.
How it was so low in the entertainment points was a compete mystery, but perhaps they will take some heart from the quality of their playing and their obvious delight in doing what they did so well.
Samba Feast
Before the results Paul Lovatt-Cooper and Samba teacher, Btian Costello led the percussion sections from the bands in a Samba Feast and a Conga round the hall - and they had an absolute ball. This is what a contest such as this should be all about.

The Results
The overlong presentation ceremony meant an 8.00pm finish, but after such a day of entertainment few really complained. Gary Walzack and his team do a tremendous job putting on this event and it is a near impossible task to try and shoehorn 14 great bands into a day without having to sacrifice something on the timings. As always the welcome was warm to everyone who passed through the doors (press included)
Production Team
The Action Medical Research Youth Entertainment Contest continues to be an event not to be missed.
A production team was on hand filming on behalf of Channel 4 too, about a project that involves the Halle Orchestra and musicians from within Greater Manchester - but its not expected to be aired for a couple of years yet.
Next year, everybody will congregate on Valentines Day, so expect plenty of love themes - although it will be hoped there will be no love lost if the dispiriting points system hasn't been replaced by then.
Malcolm Wood
---
The Programmes:

Youth Brass 2000
Call of the Cossacks: Procession of the Tartars; Gypsy Dream; Cossack Fire Dance; Doyle's Lament; Cossack Wedding Dance
Elland Silver Youth
Bound for Sea; Music including Mow the Man Down; What Do You Do with the Drunken Sailor; Fantasia on British Sea Song;, Sailors Hornpipe; Tico, Tico; Pirates Attack; Hine e Hine; Pirates Melody
Rochdale Borough Youth
Disney Fantasy; I Wanna Talk Like You; A Dream is a Wish; Your Heart Meets;Dig, Dig Dig Heigh Ho; Supercalifragerlisticexpialidocious
Sellers International
Theme from Dragnet; Just a Closer Walk With Thee; Sugar Blues; Eye of A Tiger; Moon River; Sing, Sing, Sing; Semper Fidelis
Houghton
When You Wish Upon a Star, Heigh ho; Under the Sea; Music from Lion King; Pirates of the Caribbean; Music from Beauty and the Beast; Disney on Parade
Poynton
One Voice; Trumpet Blues and Cantabile; Share my Yolk; Cat Walk from Cats Tales; Toccata in D Minor
Stockport Schools
Birdland; The Liberty Bell; Georgia on My Mind; Shenandoah; The Good, The Bad and The Ugly
Wardle High
Top of the Pops theme Tune; Rock DJ; Everything I Do, I do it For You; Final Countdown; Mama Mia; Hey Jude; Rock Around the Clock
Enderby Youth
Army of the Nile; Nkosi Sikelel ' I, Africa (God Bless Africa; African Funk/Lion King; Zulu
Bare Trees
American National Anthem; Stars and Stripes Forever; Amazing Grace; Twelfth Street Rag; Selection from West Side Story; Hawaii Five O
Oldham Music Centre
Goldcrest; The Irish Blessing; Trumpets Wild; Sweet Ginger Bread Men; Farandole
Macclesfield Youth
Don't Rain on my on my Provide; Lovely Bunch of Coconuts; Jerusalem; English Country Garden; The Sun Has Got His Hat On; Don't Stop Me Now
Tees Valley
Malaguena; L'il Darlin; Me and My Shadow; Cute; Mack the Knife
Tewitt Youth
Theme from Sting Ray; The Padstow Lifeboa; Some Enchanted Evening; There's Nothing Like a Dame; Crimson Tide; O God our Help in Ages Past; Yellow Submarine