4BR Dinner Guests - Morvern Gilchrist and Lesley Howie's ultimate dinner guest list
3-Feb-2009
Two of the best players in the banding world tell us who they would like to share a curry with...
---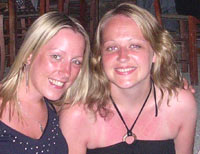 Given the opportunity, the wish list, the ability to mess about with the Space-Time Continuam like Doctor Who, and the skill to cook like Heston Blumenthal, who would you like to invite around to your place to enjoy a meal and chin wag with?

4BR started it all off a few days before Christmas 2007 with our 10 dinner guests, so we thought we had better ask a few more brass band personalities who would be on their all time dinner list too...
This time it's the girls who get a chance, with two of the most talented lassies in the banding world - Morvern Gilchrist and Lesley Howie.

Wonderful players for Black Dyke and Fodens, the cornet and horn performers have known each other for years and are bursting with a talent. They are also a delight to have in your company.

We've been fairly generous with our criteria too: The 10 people can come from any time in history, but must have some link, in however tenuous a form, to the brass band movement.
The budget for the meal and drinks comes out of their own pockets though (or someone elses if they can persuade them!)

Curry Party

The girls told 4BR: "In the 17 years that we have been best friends, we have shared many a bottle of wine over a nice meal. However, since neither of us has a dining room and only one of us can cook; we have decided to take our guests to the curry mile in Rusholme, Manchester.
We will take our guests to the pub for a sociable few drinks first to help get the conversation and spirits flowing. We'll then jump on the 42 bus and head to a top class restaurant for a night of cackling, cobra and curry.

We would love to add our partners and close friends to this list, but we're decided to choose people who we would not normally have the opportunity to dine with."

These are the lucky people that got an invite then...
---
1. Bram Tovey

Both of us have played under 'Gods' baton at Fodens. (Morvern a few years back and Lesley more recently). Bram has an unbelievable talent of getting the best out of his players, both in top bands and the NYBBGB, and he is a fantastic person to work with.

He also has brilliant stories and definitely loves a good curry and a beer (or two).
2. Robbie Williams

Although he doesn't play a brass instrument we think he'd make a mean timp player (you'll know what we mean if you've seen his 'Swing When Your Winning' DVD). We have spent many band coach journeys to far and distant lands watching and singing along to the lovely Robbie.

He would be welcome at our curry party and we could all join together to perform some Sinatra classics after the meal (which he would paid for of course, as he is very rich)
3. Jens Lindermann

Lesley first met Jens whilst playing with Brass Band of Battle Creek. Jens is a very friendly, crazy, funny guy who is also an awesome brass player. He has a large personality and would certainly liven any dinner party up.

We know that he has already visited Manchester when he was the soloist with the NYBBGB and sampled the beer in Scu Bar, but we were not sure that he visited Rusholme - so would like to give him the opportunity to do so.
4. Gordon Evans MBE
Gordon was (and still is) a fantastic teacher. He kept Morvern motivated and inspired throughout her time in Campbeltown Brass and pushed her as a player.

We know that Gordon would have many stories to tell the other guests from his memories of banding.
5. Maureen Cameron (Cairns Brass – Australia)

We would love Mo to be at our night out because she is the life and soul of the party. She moved to Australia a few years back and we miss going out and catching up with her! Maureen and Morvern wrote a very detailed cocktail recipe book that was written over the space of a few months before she left.

We hope that she would bring the book and would be happy to shake a few cocktails for our guests!
6. Alex McCutcheon

Alex was Lesley's brass teacher for 7 years before she moved to study in Manchester. Alex was (and still is) an excellent teacher to Lesley and many others.

We are sure that having both of our teachers at our dinner party would result in many funny stories of our past, especially of being rivals at Scottish solo competitions. (The teachers not us :-)
7. Jo Moren – Solo Horn Treize Etoiles Brass Band

We would have a good catch up with Jo - the last time we saw her was at the National Finals in London where we put the world to rights (post contest results) over a nice rosy wine.

She is a lovely person and a great tenor horn player who comes from a talented banding family, and could help share the bottles of wine over some stories of Swiss banding. (Also if we are really lucky she could bring some lovely Swiss chocolate to go with the after dinner coffee!)
8. Dizzy Gillespie

A multi-talented musician we would both like a lesson in improvisation from Dizzy before the trip to the pub. A few years ago we decided to teach ourselves another instrument. (Morvern/ flute and Lesley/Saxophone) Dizzy could help us with this and then on our Jazz Days we might actually be able to play in the same key.

(Then when we serenade our mums down the phone playing our alternative instruments they might not hang up this time)
9. Richard Evans

Richard needs no introduction and I'm sure would be on many peoples dinner party list.

He is charming, funny and is a true gentleman. We both spent many years with Richard on the National Youth Brass Band of Scotland, where he still conducts, but unfortunately we are too old now to play in the band (although I'm sure many of you will be surprised by this!)
10. Michael McIntyre

If Mo, Jo and Robbie don't hit it off then we will use our secret weapon – comedian Michael McIntyre to lighten the mood.

If there aren't enough stories to keep the night entertaining we are sure Michaels hilarious true to life stories would have us all in stitches.
---
Previous dinner guest lists:
Previous guests have included the 4BR selection; Chris Wormald; David Read; Pete Meechan; Alan Jenkins; Derek Broadbent; Philip Harper; Peter Roberts; Frank Renton; James Shepherd; Dr Roy Newsome, Paul Lovatt-Cooper, Bramwell Tovey and Kevin Crockford.