2009 RNCM Festival of Brass - retrospective
2-Feb-2009
The 2009 RNCM Festival of Brass really was an inspirational three days of high class brass playing on the weekend - all topped off by a Canadian violinist dancing his way from Ilford to Norwich...
---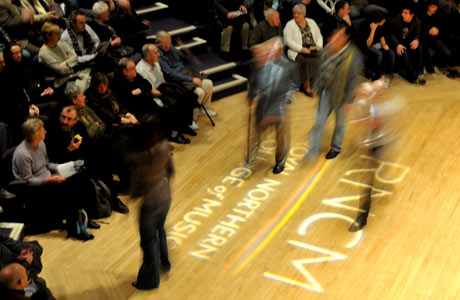 Rushing for a seat: Audience members make a quick dash to hear what the written message was all about
Picture: Ian Clowes

More pictures at: http://www.pbase.com/troonly/0901_rncm_festival

In his programme notes to the 2009 RNCM Festival of Brass, Artistic Director Paul Hindmarsh invited people to what he believed was, '…an inspirational weekend in the company of some of the finest soloists, bands and conductors the British brass band world has to offer.'
It wasn't fanciful bit of bombast either. This really was a memorable three days of music making.
Deserved plaudits

Hindmarsh deserves the plaudits. Once again he had expertly chosen an intelligent mix of musical material that not only served the purpose of celebrating creative talents such as Philip Wilby and John McCabe, but also gave considerable free rein to the bands to express their own considerable musicianship too.
Binding everything together however was the spirit of Gilbert Vinter. The performances of his finest works provided the essential musical DNA of the entire weekend – from Black Dyke's opening 'Spectrum' to the closing 'Triumphant Rhapsody' from Brighouse & Rastrick. It also revealed that even today, the best bands and conductors have plenty still to learn form his scores too – a number had their backsides slapped.
Revolutionary delight

Once more his music was revealed as a revolutionary delight. Even the more conservative minded elements of the current banding movement (nearly all of whom were noticeably absent) who believe that this event tends offer little more than academic box ticking, would have been delighted.
None though would have enjoyed the performances with such personal feelings of deep seated joy than Dr Andrew Vinter – the composer's son – and a real chip off the block too. There were times when he was visibly moved to tears at hearing his father's pieces played once again.
'I've been away from this for far too long," he told 4BR. 'These were such wonderful performances – the music sounded so fresh. My father would have been delighted."
Seven major concerts

So too were the healthy number of people making up the audiences for the seven major concert performances.
The scope of material ranged from the classics ('A Downland Suite', 'Pageantry' 'Fantasy for Brass Band') to the new, (world premieres of works by Peter Meechan, Andy Scott, Philip Wilby and Kenneth Hesketh), revamps of existing output (Peter Graham's 'Euphonium Concerto'and Walton's 'First Shoot') and UK premieres (Ellerby's 'Baritone Concerto' and Tovey's 'Nine Daies Wonder').
Exceptional solo playing

There was also the added bonus of some truly exceptional solo playing. Katrina Marzella, David Thornton, Lisa Sarasini, Richard Marshall and Michael Howley were all on tip top form, whilst Rex Richardson delivered a scintillating tryptych of trumpet, flugel and piccolo playing on Peter Meechan's cracking 'Apophenia'.
Oddly though, perhaps the most lasting impression of all came from the violinist Mark Fewer from Newfoundland, who delivered a piece of 'performance art' in Bram Tovey's witty 'Nine Daies Wonder' - all rounded off with an impromptu Irish Gig that took the breath away.
If the bands themselves were not enough for the most voracious of appetites then there was also much to enjoy from the side events too.
Musical potential

The John Golland Young Composer Premieres were enlightening to say the least – 5 widely contrasting vignettes of musical potential, with Duncan Ward's incredibly mature and sophisticated composition 'Pent-up Jopasso' (he is only 19) seeing him take the £500 bursary award and the opportunity to write a piece for the 2010 Festival.
The RNCM Brass Ensemble offered a pleasant musical diversion, whilst the recitals of David Thornton, Richard Marshall and Rex Richardson (who looked as if he certainly had a great night out in Manchester on the Saturday night) were expertly delivered. The two pre-concert talks were a delight.
Tim Mutum and Paul Hindmarsh put Gilbert Vinter's musical contribution into an understandable perspective (with invaluable insights into the composer's character from his son and great snippets from old performances), whilst both Philip Wilby and John McCabe (two immensely modest men) were coaxed into revealing more about their finest works too.
Country mile

As for the bands – no points or prizes on offer of course, but if there were, it would have been Fodens who would have walked away with the title – by a country mile.
Their Saturday evening concert was truly memorable – playing of the highest calibre from start to finish under Garry Cutt and Bramwell Tovey. Those who were lucky enough to be there soaked up the six major works – all delivered with a sound quality that no other band can match at present.
Excellent standard

Meanwhile, Brighouse and Leyland were vibrant and exciting, Desford and Fairey enjoyable if more uneven, and the RNCM Brass Ensemble and Band certainly committed and full of potential. Black Dyke however seemed a little jaded and at times below their best.
Overall though the standard of playing on such demanding programmes was excellent – many a set of lips will take time to recover we are sure.
Care and balance

Linking everything together was the indefatigable Paul Hindmarsh (and organiser Philip Biggs). A witty and deeply knowledgeable compere and presenter, his choices of repertoire were expertly chosen with care and balance in mind.
The importance of the RNCM Festival of Brass to the banding movement cannot be over estimated, and although there will be limited BBC coverage again this year, it continues to be an invaluable showcase of musical excellence – and potential. It really was, as Paul pointed out in his programme notes, an inspirational event.
Iwan Fox
(Reviews of each concert and side events will appear on 4BR during the week)