2009 RNCM Festival of Brass - Preview
26-Jan-2009
4BR's Chris Thomas look forward to the RNCM Festival of Brass in Manchester this weekend.
---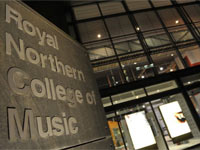 Anniversaries and birthdays can provide a rich source of programming options for concert organisers, especially when the choice lies in the ever imaginative hands of Paul Hindmarsh.

Year after year the RNCM Festival of Brass provides a unique platform for the exploration of both the familiar, the new and the neglected in the brass band repertoire and the signs are that the 2009 Festival of Brass will once again provide a fascinating and illuminating range of music - this time woven around the work of three great compositional figures in the brass band world.

Vinter anniversary

Gilbert Vinter would have celebrated his one hundredth birthday in 2009 although fate saw to it that his life was cut short at the age of just sixty. It is surprising that despite its progressive place in brass band musical history, a good deal of Vinter's music is now rarely heard on either the contest or concert stage.

His centenary year will no doubt adjust the balance to some degree and with just a few weeks to go until the first bands lock horns on his 'Salute to Youth', Vinter's music will provide the central thread running through this year's Festival.

Foretaste

It falls to Fairey's to provide a foretaste of the Regional Championships with 'Salute to Youth', whilst 'Spectrum', 'Challenging Brass', 'John O'Gaunt', 'Variations on a Ninth', 'Symphony of Marches' and 'Triumphant Rhapsody' can all be heard during the course of the weekend.

A true Vinter fest indeed.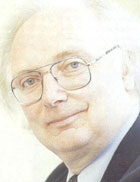 Wilby & McCabe

Philip Wilby (right) and John McCabe (below right) will also celebrate birthday milestones this year although in their cases, it is good to know that both are still very much alive and will be around at the Festival to witness the occasion!

As Philip Wilby enters his sixtieth year the Festival showcases a number of his major works, amongst them 'Paganini Variations' and 'The New Jerusalem', the latter bringing the whole Festival to a close on Sunday evening.

Black Dyke

Philip Wilby's music will also open proceedings on Friday evening, when Black Dyke will give the first performance of 'A Breathless Alleluia' for band and organ. It's a performance that will give a tantalising taster of Black Dyke's all Philip Wilby CD, shortly to be released on the Naxos label.

John McCabe will be seventy in 2009 and as well as the opportunity to hear the composer in conversation with Philip Wilby and Paul Hindmarsh on the Sunday evening, his 'Desert II – Horizon' and 'Cloudcatcher Fells' will be heard alongside an all too rare opportunity to hear Images, a work long overdue for reassessment.

Brighouse & Rastrick

'Images' also comprises one of a number of works that completes the final musical thread in the form of influential works from the 1970's and can be heard in the final concert of the Festival to be given by Brighouse and Rastrick under Alan Morrison on Sunday evening.

John Golland's 'Sounds' and Malcolm Arnold's 'Fantasy for Brass Band' are two of the other works that fall into this category, both familiar but again rarely heard these days on either the concert or contest stage.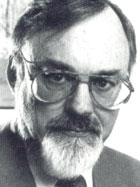 Fairey

This year's Festival will see a couple of changes to the bands taking part, with Cory and Grimethorpe bowing out on this occasion to make way for Fairey, a band reinvigorated in recent times under the direction of Philip Chalk and Desford, directed as they were at Butlin's two weeks previously, by Russell Gray.

With Leyland, Black Dyke, Foden's under Garry Cutt and Bramwell Tovey and finally Brighouse and Rastrick bringing the Festival to a close on the Sunday evening, it remains a stellar line up that once again offers a rare opportunity to hear some of the best bands around in challenging, not to mention stamina sapping, musical territory.

Premieres

Premieres are always a part of the make- up of the Festival and 2009 will once again see a liberal sprinkling of first performances, including both world premieres and first UK performances.

In addition to the Philip Wilby premiere of 'A Breathless Alleluia', Black Dyke will also feature the first concert performance of Paul Lovatt-Cooper's 'Antarctica' and the first performance of a newly revised version of Peter Graham's Euphonium Concerto, 'In League with Extraordinary Gentlemen', the soloist being David Thornton.

Although not a premiere, Dyke's close association with Philip Wilby will be further demonstrated with a performance of 'Two Songs: Memory and Sonnet', with Philip Gault as the (human!) baritone.

RNCM Brass Band

On Saturday morning at 10.00 there will be no less than five premieres in the form of five student works for Brass Quintet, each selected by Paul Hindmarsh and to be performed by RNCM students. At the close of the workshop one composer will be selected as the recipient of the first John Golland Award for Composition, also receiving an invitation to write a work for the RNCM Brass Band to perform at next year's Festival.

Saturday afternoon will see the Leyland Band feature the first UK performance of Martin Ellerby's 'Baritone Concerto' with the new "Queen" of the instrument, Katrina Marzella as the soloist.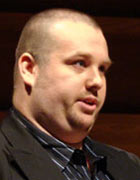 Fodens

On Saturday evening Foden's will give the world premiere of Peter Meechan's Trumpet Concerto 'Apophenia' (right) with Rex Richardson whilst Andy Scott, a composer that made quite an impression with his 'Tuba Concerto' for Les Neish at last year's Festival, will this year see another premiere in the form of 'A World Within', dedicated to Foden's President, Peter Fletcher.

As if that wasn't enough the second half of the concert will feature Bramwell Tovey conducting the first UK performance of his 'Nine Daies Wonder for Violin and Brass Band'...another intriguing prospect indeed.

Desford

Kenneth Hesketh's music has been a regular fixture at the Festival in recent years and this year will see the premiere of his 'Elegy', to be given by Russell Gray and Desford on Sunday afternoon. The same concert will include the English premiere of 'Jebel' by James MacMillan, a composer with a major international reputation who here writes for band for only the second time.

Recitals

Masterclasses, open discussions and recitals remain an important part of Festival proceedings and this year will see a solo euphonium recital by David Thornton in which he will be joined for the finale by Matthew White, BBC Young Musician of the Year finalist and Black Dyke Young Artist for 2008/09 in Peter Graham's 'Brillante'.

David's varied recital will range from the evergreen 'Czardas' of Monti to Wilby's 'Improvisation in a Japanese Garden' and a work by leading American composer John Corigliano.

American trumpeter and composer Rex Richardson has carved out a reputation as one of the very best young trumpet players around, working with equal ease in the fields of Jazz and classical music.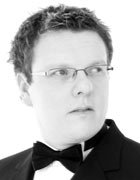 Not to be missed

His masterclass on Sunday morning should prove an event not to be missed for all aspiring young brass players whilst later on the Sunday afternoon it will be the turn of Richard Marshall (right) to take centre stage when he performs a short recital of solo pieces to include Mozart, Elgar Howarth and the familiar strains of Frank Simon's 'Willow Echoes'.

Healthy mix

The 2009 Festival of Brass seems set to provide us with as rich a musical tapestry as we have become used to and one which will surely provide a healthy mix of entertainment, talking points and first class music making.

All in all it makes for an event not to be missed. 4BR will be on hand to cover the entire weekend and a full Festival report will appear on the site during the following week.

Tickets for the Festival can be purchased from the RNCM box office on 0161 907 5555 or on line at www.rncm.ac.uk

Christopher Thomas