2009 Butlins Mineworkers Championships - First Section retrospective
21-Jan-2009
Innovation and inventiveness from the organisers, hard graft and a play off final for the top six bands in the First Section as Blackburn & Darwen finally took the 'hostile' honours.
---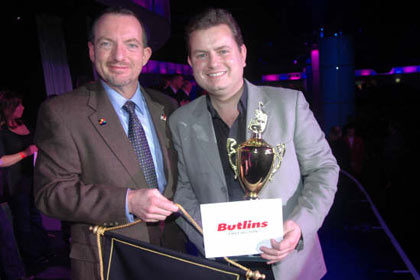 Winning smiles: Blackburn & Darwen take the trophy and cheque for winning the First Section
Picture:John Stirzaker

Twenty six bands set out on the search for glory in the First Section on Saturday morning knowing full well that their first priority was to gain one of the six qualification places on offer to allow them through to the play-off final later in the day.
Innovation

Such was the desire from bands to compete here that Butlins and contest administrator, Brian Eggleshaw had taken the innovative step of creating two qualifying groups (A & B) with two sets of adjudicators employed to decide which three bands from each would go through.
There were some grumbles both pre and post contest to how it was all done, but overall it proved to be a success – despite the confusion over the minor placings in the play off itself.
Evenly matched

As a result, in Section A, Frank Renton and Paul Norley put Cornerstone Brass, Forestors Brass 2000 and Hebden Bridge through, whilst in Section B, Philip Harper and Dennis Wilby chose Blackburn & Darwen, Stocksbridge and Vernon Building Society Poynton.
Each section of the contest was surprisingly evenly matched, with a number of very competent performances just missing out on the chance of play off glory.
Narrowly missing out was Haverhill Silver, Gresley Colliery and United Yorkshire Co-op from Section A, whilst Sandhurst Silver, Meltham and Meltham Mills (a band who must have one the most unwanted records in banding by continually drawing number 1) and GT Group Peterlee were edged out in Section B.
Some bands may argue that if they had been playing in the other section they may have gained a more favourable result – but truth be told that was fanciful thinking. Two experienced judging teams made up their minds and sent six very competent bands through to the play off final.
Clearly defined differences

In both sections there was a clearly defined difference between the better bands and the also rans, and whilst there may have been the odd grumble, there was little to argue about in reality.
In Section A, there were decent shows from just about each of the contenders, with a number of mentions for Johnstone Silver and Barton Town as well as the two Welsh contenders of Markham & District and Pontardulais Town. The others, Cawston, Bedworth and Ibstock could have had no complaint with their eventual outcomes.
In Section B, it was much the same story, with decent showings from the likes of Carlton Brass and Langley catching many ears in the hall, although the remaining five contenders of Blidworth, Denham, City of Coventry, NW Ellington and Foss Dyke could have no cause for complaint either.
Play off

So with both Sections completed, the draw for the play-off took place and with Blackburn & Darwen, Stocksbridge and Poynton having participated in the qualification process in The Royal Arthur Suite, each was allocated time on the stage at 'Reds' (which hosted Section A) to warm up and familiarise themselves with the acoustic.
With all four judges in the box (two allocated to do the writing of the comments and two to add their opinions as part of the overall process), it was then a case of 'let battle commence'.
'Hostile Skies' by Richard Grantham proved to be an excellent piece (although the subject matter does seem a bit politically sensitive at this time) that proved to be a stern test for the bands during the preliminary contests and again in the play off final.
Full of confidence

Blackburn and Darwen conducted by Nick Sheppard drew number one and they produced a reading that was full of confidence and tight ensemble playing – a distinct few notches up from their qualifying performance.
There was plenty of controlled atmosphere and the level of performance never dipped throughout. It was an impressive opening account and one that had set the bar very high – too high as it proved for the remaining five rivals.
Heading for victory

Cornerstone Brass conducted by Gavin Lamplough is a group of Salvationist players from around Yorkshire, who on this form will be band to watch out at this level throughout the rest of the contesting year.
This was very confident playing (some of the individual performers wouldn't have been out of place in the top section), so self-assured and so well directed from the middle. With excellent ensemble playing coupled with subtle dynamics it seemed to be heading for victory, but a scruffy last section when they seemed to lose ensemble focus just robbed them of glory. It will surely come soon however.
High class sheen

Kevin Gibbs continues to go from strength to strength with Vernon Building Society Poynton. Once more this wasn't a performance that lacked in self belief, but it just lacked that extra touch of control in the ensemble and high class sheen to some of the individual contributions – so apparent in the bands that preceded them.
There was plenty of excitement and a real sense of purpose about the playing however and if they just could have rounded off some of the sharper edges then they could have possibly pushed closer to ultimate victory. Third place though was well deserved.
Confusion

Outside the top three came the confusion come the results – although there was never an indication that any of the three were really close enough in overall quality to have pushed for a podium finish.
That said all three produced very competent performances of a difficult work and can return home with a great deal of credit attached to their efforts.
Hebden Bridge and Dennis Hadfield was the last band to play, but perhaps after a long day (they were drawn 12 out of 13 in the qualifying group) they found themselves just lacking a bit of stamina.
There was plenty of good solid playing on show throughout, but it never really sparkled and despite the MDs best efforts that wasn't quite going to be enough against three top notch efforts. In the end they had to be content with 4th place overall – a fine result nonetheless.
Same story

It was much the same story for both Stocksbridge and Forestors Brass 2000.
Stocksbridge had produced a fine effort off the very early number 3 draw to get through to the play off final earlier in the day, but like Hedben Bridge, the long wait had perhaps flattened the competitive battery somewhat.
As a result they couldn't quite raise their game enough to really force a performance that would have chased their rivals for a taste of glory, although there was much to commend about the approach and in the conducting of Miles Davison.
Finally, Foresters Brass 2000, led by Mike Fowles. This was a performance where the band gave it their all – and more in some cases. You couldn't have asked for more in terms of commitment to the cause, but like Stocksbridge, they too had to endure a long wait from the qualification contest before performing for a second time, and that had perhaps just lost them some focus – especially as they tired towards the end of the piece to eventually come 6th.
Talking point

Whilst the confusion over the final placings became a talking point (an irritation – but not one that effected the overall result), the organisers have to be congratulated for their innovative approach in accepting all the bands who wanted to compete.
Butlins have the facilities to run the sections in different venues at the same time, so why not do it. You'll always get people quibbling over contest results but if you'd asked any band before they'd blown a note prior to 10.00am whether they'd take a place in the play-off, they'd all have said yes. They all knew what they were letting themselves in for.
Quality

Overall the quality shone through in the play off final and Blackburn and Darwen fully deserved to head for the bar with the trophy and the £1,500 top prize.
An innovative approach had produced a highly enjoyable contest and one that could well be copied elsewhere in the future.
Malcolm Wood