2009 Butlins Mineworkers Championships - Second Section retrospective
21-Jan-2009
21 bands battled it out in true Crusade fashion in the Second Section, but it was East London Brass that finally flew the victors standard come the announcement of the results.
---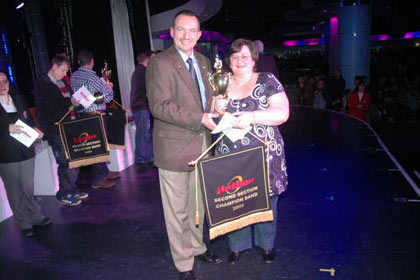 Crusades, cash and trophies for East London Brass
Picture: John Stirzaker

Twenty one bands competed in the Second Section in what turned out to be one of the most evenly matched contests we have listened to for some considerable time – everyone struggled musically somewhat.
By all accounts there were a few grumbles on the Saturday night (and way into the following week) from some people who thought that the result was a bit of a dogs dinner, and didn't accurately reflect the opinion that their own band should have come in the prizes instead of a rival or three.
Beer talk

That was either the beer talking or it obviously came from people who hadn't taken the time to actually listen to all the competing bands, for there was very little, if anything, to disagree about from the findings of Peter Roberts and Derek Southcott in the box.
It was the test piece that caused the competing bands the problems, not the judges.
This was a deceptive one – a clever, colourful and atmospheric work, full of neat writing – oodles of excitement and pathos in equal measures. It was a story of a Crusader who by the sounds of it was racked with a bit of self remorse after he had chopped up a few of Saladin's men before breakfast.

The problem for the competing bands was that very nearly all of them managed to play the notes to some degree of competency, but so few actual made them sound relevant to the unfolding story.
Infidel bosom

Too many sounded as if their Crusade would have stopped the moment they stepped foot on foreign soil. Some ended up sounding like a group of English football fans on a rampage at a Champions League fixture, rather than committed Christian's hell bent on returning Jerusalem to the bosom of the infidel.
Well shaped

The winners, East London Brass, directed by Jayne Murrill certainly got to grips with what the music was all about, and gave a performance that was so well shaped and delivered, despite the occasional unforced solo error and moment of ensemble fragility.
The dynamics were well controlled, with a clear definition to the mid ranking levels from mp to forte, but it was the musicality that so impressed the most – a heightened sense of anxiety and excitement in the more robust sections and a real melancholic feel to the more reflective ones.
It wasn't perfect by any means, but it certainly made the story come to life, and they will have been delighted to have left Skegness with their own crusading booty – it was well deserved.
Daunting target

The Londoners must have known that they would have to play to the top of their form right from the word go in fact, after Kippax had set a daunting target to beat from the number 1 draw.
Although we may not have realised it at the time, but this was going to be the most secure and technically competent performance of the day – tightly directed by Colin Hardy at the helm.
What perhaps just allowed it to be beaten was that they perhaps enjoyed the blood and guts bit a touch too much in places, as it got a little brittle and edgy - but it was certainly an exciting performance full of intense commitment.
Good scrap

It was much the same story from Dodworth MW and Elliot Darwin in 3rd place (it is well known that Yorkshire has enjoyed a good old scrap or two over the years) with a rendition that also went for the jugular so to speak.
There was bags of excitement and plenty of tooth and claw playing, but the need for a touch more subtlety in the reflective sections perhaps cost them the chance of taking the title – it was a pretty fine effort though.
Arguement

After these three bands came a group of five or six that you could have made an argument for to come in just about any order.
Middleton were eventually awarded 4th for a performance that grew in stature the longer it went along – from a slightly hesitant start to a full blown and tumultuous climax. The band and MD Matthew Stringer really did opt for the full strength version of 11th century events – and it very nearly paid off.
Holme Silver meanwhile gave a slightly more reflective account to come 5th. Perhaps this one crept under the radar a little as the lighter sounds and more refined approach to the aggressive sections of writing perhaps hinted that Duncan Beckley would have opted for the United Nations to sort out the problem rather than the Crusaders themselves.

Pros and cons

From here on in it was a question of weighing up the pros and cons of performances that certainly had plenty of excitement, but also lacked for overall consistency.
The group of bands including Haslingden & Helmshore, Becontree Brass, Alder Valley, Strata Brass and Matlock all delivered persuasive accounts that had extended periods when they seemed to be on track for possible podium places.
However, they all also had extended periods when there was not enough attention paid to contrasting dynamics, accurate tempi and especially internal band balances. All of them were a step or three back in overall quality from the top three finishers and one step back from Middleton and perhaps Holme.
For us, Strata and Haslingden & Helmshore could have perhaps been a touch miffed they didn't come a little higher than they did after producing well thought out performances that just varied a bit too much at times in overall quality.
The same applied to Becontree, Alder Valley and Matlock – all of whom ended up on the winning side in the Crusade, but left for home after suffering a few too many losses of personnel.
Cut off point

There was a bit of a cut off point after these bands, although the likes of Flixton, Rockingham and perhaps Shirland Welfare may have just done enough to have finished in the top 10 on another day – they were on the coat tails of the bands above and a little distance ahead of the bands below them.
From Grange Moor down in the overall results it was a tale of basic flaws and concerns, individual errors, wayward ensemble, badly chosen tempi and a fair bit of the heart ruling the head by both MDs and players.
That said, each of the bands did at times produce playing that made you sit up and be drawn into the musical picture they were trying to create – but it soon became overblown, untuneful or just too patchy and uneven in execution.
No complaints

No complaints then for the likes of Lewis Merthyr, Frickley South Elmsall, Chinnor, Leicester Cooperative SMW and Yiewsley & West Drayton – all of whom gave of their best but found that their trip to the Holy Lands had been a bumpy old ride.
Each will be better for the experience come the Areas we are sure, as the piece did highlight many specific areas that needed to be worked on, but had the potential to become major plus points in the future.
One to forget

So too South Yorkshire Police and Delph who ended up the day at the bottom of the results table, but both of whom showed enough character and confidence about themselves to perhaps write this one off as a musical overseas trip to forget.
Panache

At the end of the day East London Brass took the honours and hoisted the Butlins standard above their bandroom. For their delightful conductor Jayne Murrill it must have been a most rewarding result as she her band had certainly delivered the story of the Crusades with panache, feeling, and sensitivity.
It was a very worthy winner of a contest that once again showed that there is more to music than just playing the notes.

David Tinker