2009 Butlins Mineworkers Championships - Third Section retrospective
21-Jan-2009
It may have been cold enough to freeze the wotsits off a brass monkey but Shirebrook MW Unison produced a red hot performance to take the Third Section title again.
---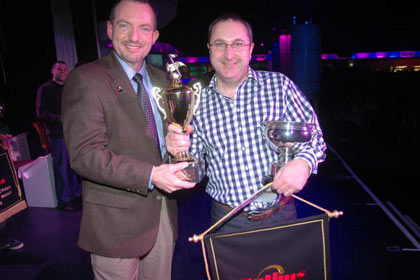 Check shirt, cheque in the bank: Shirebrook bag another Butlins title
Picture: John Stirzaker

Before the high profile championship contest took place on Saturday afternoon, the 11 bands in the Third Section had to endure a pretty uncomfortable contesting environment in the main Centre Stage venue, to see which of them was to claim the £1,500 top prize.
Captain Oates

With Butlins either leaving the back doors open overnight, or just forgetting to put a few extra shillings in the gas meter, the 10.00am start was in danger of being postponed not just because of the cold, but also because with two minutes to go before the first band took to the stage there wasn't a single soul in the hall to listen – not even Captain Oates.
Thankfully the security staff let in a fair old crowd in the nick of time, but it did take about 5 hours before the hall itself finally warmed up enough to allow supporters to listen without recourse to emergency supplies of hot soup and foot warmers. Forget brass bands, not even a brass monkey would have felt comfortable in this.
Tuning issues

As a result many of the bands found the playing conditions prohibitive and it came as no surprise that tuning was an issue. The odd sight of a few players in gloves and even one with a baseball cap, was in the circumstances, quite understandable.
Given the cold the overall standard on display was pretty admirable – all 11 bands producing performances of varying degrees of musical and technical merit on an enjoyable, if rather limited, set work in 'Haydock Variations' by the late Stuart Pullin.
Ball rolling

Pemberton Old Wigan JJB started the ball rolling with a little help of well placed anti freeze in the valve casings, and Peter Ashley drew a stylish performance from his band, which featured some lovely individual moments from the solo trombone and strong horn section in particular.
It was a good marker to lay down off the number 1 draw, and they can perhaps count themselves a touch unlucky to have come 7th overall.
Confident showing

Waterbeach Brass followed with a confident showing with a well balanced sound and flow to the music – even when the tempi reduced to around 40 beats a minute in the more reflective sections of the work.
There was also some fine soprano playing, and whilst it got a little scrappy in the closing section it was nonetheless a performance of merit.
Upping the ante

Hitchin then upped the ante somewhat under the direction of Martin Hurrell with a rendition that featured plenty of quality individual contributions – notably from the horn in the taxing slow solo and a sweet sounding soprano.
It seemed to be going along very well indeed until a touch of misplaced rubato and a stilted pace just took away that original sense of flow and stylishness, and they had to be content with 4th place overall.
Patchy

Watford meanwhile delivered a rather patchy and uneven performance under the direction Nigel Boddice lookalike Richard Graves. It certainly had its moments with a secure solo cornet sounding very classy, but a few too many technical deficiencies and the lack of a full percussion team (the important tubular bell part was missing to end) meant that they had to be content with joint 10th place.
Lack of numbers didn't seem to be a problem with Stamford Brass though. To 4BR it looked like they were short in the top end, percussion, trombone and bass department, but despite the lack of bodies MD Robert Prew managed to coax out of them a tremendously well balanced band sound.
It was also very musical too, with a distinct feeling of flow, even in the slowest of sections, enhanced by a principal cornet and bumper up duo who shared solo responsibilities to fine effect. Even the 3rd cornet player did his bit and more by playing the tubular bells in what was an intelligently planned and executed performance well worth its eventual podium place.
No problems

No problems in the ranks with West Yorkshire Police, as their bold and confident approach was full of purpose from the word go. Gary Clegg asked a lot of his players, and for 95% of the time they responded in fine style.
It was just when they tried to give that extra 5% that things got a little ragged around the edges, with some solo lines out of synch despite their secure approach. Perhaps it got over wrought a little to end, but it was nonetheless an impressive account to come 6th.
Winners

The winners Shirebrook MW Unison set out their stall from the word go.
MD, Mark Wilcockson asked for boldness and colour and got it in spades, and whilst there was occasional raggedness, his deliberate sub dividing of the beat in the slower sections meant that there was always a flow to the music.
A secure flugel and fine euphonium added further polish, but it was the xylophonist who really caught the ear with a sparkling bit of work as the band progressed to a well rounded finish.
We thought it was still beatable, but not so the judges, and for the second year in a row, Shirebrook ended up taking home the Butlins title and the huge wedge of cash.
Baseball cap

After getting over the shock of seeing a principal cornet player take to the stage wearing a baseball cap (used it must be said as a makeshift mute later in the test piece – whilst the flugel player used a yellow duster), there was still plenty to enjoy in the actual playing of Kirkby Colliery Welfare under Stephen Berrill.
Unlike the cap in question, not everything came off, and although it was a patchy performance of ups and downs it ended just about in credit, although they had to be content with joint 10th place.
Mary Poppins

Instead of baseball caps, two ladies from the solo cornet bench of Fulham Brass took to the stage with handbags of such size that you wondered if they were going to pull out an extra cornet like a latter day Mary Poppins.
Not quite, but the band did pull out a pretty decent show under Simon Jones (who later played first horn for the Redbridge Band) that was stylish and balanced, if not always 100% secure. There were neat contributions from the flugel and euphonium in particular, but just a touch more consistency may well have seen them come even higher than their well deserved third place.
Prompting

It appeared that the players of Garforth Brass may have been a bit reluctant to get on the stage to start their performance, but after a little prompting and a slightly nervous start, this young band delivered a very good performance under Steven Bailey.
There was a super bit solo work from the slightly 'older' lady on solo horn, and from that point on the band grew in confidence, with warm ensemble sounds complimented by neat solo contributions. It just tired towards the end, and whilst one over enthusiastic supporter in the hall very nearly wet herself in cheering, 5th place was an accurate reflection of their encouraging effort.
Cropper

That just left Dunstan Silver who started so well under Sue Murrill but just came a bit of a cropper with some nasty tuning issues in the muted sections.
There was however plenty to enjoy in the approach – a free flow to the slower sections making the music come to life, but those tuning problems emerged again and it just lost focus to end. 8th place could have been a touch higher if they had just managed to get closer in tune.
Enjoyable

That was that, and a few hours later in the much warmer Reds Bar, the results were announced with Hitchin in fourth, Fulham in third, Stamford as runner up and Shirebrook, for the second successive year taking the title. There was little to disagree about too as all four were worthy of their prizes, as were Garforth and West Yorkshire Police.
An enjoyable, if uncomfortable contest had ended with plenty of warm applause and the prospect of some red hot celebrations for the winners. Let's hope next year we can all enjoy it all again without losing the feeling in our feet.
Iwan Fox