2009 Butlins Mineworkers Championships - Introduction and Championship prediction
14-Jan-2009
Forget the credit crunch, Skegness will be full to the rafters this weekend as all the bands, players and supporters pile in to enjoy the test pieces and the entertainment once more.
---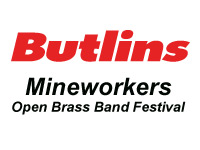 Here we go again. Just 49 days since the 2008 contesting season came to a close at the Scottish Open Championships in Perth, the 2009 one springs into life at Skegness.
It's as if we have never been away.
Good news

The good news however is that the Butlins Mineworkers Championships now gives the new season one heck of a kick start – one that gets rid of the post Christmas cobwebs quicker than a bracing walk in your swimsuit on Skegness beach.
And if the competing bands really want to kick start their 2009 year with a morale boosting performance ahead of the National qualifiers, then this is the place to do it. Not only that – there is plenty of prize winning cash on offer too.
With news of yet another top section band recently biting the financial dust, the chance of picking up a huge wedge of dosh to insulate against the cold chill of credit crunch banding is very attractive indeed.
Not only is there £7,000 on offer to the Championship winners (and the possibility of an extra grand for being the top entertainers on the day too) but all the other sections have their usual hefty prizes too – although the bands in the First Section will have to work harder than usual for their money.
Added bonus

There is also the added bonus this year of the Butlins Youth Championships.
Although there are only three bands entered this year there is a feeling that this event has the potential to really grow and once more achieve the status of the old Butlins National Championships that used to take place at the Royal Albert Hall.
Growing importance

In fact, the Butlins Championships themselves are growing in importance year on year too.
This year there are 89 senior bands on show (plus 3 youth outfits), including a mammoth 26 in the split First Section alone. In 2005 there were 59 in total, in 2006 there were 61, in 2007, 74 competitors, and last year 77.
With bands, players and supporters all knowing the value of money in this day and age (£48.00 per person based on four people in a self catering chalet) Butlins is the perhaps the very model of a model major band contest.
Attractions

This year the attractions will include concerts from defending champions Desford Colliery (Friday evening) as well as Grimethorpe Colliery Bands (with the added bonus of wondering who will be on the Grimey principal cornet hot seat on Saturday night) and Fodens on the Sunday.
Then there is trumpeter Bruce Adams, the Britsh Philharmonic Big Band, Doug Yeo, the Butlins 'Trombone Blow' (a massed band of bone players all whacking out '76 Trombones' of course), Stan Lippeatt's chat show and the one and only Grimestein Oompah Band.
It makes you wonder if there will be any time for any contesting!
Championship Contest

Of course there will be, with the undoubted highlight the Championship contest, where a high class field of 12 bands battle it out over two days for the beautiful Warwick Vase Trophy and the Butlins Cup (and the wad of cash).
The two legged contest can bring the best and worst out of bands – although once again the set work, 'Harrison's Dream' will take some playing. This is a very high class test, rarely mastered, so we could be in store of a bit of a 'trade off' with band's perhaps opting for a safety first approach on the test piece and hoping they have enough left in reserve for the crash, bang, wallop stuff the next day.
Interesting line up

It's an interesting line up of contenders this year, with reigning champions Desford hoping for a repeat of their triumph 12 months ago under the baton of Russell Gray.
Last year the win set them up for six months where everything they touched turned to gold – although by the year's end they had rather lost form and were but a shadow of their sparkling early season selves.
A band more than capable of winning in some style, it will be interesting to see just how they approach both disciplines of the contest. Russell Gray certainly brought innovation to bear on 'Harrison's Dream' when it was used at the Nationals in 2000 (with submerged bells), but given the band's rather lack lustre Brass in Concert appearance, a great deal will surely hinge on what entertainment they bring to the stage (hopefully not the prancing cornet player).
Execution

The only other band to have performed at Brass in Concert late last year was Hepworth (Cookson Homes). There they relied heavily on the input of the music of Sandy Smith and a programme that was certainly innovative if a somewhat uneven in quality of execution.
Here they have opted for the talents of Ian Porthouse and that may well be an indication that they will be looking to stamp their authority on the contest right from the word go.
'Harrison's Dream' may well be a test piece that suits the band's undoubted technical strengths, so if they have been able to buff up the weak points from The Sage they may be the band to beat come Sunday evening.
Much expected

Much will be expected from Wingates. 2008 was a fine year, but it could be a hard act to follow this season, what with inspirational MD Andrew Berryman in Dubai.
Andrew Duncan is an experienced pair of hands as a replacement, and can bring a raft of innovation to the stage in the entertainment stakes - but the question remains. Have Wingates improved in the last few months (no British Open, Nationals or Brass in Concert remember) or have they already reached their ultimate contesting level? We will find out on the weekend.
Question arises

The same question arises with United Co-op Milnrow under John Ward. Last year they surprised many with the consistency of their performances over the two days, but it didn't really lead to a year of sustained success elsewhere. Can they repeat last year's fourth place, or have we already seen the best of them here too?
Virtuosi GUS could be the band to watch out for. An uneven contesting year in 2008 showcased them at their best and worst – at times thrilling, at others, sloppy to say the least.
With John Berryman at the helm you know they will be well prepared and all the basics will be in the right place, whilst the test piece may be one that suits them more than most. What they bring to the entertainment fare though remains to be seen. Last year they were a touch dated, so they will need something a little more innovative if they are to really push for the top podium places.

Yorkshire Imps put in a solid performance last year and with the returning David Evans at the helm they may fancy their chances of improving on that hard earned 6th place.
Although not the force they once were, 'Imps' are a solid outfit with plenty of quality throughout the ranks, although they will surely have one eye on Bradford where they will need a good result to preserve their top section status.
Their last outing at the Scottish Open was nothing special though, and their entertainment programme last year did have a couple of items that could be carbon dated, so they will have their work cut out to really push for inclusion in the prize list.
Scruff of the neck

A band that could well take the contest by the scruff of the neck is Carlton Main Frickley, who have enjoyed the odd good day here in the past (coming runner up in 2006).
They certainly rounded off 2008 in fine style, notching up impressive returns at both the Britsh Open (7th) and London (4th), and with a stable of high quality soloists to call on, MD Allan Ramsay may well be confident of a podium finish at the very least.
Much will depend on that entertainment programme though, as Allan's last outing at Brass in Concert with Reg Vardy saw a real mixed bag of the good, the odd and the rather misplaced.
Same trap

SWT Woodfalls fell into much the same trap last year, with a decent performance of the set work offset by a slightly 'old hat' approach to audience entertainment.
Nick Child's certainly got the best out of his performers on both days, but the mix of the Lovatt-Cooper meets Frankie Dettori on the Sunday didn't impress in the box. What will the Black Dyke MD bring to proceedings this year we wonder? It may need to be something a bit more innovative than last year if they are to push for a podium finish.
Wait and see

As for Redbridge, it may be a question of wait and see? Jeremy Wise does try and bring something a little bit 'left field' to the entertainment proceedings, but his rather sophisticated humour sometimes doesn't quite hit the funny bone of banding audiences.
Redbridge could be a bit of a dark horse and they showed on more than a couple of occasions during 2008 that they can produce high class performances on stern test piece repertoire. If they can just marry the two disciplines together on the weekend (their entertainment programmes usually appeal here in the box) then who knows?
Foreign talent

The same applies to EYMS, and a decent 2008 saw them deliver high class performances at major events – especially London. Their policy of bringing importing foreign talent seems to work well, and this time the Australian Jason Katsikaris is given the chance to see if he can push the band towards the podium places.
As for Thoresby? Well, they haven't really set the world on fire here in the past few years, but they have always produced solid enough performances to show that the potential is there.
Last year they rather flattered to decieve with a weak entertainmet programme possibly undermining their chances (although the judges rather liked it placing it 5th) If they can up the ante a bit then a possible top six finish may be on the cards.
Step up

That just leaves Skelmanthorpe – last year's First Section champion, and a band that has shown in the past couple of seasons that they could well settle into life in the Championship Section without too many problems.
It is a huge step up in class (and stamina) though and the set work will be one that John Roberts will know will test them to the limit. Given their form over the past 12 months however they should be OK, although it will be interesting see what the band brings to the entertainment table.
As for the winners?
A small group stand out if they play to form, with Desford, Hepworth (Cookson Homes) and Carlton Main perhaps best equipped to leave themselves something in reserve after the strenous test of 'Harrison's Dream'.
Virtuosi GUS should be strong contenders too, with Redbridge and SWT Woodfalls perhaps making up the top six. Our dark horse on this occasion is Wingates.

4BR Prediction:

1. Hepworth (Cookson Homes)
2. Desford Colliery
3. Carlton Main Frickley
4. Virtuosi GUS
5. Redbridge
6. SWT Woodfalls

Dark Horse: Wingates