2009 Butlins Mineworkers Championships - First Section preview & prediction
14-Jan-2009
We cast our eye over the massive entry of 26 bands that will be trying to master the musical element of Richard Granthams Hostile Skies on the weekend. Who will be the sunshine boys then?

---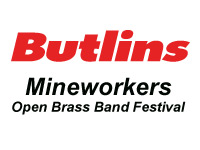 Venue: Reds, Butlins Skyline Resort
Date: Saturday 17th January
Test Piece: Hostile Skies (Richard Grantham)
Draw: 8.45am/9.00am
Commence: 10.30am
Adjudicators: Section A: Frank Renton & Paul Norley
Adjudicators: Section B: Denis Wilby & Philip Harper
The Play Off will take place as soon as possible in the Reds Theatre when Section A & B have concluded. All four adjudicators will be in the box together for the Play Off.
Prizes:
First Prize: The Butlins First Section Trophy & £1,500 and the First Section Champions Banner
Second Prize: £900
Third Prize: £650
Fourth Prize: £450
Fifth Prize: £250
Sixth Prize: £250
The Highest Placed Mining Band - The C.I.S.W.O. Challenge Trophy
---
This really is going to be an innovative contest.
Given the number of competitors involved, the organisers have made the sensible decision of dividing the contest into two halves, with the top three bands from each having to perform again to decide the outcome of the contest in a play off.
Pros and cons

There are of course inherent pros and cons with this system – could one half of the draw be considerably stronger than the other half for instance, or what matching criteria, if any, are the two sets of judges looking for in deciding who goes through?
However, given that there can be little or no musical enjoyment in having adjudicators sitting in a box for up to 8 hours or more listening to 26 performers one after another, then this method has much to commend. All four judges will get together to decide the eventual winners – so a balance of sorts will be struck between the four of them to decide the winners.
Whoever does win will have deserved it – and there shouldn't be any complaints. This method could also be the answer to the problems faced by some regions in the lower sections at the National qualifiers.
Hostile Skies

The set work 'Hostile Skies' pays homage to those pilots who fly to protect the interests of others – especially that special brand of flyer – the RAF pilot. It is an exciting work and one that has enough technical as well as musical hurdles to test the competing bands to very nearly their limits and beyond.
Adjudicators Frank Renton, Paul Norley (Group A) and Dennis Wilby and Phil Harper (Group B) should have plenty to ponder over as well as enjoy, and the contest should bring out the best in the bands, with them having to balance out their desire to win the contest with doing enough to qualify for the play off itself.
Some bands could have little left in reserve if they opt for an 'all guns blazing' approach early on Saturday morning only to find themselves short of stamina come the play off final.
Strong contenders

With 26 bands on display it is difficult to take a stab in the dark and suggest who will get through, but in both groups there are a number of strong contenders who should fancy their chances more than most.
In Group A, 7 of last year's contenders return, with the eventual runner up Yorkshire Co-op looking to go one better and claim the title.
Evenly matched

The field here seems very evenly matched with Markham & District (7th last year), Pontardulais (8th), Foresters Brass 2000 (10th), Gresley Colliery (14th), Bedworth Brass (16th) and Ibstock Brick Brass (24th) all back again and hoping for glory.
Three Pontins challengers are also battling it out with Hebden Bridge, who came 6th at Prestatyn the one of the three (Ibstock and Bedworth were lowly finishers) who could well have enough about them to gain a play off place.
The Scots of Johnstone Silver ended the 2008 season with a well earned 3rd place at the Scottish Challenge Shield in Perth, so they will be confident that their long trip south could pay dividends. Barton from the North East are a band who enjoyed a decent 2008, so they too will be looking to carry on that good form.
The likes of Cawston and Haverhill (runner up at the Folkestone contest late last year) have more than enough about them to feature strongly, but it may be the dark horse of Cornerstone Brass that could well be the band to listen out for.
Well balanced

Group B is equally well balanced with 6 of last year's contenders back again.
VBS Poynton came 3rd last year and went on to enjoy a decent season, coming 5th at Pontins, whilst Stocksbridge will be looking to retrun to form after losing their championship status and ending the year with a midfield finish at Prestatyn.
A couple of bands who played at the National Finals will be hoping for a good start to 2008, with Blackburn & Darwen who came 5th at Harrogate, then 7th at Pontins perhaps the pick. City of Coventry came 6th in the Second Section Finals and so will taste First Section life this weekend – a step up in class.
The busy Carlton Brass were 9th last year and finished off their year with a decent return at Leamington Spa, whilst Sandhurst, GT Group Peterlee, NW Ellington and Hopkins Blidworth Colliery will all be looking for a better return this time out after coming 17th, 19th, 20th and 23rd twelve months ago.
Meltham & Meltham Mills should be confident after finishing their season with a solid 7th place at the Wilkinson's Contest, and Langley too will be looking to just up their contesting ante after coming 14th at Pontins.
Both Foss Dyke and Denham Hendon Brass (on the back of a decent result at Folkestone) will be looking for a good kick start to their 2009 campaigns.
Play off places

26 bands then and all looking to gain at least a play off place.
The three for us from Group A could well be Yorkshire Co-op, Markham & District and Johnstone Silver, with Group B serving up VBS Poynton, Stocksbridge and Blackburn & Darwen.
As for a dark horse? Cornerstone Brass.
As for the final result?
4BR Prediction:

1. Stocksbridge
2. Yorkshire Co-op
3. Markham & District
4. Blackburn & Darwen
5. VBS Poyntron
6. Johnstone Silver
Dark Horse: Cornerstone Brass