2009 Butlins Mineworkers Championships - Second Section preview & prediction
14-Jan-2009
Once more into the breach so to speak as 21 bands don their chain mail and head for a bit of Crusading glory at the Lakeside.
---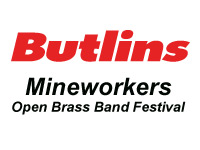 Venue: Lakeside Butlins Skyline Resort
Date: Saturday17th January
Draw: 8.30am
Commence: 10.00am
Test Piece: Crusade (Rieks van der Velde)
Adjudicators: Derek Southcott & Peter Roberts
Prizes:
First Prize: The Butlins Second Section Trophy, £1,500 and the Second Section Champions Banner
Second Prize: £900
Third Prize: £650
Fourth Prize: £450
Highest Placed Mining Band – The British Coal Corporation Challenge
---
Another fascinating contest is in store the Second Section where no less than 13 bands return again to Skegness hoping to carry away the title and a large wodge of cash.
The 21 band field has a well balanced look to it too, with two of those returning bands having played in the First Section last year, two in the Third Section, and others coming to the contest after competing at the Lower Section Section National Finals, Pontins, Leamington Spa and Wilkinsons.
Enjoyable romp

Rieks van der Velde's set work is an enjoyable old romp through the blood, gore and misplaced religious fervour of the Crusades of the 11th to 13th centuries, and should provide plenty of challenges both technical and musical for the competing bands.
Peter Roberts and Derek Southcott wouldn't be out of place on a good Crusade or two either, so they should enjoy their day in the box, with a whole host of contenders in with a real chance of picking up the £1,500 first prize.
Returnees

Of the returnees, Haslingden & Helmshore will be looking to retain the title they won in such splendid fashion last year – a win that set them up for a fine 2008 contesting season. They could well be the band to beat once more.
Hot on their heels however will surely be the bands that came 2nd, 3rd, 4th and 5th last time out – all bands with proven track records at this level too. Dodworth Colliery MW continue to move very much in the right direction and will be hungry for yet more contesting success, whilst Middleton will be looking for a repeat of last year's podium finish and an improvement on their recent 9th place at the Wilkinson Contest.
Frickley South Elmsall will be keen to up their ante to claim a top three spot after just missing out 12 months ago, whilst Kippax is always a band to fear at this level, especialy under the command of the vastly experienced Colin Hardy.
Phil Goodwin and Delph know just what it takes to win a title here and came 6th at the Wilkinson contest, whilst Yiewsley & West Drayton were 9th last year but came a very encouraging 3rd at the Leamington Spa Contest.
Solid outfit

Matlock and the urbane Roger Jepson are a solid outfit and will be keen to build on their Leamington Spa win in the Third Section, and East London Brass under Jayne Murrill are certainly not a band to discount after a fine win at Folkestone late last year.
There is sure to be a strong presence from Yorkshire and Rockingham (just promoted from the Third Section), South Yorkshire Police, Holme Silver and Grange Moor have all tasted varying degrees of contesting success over the past couple of years.
Encouraging

Alder Valley will be looking to improve on their encouraging showing at the Lower Section National Finals where they came 11th, whilst Chinnor Silver are a solid outfit well led by Dave Pegram and could spring a surprise or two.

The very busy Becontree Brass were 11th in the First Section last year, so they will be keen to put in a good accout of themselves this time around.
Other strong contenders come in the form of Leicester Co-operative SMW under Graham Jacklin – fresh from a hard earned 5th place at Leamington Spa, and Lewis Merthyr from Wales who have been making good progress under the baton of Gareth Pritchard.
Strong challenge

Shirland Welfare are always a band to look out for, despite coming down a section this year after coming 18th in the First Section last time out, whilst there is sure to be a strong challenge from the competitive Strata Brass and David Hirst and Flixton who came 9th at Pontins late last year in the Third Section.
All in all then a musical crusade of top notch Second Section bands – and the makings of a cracking contest.
Who will win?
Hard prediction

A hard one as you would expect, but the likes of Haslingden & Helmshore, Strata Brass, Dodworth MW and Kippax should be confident that if they play to form they should be in the mix come the announcement of the results.
Delph and Flixton could be the other two bands to stake a claim for the prizes, whilst Matlock could be a bit of a dark old war horse.
4BR Prediction:

1. Haslingden & Helmshore
2. Dodworth MW
3. Kippax
4. Strata Brass
5. Delph
6. Flixton
Dark Horse: Matlock