2009 Butlins Mineworkers Championships - Third Section preview & prediction
14-Jan-2009
We have a look at the 12 bands that will be trying to get to grips with a lovely reminder of a fine composer Stuart Pullins Haydock Variations.
---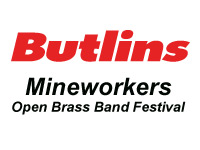 Venue: Centre Stage, Butlins Skyline Resort
Date: Saturday 17th January
Test Piece: Haydock Variations (Stuart Pullin)
Draw Time: 8.15am
Commence: 10.00am
Adjudicators: C Brian Buckley & Tony Swainson
Prizes:
First Prize: The Butlins Third Section Trophy, £1,500 and the Third Section Champions Banner
Second Prize: £900
Third Prize: £650
Fourth Prize: £450
Highest Paced Mining Band - The NUM Challenge Trophy
---
The smallest field of the weekend will battle it out in the Third Section, where the late Stuart Pullin's 'Haydock Variations' will provide a fine musical reminder of a very talented composer who died at such a tragically early age.
Plenty to enjoy

C Brian Buckley and Tony Swainson will have plenty to enjoy too with a field of 12 bands that look to be very evenly matched on paper – on stage is another matter all together of course!
The set work takes the form of a double set of variations – based on two musical themes set out in the opening section of the work, and is a very intuitive and subtle composition which will test the bands to to the full. The conductors in particular will have to have their wits about them for certain.
Strong field

The strong field of contenders sees last year's reigning champion return once more to defend its crown. Shirebrook MW Unison won in fine style 12 months ago and will be keen for a repeat peformance, although there are a number of rivals who will push them all the way.
Of those, are last year's third placed band, West Yorkshire Police under Gary Glegg and 4th placed Hitchin under a new MD Craig Patterson, both of whom had pretty decent 2008 seasons.
One band to look out for will be Pemberton Old JJB 'B' Wigan under Paul Ashley who came 9th last year and also ended the year with a strong 8th place at the National Finals and 4th at Pontins.
Garforth Brass from Yorkshire was another band to appear at Harrogate coming 16th, so they will be keen to improve on that outing here, whilst the likes of Kirkby Colliery Welfare (8th last year) and Dunstan Silver (10th) will be keen to make a move further up the results table.
There is a strong line up of bands from London & Southern Counties making the trip with Waterbeach Brass and Fulham Brass keen to put in a good early season performance ahead of Stevenage where they failed to shine last year.
Watford meanwhile come up from the Fourth Section (where they came 10th last year) and will be looking to make an immediate mark, whilst Midlanders Stamford Brass will also be looking to gain some early season form as they look to improve on their 11th place last year.
Finally, a dark horse may well appear from the north in the shape of MacTaggart Scott Loanhead under the baton of Alan Fernie – a band packed to the gills with talented youngsters.
With such a closely matched line up it could well be anyone's title to win, but we think it could well be Pemberton Old JJB 'B' who take the honours closely followed by reigning champs Shirebrook MW Unison with Hitchin in third.
After that look out for Fulham Brass and Waterbeach Brass with West Yorkshire Police making up the top six. Our dark horse comes from Scotland in the form of MacTaggart Scott Loanhead.
4BR Prediction:
1. Pemberton Old Wigan JJB B
2. Shirebrook MW Unison
3. Hitchin
4. Fulham Brass
5. Waterbeach Brass
6. West Yorkshire Police
Dark Horses: MacTaggart Scott Loanhead