2009 Butlins Mineworkers Championships - Fourth Section preview & prediction
14-Jan-2009
18 bands line up to see if they can master The Four Noble Truths of brass band contesting play the notes, in the right place, at the right time and in the right key? A nice fat cheque for the winners of 1,500 is up for grabs for the band that can.

---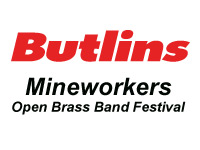 Venue: Crazy Horse Theatre, Butlins Skyline Resort
Date: Saturday, 17th January
Test Piece: The Four Noble Truths (Philip Sparke)
Draw: 9.15am
Commence: 11.00am
Adjudicators: Lynda Nicholson & Simone Rebello
Prizes:
First Prize: The Butlins Fourth Section Trophy, £1,500 and the Fourth Section Champions Banner
Second Prize: £900
Third Prize: £650
Fourth Prize: £450
Highest Placed Mining Band – The NACODS Challenge Trophy
---
There is always plenty to enjoy in the Fourth Section contest, and with 18 well matched bands to listen out for, it should prove to be a cracking contest not only for the audience, but for the two adjudicators Lynda Nicholson and Simone Rebello.
Crafty choice

The test piece 'The Four Noble Truths' is a crafty choice too – most of these bands would have played it before, and it was used as the set work for the Fourth Section National Finals in 2004.
For those conductors and bands in touch with their more spiritual side then, the contrasting four movements from Philip Sparke are a joy - colourful and accessible with plenty to get the musical teeth stuck into.
Generous prize money

Of the 18 bands on show, no less than 12 played at the contest last year (an indication perhaps of the good test piece choices made at this level and the generous prize money).
Last year's victors, Eccles Borough and their MD, Les Webb return once more to see if they can retain their crown, and after coming 9th at Pontins and 4th at Tameside late last year they will know they will have to play to the very top of their form of they are to hold onto the victors laurels.
Hot on heels

Hot on their heels will surely be the likes of Ireland Colliery (Chesterfield), Thurcroft Welfare, Bestwood Black Diamonds and Banovallum Brass – all of whom filled top six places at the contest last year. Each of them are more than capable of doing that or better once again.
Meanwhile, Backworth Colliery come to the contest on the back of a good victory at the Durham contest late last year and Dronfield Colliery Miners Welfare had a decent return in the top half at Pontins.
Returnees

Other returness include Maltby Miners Welfare who came 9th last time out and Thoresby Colliery Youth, who have tasted success here in the past, although they failed to shine at the Lower Section Nationals at Harrogate where the came 18th.
Whitwell Brass, Kingsway Printers Cleethorpes, Royston Town and Tewkesbury also make the long journey east to try and improve on their 12th, 13th, 14th and 15th places here last year.
Cherry bites

Rivington & Adlington had a pretty decent 2008 and will be looking for that good form to continue well into 2009, although they will have to up their form after coming 4th at the Malton Contest late last year. Melton meanwhile had two bites at the cherry at Leamington Spa, coming 10th in the Third Section and 8th in the Fourth.
That just leaves the trio of Linthwaite, who have enjoyed decent contest results over the last couple of years, Swineshead Silver and Pleasley Colliery Welfare – both of whom will be looking to kick start their 2009 contesting campaigns with morale boosting results on the weekend.
As for a winner?
Hard one to second guess, but Backworth Colliery could well be the band to beat, followed by Thurcroft, Ireland Colliery (Chesterfield), Bestwood Black Diamonds, Kingsway Printers Cleethorpes and Banovallum Brass. Our dark horse is reigning champ Eccles Borough.
4BR Prediction:

1. Backworth Colliery
2. Thurcroft Welfare
3. Ireland Colliery (Chesterfield)
4. Bestwood Black Diamonds
5. Kingsway Printers Cleethorpes
6. Banovallum Brass
Dark Horses: Eccles Borough