2009 Butlins Youth Championships - Preview
14-Jan-2009
4BR looks forward to the return of the Butlins Youth Championships - a contest coming full circle 35 years after it started at the Royal Albert Hall.
---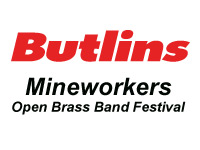 Youth Championship:
Venue: Reds Theatre, Butlins Skyline Resort
Date: Sunday 18th January
Draw: Before the contest weekend
Commence: 11.00am
Adjudicators: Lynda Nicholson & C Brian Buckley
Programme Content: March, Sacred Item & Own Choice item (not to exceed 20 minutes in duration)
Prizes:
First Prize: The Keith Wardle Memorial Trophy and £1000
Second Prize: The George Rowell Memorial Trophy and £600
All competing bands will receive a Certificate of Merit
One of the real plus points of this weekend is the return of the Butlins Youth Championships.
For those of a certain age (including the 4BR Editor) the name of Butlins is forever linked with the ground breaking involvement of the company with youth contesting in the 1970s – and the Butlins Youth Brass Band Championships of Great Britain at the Royal Albert Hall in particular.
That first contest in 1974 was won incidently by the Tredegar Junior Band, which contained no less than three future National Championship winning conductors – Robert Childs, Nicholas Childs (UK winners with Cory, Fodens and Black Dyke) and Nigel Weeks (who won Nationals in both Australia and New Zealand) – as well as the future Editor of 4BR – aged 9, playing third cornet.
That must be some record in itself!
Link

The link to the current Butlins Championships has been maintained by the trophy which is presented to the most entertaining band in the Championship Section – a great old silver egg cup the size of the Champions League Trophy.
Perhaps in years to come that bit of silverware may well be presented again to future Youth Champions – bringing the whole Bultins involvement back full circle.
This year there are just the three bands taking to the stage, but given the expansion of the overall Butlins event in recent times, that will surely grow and grow.
Easy format

The format is easy to understand and there is plenty of prize money on offer too, with the organisers telling 4BR that all three bands will get something for their efforts.
Much is expected of youth bands nowadays, but the sensible format of a 20 minute programme with sacred item, march and own choice piece is an effective and entertaining set up.
There should be plenty of great music to enjoy, so get alone to Reds on Sunday morning and see the future stars of the banding movement strutting their stuff.
This could well be the start of something very special indeed.
Competing bands:
1. Coleshill Town Youth (Stephen Fagg)
2. Shirland Welfare Training (Andrew Dennis)
3. Youth Brass 2000 (Peter Collins)
---