Gizmos & Gadgets - January
10-Jan-2009
4BR looks at some credit crunch buster deals for those looking for something in the January Sales...
---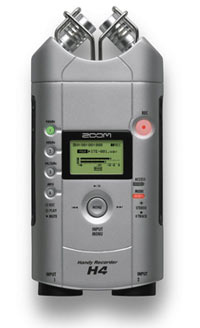 Zoom H4 Handheld Field Recorder
Price: £223.63 (inc VAT)
This really is the dogs…
A fantastic little bit of kit, this hand held field recorder is just the thing for anyone wishing to make legal (we would never condone anything else would we now?) recordings at the drop of a hat.
Record MP3 up to 320kbps and WAV at 96kHz in 4-track audio in 16-bit PCM, 44.1kHz sampling. (Don't know exactly what that means, but it sounds great when you do it) you can just switch it on and get just what you want in quite remarkable sound quality.
The microphones record in stereo and the whole thing can be used as a USB audio interface or mass storage device.
Comes with an AC adapter, mic windshield, USB cable, tripod adapter, 128MB SD memory card and Cubase LE 48 track digital audio workstation for Mac or PC.
Perfect for any budding brass band journo out there, or for possible quick and easy recordings of band performances so that they can analysed later in the bar after you come 15th at the Regional championships…
http://www.normans.co.uk/Items/
---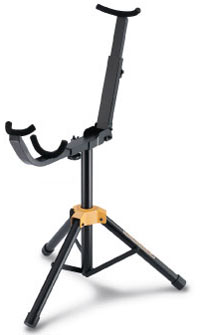 Hercules Tuba, Euphonium, Baritone and Horn stand
DS552B
Price: £48.89 (Iinc VAT)
Those clever bods at Hercules have come up trumps again with this piece of mechanical wizardry for those wishing to take a little bit more care and attention with their tuba, euphonium, baritone or horn.
This stand not only does what it says on the tin, but it has a neat trick up its sleeve too – an extending support mechanism that allows the stand to accommodate the different sizes of instrument – from horn to tuba!
Center locking pins secure yoke arms in the correct position and you use knobs to adjust the length of each yoke arm for a precise fit.
Clever eh?
The all-in-one compact design comes in hard wearing tubing with tripod legs for extra stability. Not too bulky or heavy either (comes in at around 10.6lbs), so it won't break your back having to carry it around.
You may never see a two year old bass in a bandroom battered like a piece of wet haddock in a Grimsby fishmongers ever again…

http://www.herculesstands.com/band/DS552B.html
---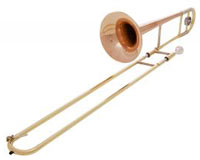 JP Tenor Trombone
031R with Rosebrass Bell
Price: £148.77 (inc VAT)
A perfect trombone for the starter player. The JP tenor trombone has been put together with a great deal of care, attention and no little expertise to ensure that first impressions count to any budding 21st century Don Lusher.
Well engineered and with just the right 'resistance' for an inexperienced player it has all what you expect a quality trombone to have and comes with with lightweight case too.
There is nothing difficult about playing a trombone – blow and move the slide, but this makes the whole experience well worth it as it doesn't feel as if you are playing something that makes you sound like George Chisholm wheezing the theme tune to the 'Flumps'.
All this and it comes at a credit crunch beating price too.

http://www.johnpacker.co.uk/instruments/101880.htm
---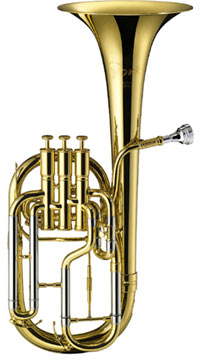 York Preference tenor horn
Silverplate with trigger
Price: £2,135.00 (inc VAT)
If you are looking to invest some hard earned cash in a top quality tenor horn for the 2009 season then Band Supplies are the people to get in touch with.
To start the year off they have got a great offer on a very serious bit of high quality kit – the York Preference tenor horn in silver plate – and with that all important slick trigger mechanism.
This is top of the range quality too – the instrument that Owen Farr struts his stuff on, so it does the job, even if it may not quite make you sound like the next Sheona White without a little bit of practice.
Comes with all the bobbings – a serious instrument at a very serious price.
http://www.bandsupplies.co.uk/StockItem.asp?StockCode=1084
---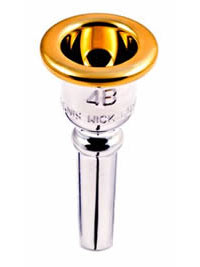 Denis Wick
Heritage Cornet mouthpiece
Price: £49.00 (inc VAT)
Denis Wick continues to explore new avenues in the mouthpiece world – this time harking back to an age when cornet players wore ties to practice and performed on instruments with such exotic names as 'Westminster' or 'Imperial'.
The trick though has been to produce a mid 20th century looking mouthpiece with all the latest 21st century production techniques, materials and expertise. A bit like buying a 1965 E Type Jaguar that has been engineered by the 2009 MacLaren Formula 1 team.
Therefore the Heritage cornet mouthpieces have a large amount of mass around the bottom of the cup, but thin walls towards the rim. Denis Wick state that this makes the mouthpiece very responsive in pianissimo and in high playing, but with a massive sound in the low register and when pumping it out.

The new Heritage cornet mouthpieces are available in all the established cup sizes of the Denis Wick range, and are plated in silver, with the rim and cup finished in the famous 23ct gold.
All you have to do now is brylcream your hair back like Dennis Compton and ask to play 'Life Divine' at the next own choice contest…
http://www.deniswick.com/product.cfm?id=362