4BR Interview - Derek Bourgeois
8-Jan-2009
4BR's Chris Thomas talks to the man who brought us one of the most iconic works for brass band and finds out that he is still busy composing, but not for brass - at the moment...
---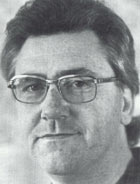 It is now twenty eight years since Blitz quite literally exploded onto the brass band scene at the Royal Albert Hall in 1981 and although the intervening years have seen many major new additions to the repertoire, the shattering impact of Blitz remains one of the most exciting, edge of the seat experiences the entire band repertoire can offer.

Seminal work

In simple terms, history has rightly seen to it that Blitz has taken its place as one of those rare, elusive works that can be justifiably regarded as seminal.
Arguably no less iconic was the performance by Peter Parkes and Black Dyke that saw the band take the National Championship trophy for the fifteenth time that year.

Stuff of legend

The subsequent recording became the stuff of legend, not only for the fact that the disc bearing the work's name was to be the first brass band compact disc ever to be produced, but for a recording of Blitz that has become almost definitive such is its quality; a clear reminder of just how invincible a combination "the major" and Dyke were at the time.
By the time Blitz made its presence felt, Derek Bourgeois had already produced three brass band works on a major scale; the two Concertos and the Concerto Grosso (the latter preceding the composition of Blitz by only a matter of months).

Towering

All three are towering, dauntingly virtuosic achievements, yet ironically it was the quirky and witty little Serenade, written for the composer's own wedding, for which Bourgeois was still best known in the brass band world at the time.

Fortunately, the record has at long last been put partly straight with Grimethorpe's stunning new recording of the Concerto No. 1 under Elgar Howarth having been released a matter of weeks before the interview that follows was conducted.
The diverse, yet no less challenging works that followed over the years, including the comparatively sparse textures of Diversions, the demonic difficulties of The Devil and Deep Blue Sea and a host of arrangements and concert pieces, mostly stemming from his time as Principal Conductor with Sun Life Band in the 1980's, have enriched the repertoire both technically and musically. Few understand the brass band and what it is capable of quite like Derek Bourgeois.
Commissions

Latterly, it is David King that we have to thank for commissioning Apocalypse, a work that in many ways has seen the composer return to the style of his earliest works. Equally fearsome in its devastating power and in its demands on technique and stamina alike, it habits the world of the Concerto's and Blitz that we have now come to regard as quintessential Bourgeois for brass…..yet if what follows is anything to go by, it is to be hoped that it is not the composer's last word for the medium.

Anyone toying with commissioning a new test piece take note……!
---
Chris Thomas: Can we start by transporting you back to your early years? What were your earliest musical memories and influences?
Derek Bourgeois: My parents were not specifically musical. I remember just after the war listening to a diet of Bing Crosby, The Inkspots, Spike Jones, The Andrews Sisters and a host of similar music on an old wind up gramophone. I didn't encounter my first classical music until I was about 10.
Chris Thomas: Was there a defining moment when you knew that music was going to be your life?
Derek Bourgeois: I decided quite early on that I wanted to be a composer. By the age of 14 this was an imperative.
Chris Thomas: During your studies at the Royal College of Music your teachers included Herbert Howells and Sir Adrian Boult. What are your memories of these two great musical figures?
Derek Bourgeois: Herbert Howells was great. He was a huge encourager, and any criticisms were gentle and constructive but he basically made me feel that it was worth spending the time to write and gave me the confidence to go and do it. I'm convinced that for a teacher of composition this is the very best thing one can do. It's so easy to be destructive.
Sir Adrian Boult on the other hand was very dictatorial about conducting. He hated students who spoke too much and urged us all to say everything with the point of the stick rather than waste time talking in rehearsals. He was always very complimentary to me but tore other students to shreds in a very forthright way if they wanted to do things differently. However, for those prepared to play along with his methods there was a huge amount of wisdom to be gleaned.
Chris Thomas: The sad demise of the Sun Life Band remains a great loss to the brass band movement. Do you look back on your time at the helm with the band in the 1980's with affection and are there any particular high points of your Sun Life years that linger in your memory?
Derek Bourgeois: I had a great time with the band, introducing them to all sorts of repertoire which was not common to bands at the time. I also wrote and arranged a large amount of music for them. I think the highlights for me were our annual appearances at the Bristol Promenade Concerts where we played classical repertoire and pieces far longer than the usual test piece length.
Chris Thomas: Entertainment obviously played a key role during your time at Sun Life as it is from this period that a good number of your (often fiendishly difficult!) arrangements and concert works date from, including for instance the Fantasia on "Tico Tico" and The Sorcerer's Apprentice. Did you used to again satisfaction from constructing your concert programmes with Sun Life in this way?
Derek Bourgeois: Very much so. I tried to obtain permission to arrange the whole of "The Rite of Spring", but alas, the copyright owners refused. This would have been the ultimate arranging challenge.
Chris Thomas: With the emphasis on contesting that remains the life blood of the band world, did you always feel at home in the contest arena, both as conductor and composer?
Derek Bourgeois: Not really. Contesting obviously kept the standard high, but I was never comfortable with music being more of a sport than an art.
Chris Thomas: Turning to your brass band music, your catalogue of work is a substantial one and continues to grow with the recent addition of Apocalypse. Of your major works for the medium are there any that you have a particular affection for and for what reasons?
Derek Bourgeois: My very favourite work of mine for Brass Band is "The Devil and the Deep Blue Sea". I just felt that in this piece I had got the combination of challenge, interest and musicianship exactly right.
Chris Thomas: The humour that is often present in your music seems to play an important part although this is sometimes contrasted with music of dissonance and even violence. Is it your view that despite its technical difficulties, your music exists to entertain above all else?
Derek Bourgeois: I do not write my music to entertain, except for the lighter pieces. ("Why does nobody play "Metro Gnome"? I think it's a much better piece than "Serenade"). My serious pieces are written to evoke the same emotions and feelings that can be contained in all great art. Whether I have succeeded in this or not is not for me to decide.
Chris Thomas: Looking back to your early works for band; I'm thinking of the Concerto's but particularly Blitz, in many ways a seminal and ground breaking work for the medium, were you aware of the controversy that sometimes surrounded your band music at the time?
Derek Bourgeois: Yes I was aware of it, but coming from outside of the tradition I could never understand the restrictions and petty rules that were in force and to a large extent still are. I wrote what I wanted to write to the best of my ability. The concept that a Brass Band is a Brass Band is a Brass Band was one that I was never comfortable with and yearned to use Trumpets and French Horns to improve textural variety.
Chris Thomas: Thinking again of the Concerto's and in particular the Concerto No. 1, it seems that even in your first major piece for band, all of your compositional fingerprints, both melodically and harmonically, were very much in place. Do you feel that your music has changed to any significant stylistic degree over the years?
Derek Bourgeois: I think my more recent music is a great deal more accessible than my earlier music. Apocalypse is an exception because this is what David King asked for when he commissioned it. However, since then nobody has asked me to write any Brass Band music so the change in style is not obvious to bandsmen.
Chris Thomas: There is also real variety in your work; the marked contrast between Blitz and Diversions to name just one example. Given that both works were written for the contest stage, have you consciously set out to provide bands with differing challenges in your brass band music?
Derek Bourgeois: I always try to make my music different. In my 44 symphonies there is a huge range of style and emotions. It's important to me to make each piece consistent within itself, but from one piece to the next the change can be enormous.
Chris Thomas: Are there any composers or musicians that you feel to have been a particular influence on your music?
Derek Bourgeois: Sibelius, Strauss, Elgar, Walton and Shostakovich are probably the most important influences.
Chris Thomas: Teaching has been a major part of your life until your recent retirement, your final post being your ten-year period as Director of Music at St. Paul's Girls School in London, a position that has seen a number of illustrious incumbents over the years, including Gustav Holst. Do you miss your involvement in teaching?
Derek Bourgeois: In many ways the answer is yes but being retired has given me the time to compose I have never had before. When I retired in 2002 I had written seven symphonies. Now I have written forty-four and the average length of each is 45 minutes. The symphonies are only about half of my output and since my retirement I have added 62 hours of music to my total.
Chris Thomas: Your period as Musical Director of the National Youth Orchestra of Great Britain in the 1980's must have brought considerable satisfaction as well as its share of challenges no doubt?

Derek Bourgeois: Yes, but it was very rewarding to tour the country searching for the finest young talent. The programming was exciting as well and I presented the members of the NYO with some very challenging new repertoire.
Chris Thomas: The years since your retirement from teaching have resulted in an amazing increase in your output. Apart from the obvious benefit of time are there are any other reasons for this surge of creativity and inspiration?
Derek Bourgeois: Within a year of retiring, my wife was diagnosed with Motor Neurone Disease (ALS). I was housebound looking after her until she died four years later, and composing was my big escape into another world. Part of the increase in output was due to this.
Chris Thomas: You have also travelled extensively since your retirement, initially living in Mallorca and now having moved to New York State. Have you drawn particular inspiration from your changing surroundings?
Derek Bourgeois: To a certain extent, but most of my music is abstract and association with places is relevant to only a few of my compositions, notably Symphony No 8 (The Mountains of Mallorca) and Symphony No 41 (Sinfonia Andalucía).
Chris Thomas: And your symphonic output continues to grow at pace including an incredible eight symphonies in 2006 alone?
Derek Bourgeois: Yes, I'm in the middle of No 44 at the moment and already thinking about No 45.
Chris Thomas: Do you envisage yourself writing for brass band on a major scale once again?
Derek Bourgeois: Only if someone asks me to!