Frozen in Time - Four Little Maids
8-Jan-2009
Frozen in time in 1969. What ever became of John Carr's 'Four Little Maids'?
---


Four Little Maids - frozen in time in 1969...

This month's 'Frozen in Time' feature harks back 40 years to 1969 and a connection between the most famous band in the world, and four youg ladies who had made their musical mark on the banding scene some seven years before.
The four young ladies in question were Susan Oliver, Beryl Teasdale, Christine Carr and Sandra McMahon. No wiser?
Musical inspiration

Well these four girls were the 'Four Little Maids' – the musical inspiration behind the late John Carr's suite that since 1962 has enchanted, as well as tested, bands ability to play in four varying styles in concerts and contests.
And the connection with the most famous band in the world?
Black Dyke recording

Well, almost unbelieveably, the Black Dyke Mills Band recorded the work on one of the most most famous brass band LPs of all time – 'High Peak for Brass' in 1970 – the one with the imperial Jim Shepherd sat on the front cover in all his glory and at the very peak himself of his immense playing powers.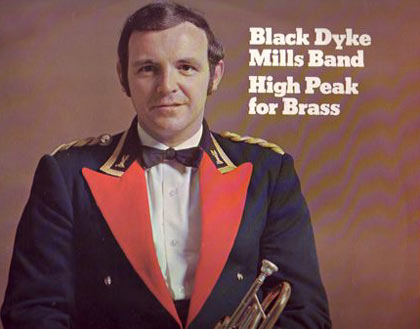 Where to find Jim Shepherd and four young ladies...

After performing Eric Ball's 'High Peak' test piece on Side 1, the band then provide a very tasteful performance of 'Four Little Maids'. Side 2 sees the band play 'Spectrum' 'Elegy from Entertainments' and old Jim Boy whipping through 'Pandora'. Would Dyke, Cory or Grimethorpe consider doing that nowadays we wonder?
The Four Little Maids

The four 'Maids' (would anyone call four young ladies 'maids' anymore?) were the grand daughters of the composer John Carr – himself a well known and respected conductor in the banding world.

In 1969, Susan, 'Serious Miss' (far right) was then an 18 year keen band supporter who worked as a punch card operator in the finance department of Bedlington Council Offices. She was described as being 'fond of dancing, friendly and popular…perhaps not quite as serious these days?'
Beryl Teasdale, 'Miss Unpredictable', (first in order left to right) was aged 15 in 1969, studying for O Levels at Allandale Secondary Modern School and hoping to become a secretary. She was decribed as '…a very affectionate girl, happy to do a good turn. Full of the 'joys of spring', one minute down in the dumps, the next, she is probably still – unpredictable.'
'Dainty Miss' was 19 year old Christine Carr (third right), the oldest of the quartet and then studying at the University of Hull for a BSC in Pure and Applied Maths. She hoped to become a teacher on completing her course, although at the present time she was a keen member of the university Folk Dancing Team that had just come back from the Varsity Folk Dance Festival in Strathclyde.
Finally, 'Miss Chatterbox' – 11 year old Sandra McMahon (second right). Described as talkative and witty, she not surprisingly wanted to become a haridresser. She was also a Girl Guide and a keen colector for charities, she set a good example to others by putting part of her weekly pocket money towards the Spastics Society.
Where are they now?

Where are these ladies today we wonder? All now enjoying middle age we hope – all still perhaps with a connection to the banding world as well?
Times change of course – do students still take part in the Folk Dance Society or would anyone under the age of 20 know what the Spastics Society has now become?
So can anyone tell us what became of the 'Four Little Maids'?