4BR Scouting Report - Hayley Edmond - West Lothian Schools & Whitburn
9-Dec-2009
4BR casts its eye on another talented young performer who is making a name for themselves in the banding world - Hayley Edmond of West Lothian Schools and Whitburn.
---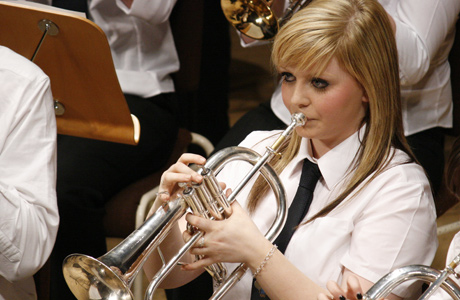 Flugel talent - 17 year old Hayley Edmond in action

Name: Hayley Edmond
Age: 17
Instruments: Cornet/Flugel horn
Bands: Whitburn; West Lothian Schools; National Youth Band of Scotland
The long term benefits of investing in youth are apparent in Scotland: That was plain to see and hear at the Scottish Youth Championships recently.
A host of bands, packed to the brim with exciting, and sometimes excitable, young talent, enjoyed themselves to the full, and provided further evidence that in a few years time, senior Scottish banding could well reap the rewards of an innovative youth development policy.
Golden generation

In the meantime, there appears to be something of a 'golden generation' of teenage talent making a huge impression on the current Scottish banding scene – led by the young players who have enabled the likes of the West Lothian Schools and Carnoustie & District Bands to produce quite remarkable levels of performance at high profile youth band contests, as was shown in Perth this year.
One such player is 17 year old Hayley Edmond, currently playing cornet with Whitburn Band, but also performing with growing maturity on flugel horn with West Lothian and the National Youth Band of Scotland.
Banding family

Hayley comes from a banding family – father Alan is the current SBBA Development Officer and plays horn with Whitburn, whilst mum, Laura, is a former baritone player with Livingston Band. Her sister also played saxophone until recently with the West Lothian Jazz and Wind ensembles.
Banding then is in the family for this personable young lady: "Both my parents encouraged me to play but didn't put any pressure on me," she told 4BR. "It meant I could enjoy my playing and develop at my own pace – although I'm sure my dad would have wanted me to have practiced a little bit more at times!"
Early start

An early start came with Hayley picking up a tenor horn aged 7, at the Livingston Junior Band, before she made the move to cornet just a few months later.
With ongoing tuition from Caroline Scobie at High School, as well as some well timed advice from her parents, Hayley was soon winning her first solo contest, as well as joining the ranks of the all conquering West Lothian Schools Band aged 11. Her progress soon saw her join the senior Livingston Band.
"It was great getting play with the Senior Band. The pieces were much harder, and I had to work at my playing more. I also learnt so much playing with my friends with West Lothian," she said.
Further experience

With Livingston merging with Broxburn, Hayley gained further experience and is grateful to conductor Alan Samson who encouraged her playing. "Alan was really supportive and allowed me time to develop. The teaching I continue to get from Caroline at High School has really improved my all round ability as a player too."
That improvement has seen Hayley just pass her Grade 6 Associated Boards exam with flying colours, and she hopes to complete her Grade 8 exam before she leaves for university next year. Although she doesn't plan for a career in music, Hayley hopes that she will be able to specialise in music in qualifying as a primary school teacher.
Keep playing

More importantly perhaps, she wants to keep playing with her current band, Whitburn, and she has already started to put her experience to work by contributing in workshops to encourage the next generation of young players to take up brass instruments through the Youth Music Initiative Programme supported by the Scottish Arts Council.
Hayley joined Whitburn three years ago, and she is enjoying the experience of playing on the back row with one of Scotland's top outfits.
"I want to be a primary school teacher, but it also gives me the chance to specialise in music and carry on playing with Whitburn – I think that will keep everyone happy," she said with a knowing laugh.
At the moment she is also able to carry on playing flugel horn with West Lothian too – hopefully until the age of 21.
"I was nervous joining Whitburn, especially as the music is much more difficult. Playing at contests such as the British Open, National Finals and the European Championships last year was a bit of an eye opener though – now I know just what I have to do to improve."
Challenge

She is enjoying the challenge of the big test pieces: "I really liked Philip Sparke's 'Music for Battle Creek' and Paul Lovatt-Cooper's music. I'm not too fussy on the older pieces we play at times, but all of them are difficult."
Playing flugel horn with both West Lothian and the National Youth Band of Scotland has been a huge bonus though. "I started playing flugel about three years ago and I love it. It's so different from playing the cornet, and you get to play a lot more solo parts."
Playing with friends and being able to travel the world has also been something that has made all the hard work worthwhile. "The trip to Japan with the National Youth Band was amazing. It was such a fantastic place, the concerts were brilliant and I made friendships that will last all my life," she recalled.
Revelled

Hayley has also revelled in being part of that all conquering West Lothian Band too.
"We've been so successful, winning the National Youth Championships and Scottish Championships, and playing under Nigel Boddice is great – he pushes us but encourages us too. We were disappointed to lose our Scottish title in Perth but we thought we played really well, and we know just how good Carnoustie is."
Hayley is looking forward to another trip abroad next year, when West Lothian visits Germany. "We have a great time when we are away so I can't wait for the trip," she said excitedly.
Personal triumphs

Personal triumphs have also come her way too: Hayley has won the East of Scotland Solo Championship and both the Junior and Senior titles of the Lochgelly contest, although she remains refreshingly modest about her achievements: "I'm not really a stand up soloist, although I enjoy playing solos. I've recently been working on the 'Premiere Solo' and enjoyed being featured in 'Hymn for Africa'."
She is too shy to tell us that in February this year she was awarded a prestigious West Lothian 'Stellar' Music Award as well as a World of Brass Music Innovation award at the Scottish Solo Finals, and has qualified for the final of the Scottish Solo Championships for the last five years in a row (Dad had to twist her arm a bit to get her to tell us).
Future looks bright

The future looks bright then for this talented performer, although she is realistic about her current strengths and weaknesses as a player.
"I think my strengths are my sound and my range, but I know I have to work on my technique," she said. "I want to improve on both cornet and flugel before I make my mind up to what I want to play full time."
That's good news then for West Lothian, the National Youth Band of Scotland and Whitburn.
And good news for those who have enjoyed her playing too.
Iwan Fox