4BR Dinner Guests - Simon Dobson gives us his ultimate dinner guest list
8-Dec-2009
Composer Simon Dobson tells 4BR just who he would have around his dinner table for a good night out and chin wag...
---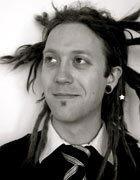 Given the opportunity, the wish list, the ability to mess about with the Space-Time Continuam like Doctor Who, and the skill to cook like Heston Blumenthal, who would you like to invite around to your place to enjoy a meal and chin wag with?

4BR started it all off a few days before Christmas 2007 with our 10 dinner guests, so we thought we had better ask a few more brass band personalities who would be on their all time dinner list too...
Nice guy

This time it's composer Simon Dobson, one of the brass band movement's brightest composing talents. In the past few years he has written critically acclaimed test pieces and concert works, and this month was nominated for a prestigious British Composers Award.

He has also conducted the National Youth Brass Band of Great Britain, set up Zone One Brass in London and has taken on conducting roles in Norway and the UK. He is currently busy writing new works for 2010 and beyond, and lives in Cornwall with his wide, Jo.
He told 4BR: "There have been so many people that have inspired me from within the brass band world, and many musically from without too! The idea of them all interacting is amazing. I would hope that it would end in some kind of a jam session. I wonder how that music would sound? Maybe I'll write it one day!"
---
1. Bram Tovey
Bram is the finest musician I have ever met. Open, true and humble. Bram is also very often the last one up at a party and always has an amazing and seemingly everlasting supply of stories about the greatest names in the musical world.
He made me realise a lot of things about myself as a musician whilst I was working under him at the NYBBGB and I feel I've taken more from his a conductor than any other if worked with or played under. Also, we all need to be given confidence at times and Bram was very good at cheering me up once.

I'll always be thankful for that.
Bram would defiantly have to take the keys for the post dinner 'Jam'.
2. Peter Bassano
Peter was the head of brass at the Royal College when I got there in 2000. He was also the first person to ever take my brass band music seriously.

Peter gave me lots of chances when others wouldn't (being as I was, at the time, possibly the scruffiest student in the world!) and commissioned my first major work for brass band for a college concert to celebrate the 25th anniversary of the death of Benjamin Britten.

He later told me that I should enter that piece into the EBBA young composers competition in 2002, saying "you'll win that!". I lost the entry form; luckily found it again, and went on to win.
Those of you who know Peter will also know (and I'm sure he'd be the first one to admit this) that he is king of the inappropriate comment. Some of things he's said...just at exactly the wrong time!
3. Jason Katiskaris
Jason is a good friend and another person who has had faith in me and my music. We are kindred spirits of sorts. When first met we just 'got' each other and I knew working together wouldn't be far off. I've got Jason to thanks for a good number of brilliant performances of my music. Cheers mate!
Jason has added a great deal to the band scene in the short time that he's been here and I know he'll be missed once he's returned back to Oz. He's a great musician, probably the most prepared man I've ever met and has given me much needed advice on more than a few occasions.
4. Peter Meechan
Unlike most of Petes mates I know nothing about cricket or football, but we can talk for hours on contemporary composition and the scene as a whole. Pete's a real asset to the movement. I'm just sure that his Nationals commission is on the way sometime soon, it just has to be!
Joking aside, Pete is a great composer and one I defiantly look up to, he's also a dead nice guy (judging by the number of people who want him at their fictitious dinner parties), and, I was surprised to learn, a bassist. Perhaps he'd take the bebop bass line in the post dinner Jam!
5. Thomas Gansch
If Pete takes the bass then here is the guy for the lead trumpet line. What a player! I first saw Mnozil at the national finals five or six years ago and they blew me away.

I hooked up with them for a few jars at the IC bar after where they replayed their hole set to a bunch of bemused physics students! After this I ended up taking them out into London and finished the night Jamming with them in a dingy Kensington bar.

It was so much fun, and I have photographic proof! Thomas is such a natural performer, both in jazz and classical and I bet he'd cause a riot at a 'tame' dinner party!
6. Joseph Horowitz
Joseph Horowitz is a real legend in our movement. To meet him is like meeting the Yoda of the brass band world. He is so sharp, charming and intelligent and always a pleasure to talk to. We've not spoken for a few years but when I did an interview with him for the Brass Band World he talked for nearly four hours.

I have it all on tape too somewhere.
Joseph is an amazing composer and one whose scores provide me with lessons daily. He once told me 'never to make the mistake of using the tenor horns as a waste paper basket!" I do try not to! Ballet for Band remains one of my favourite pieces for the genre.
7. Louis Armstrong
Simply the height of cool! An awesome trumpeter and cornet player with a sound impossible to copy. I have some brilliant old 'Satchmo' vinyls and they never get boring.

He had a profound influence on the foundations of the jazz scene and more than anything else I'd just loved to have heard his voice first hand!
Maybe Louis would wail us a number with Maestro Tovey at the keys.
8. Wilfred Heaton
To me Wilfred Heaton's 'Contest Music' is a masterpiece. It's just so perfectly composed that I am constantly in wonder at the score.

It would have been brilliant to have been able to gain insight in to mind that produced something so amazing, even just for a few hours.
9. Aphex Twin
One of my favourite electronic music composers and my reasons for including him are simple. His breadth of musicality is huge. From beautiful ambient piano albums to hardcore drum'n'bass. All intricately composed so that very often you don't know you're listening to electronic music at all.
Although the link is tenuous at best, he is also a Cornishman and so that gets him a ticket to the party I think. I feel that he is certainly the kind of musician that might open the eyes of many 'banders', as he did mine!
10. Jo Dobson
My wife and muse. Jo is very supportive of the things I try to do, either as a composer or a conductor and I'd defiantly have stumbled more than a few times had she not pushed me onward. I'd be worse off as a musician and as a person without her.
Jo is also a fantastic and inspiring musician. She posses an amazing voice (think Kate Bush crossed with Tori Amos and Gwen Stefani) and is one of the cleverest, wittiest and most fluid songwriters I have ever met.

Very often she'll pen something that I will ask to borrow, and very often the answer is "No!"

Her band 'Josie and the Lovecats' (myspace.com/josieandthegiants) are doing really well and are gigging hard up and down the country.
---
Previous dinner guest lists:
Previous guests have included the 4BR selection; Chris Wormald; David Read; Pete Meechan; Alan Jenkins; Derek Broadbent; Philip Harper; Peter Roberts; Frank Renton; James Shepherd; Dr Roy Newsome; Paul Lovatt-Cooper; Bramwell Tovey; Kevin Crockford; Morvern Gilchrist and Lesley Howie; Richard Evans; Simone Rebello; Ian Porthouse; David Daws; Alan Morrison; Alan Wycherley, Mark Bousie and Steven Haynes.