2009 Scottish Open Brass Band Championship - Scottish Open retrospective
2-Dec-2009
Dreams really do come true in Perth - especially for Fountain City.
---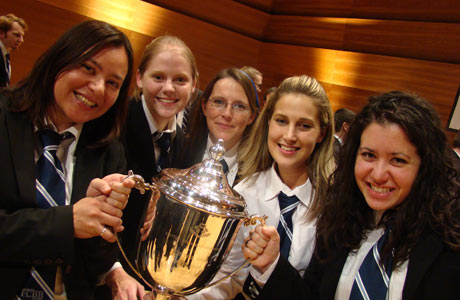 Dreams come true...

Somewhere, over the rainbow, skies are blue,
And the dreams that you dare to dream really do come true.
Dorothy, The Wizard of Oz
For Fountain City Brass Band they do.
The band from Kansas City made the trip from the monochrome land of banding in the USA to the kaleidoscopic wonderland of contesting in the UK and fulfilled its ambition to return home with something to show for its troubles – all courtesy of a 'Dream' of a performance not even Judy Garland could have bettered.
Forget being over the rainbow, the band were over the moon on Saturday night.
No ordinary win

This was no ordinary win either – this was something very extraordinary indeed, and should provide a wake up call to anyone still harbouring thoughts that domestic banding in this country is in a healthy enough state to repel the increasingly impressive assaults from overseas.
The Empire of British banding is now a myth: First it was the Norwegians, then the Belgians. Now it's the Americans. Whereas banding in the Dominions and the UK is contracting amid musical conservatism and organisational feudalism, the new worlds are embracing change and innovation allied to organised professionalism.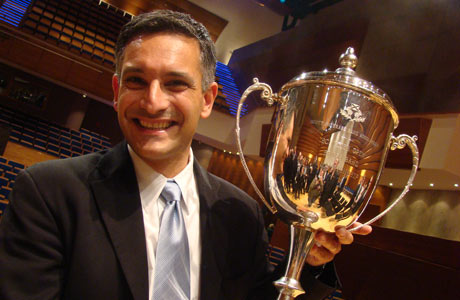 A winning smile from Mr Parisi...

Warning signs

British banding has ignored the warning signs for far too long.
"This is the greatest day in our banding lives," Lee Harrelson told 4BR onstage at Perth after the results. "We are privileged to have come here to compete," said MD, Jospeh Parisi, before adding, "…but honoured to leave as champions."
That is how much it means to people that still sees Britain as the motherland of banding, and the significance of their victory was not lost on the celebrating Americans – a wonderful bunch of friendly musicians. They have learnt so much on the trip they said – not just about themselves, but also where they stand in the great scheme of brass band things
High pedestal

It is on a pretty high pedestal.
"Playing on the stage with Black Dyke and Cory," was something to cherish, Helen Tyler said, "…but winning here means so much more."
How much more we will see and hear in the coming years. Fountain does not enjoy sponsorship (and each member paid in full for the 2 week trip to the UK) and their profile, even in their home state, is lower than that of American baseball in Clackmannan - but this could change everything.
America loves winners – and Fountain City is a winner – a very clear cut winner here on the weekend.
Don't be surprised that by the next time they come to these shores, Coca-Cola could well be sponsoring them. Then, even the Black Dyke's and Cory's of this banding world can look out – on this evidence their musical potential is as far reaching as the horizon on the Kansas Plains.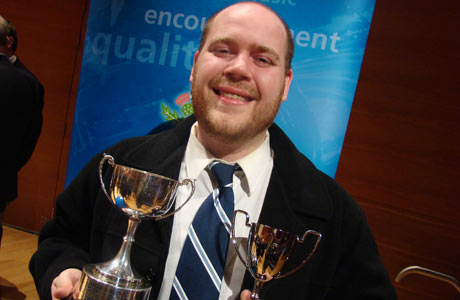 Solo winner: Will Hess won the 4BR Best Instrumentalist Award

Easy job

For adjudicators Frank Renton and Philip Harper, the Americans made their job easy.
Of course the two men knew that the Americans were to play 'Dreams' by Bertrand Moren, (but then again, it didn't take Stephen Hawkins to work out that the main domestic challengers would play 'Titan's Progress' either), but that was of no relevance.
These are two very accomplished professional musicians, and to be honest, it was a little insulting to have to place them behind a screen in these circumstances: You either trust them or you don't.
Reward

At the conclusion of the contest both spoke with an openness and transparency about the day that left no one in doubt about the decision they came to.
"We rewarded music making," Frank said. "We heard some great playing. There were good things in the music making which were perhaps more obvious than some of the less good things, which without a score, are not always so clear. There were several positives, but the winning performance was so commanding and so beautifully played."
Philip was equally emphatic. "The top six performances were very good, although it was a matter of consistency between those who came between second and sixth. The winners was pretty awesome – a pleasure to listen to. It was a brilliant performance, really impressive."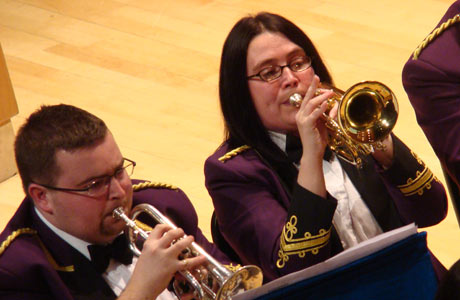 Pointing in the right direction: Pemberton make music to claim second place

Forgone conclusion

The result was a forgone conclusion as soon as the last note of Whitburn (the last band on the day) was played. No one had really come close to the Americans, and there was little doubt the £3,000 first prize and the Scottish Open Challenge Trophy would head to a new home in Kansas City (the Fountain bit refers to the claim that the city is home to the greatest number of public water features in the world).
The winning performance was one that inhabited a level of sophistication, artistry and sheer pizzazz that is now the domain of only a handful of top flight bands in the world.
Dystopian

Any psychiatrist worth their salt would love to get Mr Moren on the couch to explore the dark recesses of his mind, because his 'Dreams' are a Dystopian vision of madness Hieronymus Bosch would be proud of.
Although the musical picture is brilliantly coloured, it is almost exclusively painted from a violent, luminescent palette. The more thoughtful, reflective dream sequences are fleeting and puzzling, but it is the visions of hell, not unlike that created by the artists, the Chapman brothers, that was so vividly brought to life.
From start to finish the ensemble playing was of the highest quality, the soloists on red hot form (especially trombonist Will Hess who took the 4BR 'Best Instrumentalist Prize closely followed by soprano player Ryan Sharp), the direction, cultured, precise and emphatically controlled. The three-point victory margin was comprehensive and deserved – the 198 points a very accurate reflection of its excellence.
Well beaten field

Behind them came the well beaten field.
Given that both Frank and Philip stated clearly that they had rewarded music making first and foremost, then Pemberton's runner up placing wasn't that much of a surprise – although it did provoke a yelp of stunned delight from their band rep on stage that almost cracked the glass trophy she was about to receive.
This was a very literal performance of 'Music of the Spheres' from Mark Bentham and his band – not without serious individual mistakes it must be said – right from the start. There was close attention to tempi and dynamic however (areas other bands on the day chose to ignore at their peril in search of excitement), so the errors that were more obvious to the ear were off set by the desire to stay faithful to the intentions of Philip Sparke's score.
It was still a surprise they came where they did though.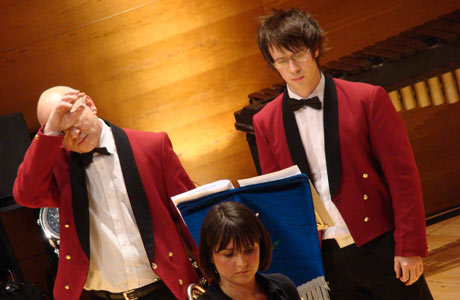 Feeling the strain: Whitburn sweat on third place

Discipline

The same could be said of Whitburn too, after a performance of 'Titan's Progress' that started with realistic ambitions for victory, but fell away somewhat through carelessness and lack of individual discipline.
It wasn't as good as their performance at the British Open by any means by its close, but the result was infinitely better. Serendipity had smiled a little in their favour to come third.
Not so Co-operative Funeralcare, who lost a solo cornet player through illness just a few minutes before they took to the stage.
The misfortune seemed to galvanise the band however, and with Russell Gray reining in the lyricism, they produced a 'Titan' full of excellent ensemble work and classy individual contributions. Fourth place seemed a tad harsh to say the least as most listeners had them a clear second.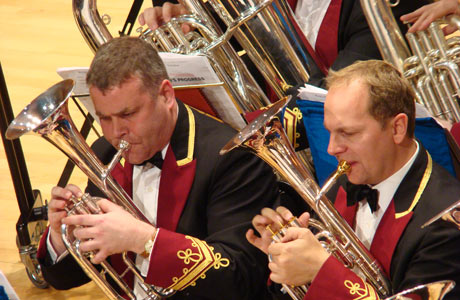 Kirky's titans: The horn section of Kirkintilloch give it their best shot...

Testosterone

Kirkintilloch also upped their game from the British Open, with a 'Titan' that had gone easy on the testosterone injections for this appearance.
The end result was a much more rounded, thoughtful performance under Selmer Simsonsen that just faded in the final run for home. Kirky is a fine band when a tight rein at the helm controls them, and fifth place was a little unlucky.
For Wire Brass, another highly encouraging performance and result, courtesy of a well managed account of 'Masquerade' that featured some outstanding euphonium work from Kim Holly Thorp.
Perhaps the only quibble was that it all needed a touch more artistry and Falstaffian bravado – it was touch bland in places, as the desire to show that the band could meet the technical challenges of a pretty fearsome piece meant that some of the character of the music was lost.
One or two

These six performances were the ones that stood out for the two men in the box – although for those in the hall there were one or two others that perhaps deserved to force their way into the minor placings.
Of those, Fishburn's well managed account of 'Journey to the Centre of the Earth' under Alan Morrison saw them produce a consistent and atmospheric performance of a work whose reputation as being a bit of a busted flush of a test piece, perhaps cost them a place in the top six.
Meanwhile, Marsden's bravura 'Rococo' just ended outside the prizes, mainly one suspected to the parts that were absent, not those that were played. Even to the causal listener, there was more percussion writing missing than usual.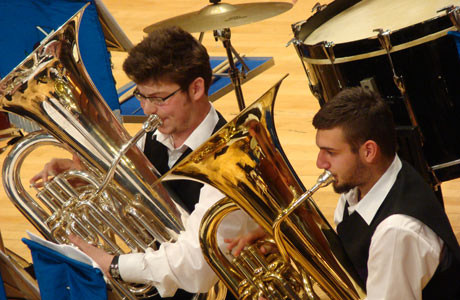 Tuba duo: Co-op's bass section pump it out...

Unlucky

A couple of bands could count themselves a little unlucky that their efforts didn't quite resonate in the box: Dalmellington's 'Dances & Alleluias' was solid, competent stuff which had a sheen of quality from the solo work of the baritone and that of solo cornet Graeme McCulloch, whilst Easington will perhaps wonder why a decent effort on 'Tristan Encounters' was consigned to last place. It couldn't have just been the decision to play the last few bars wrong (there is no dramatic rall).
The format of the contest did mean that it was going to be a very long day though – the first band started at 2.10pm and the last took to the stage at just before 9.00pm, and it did mean that there were going to be periods when there were some pretty mediocre performances to battle through.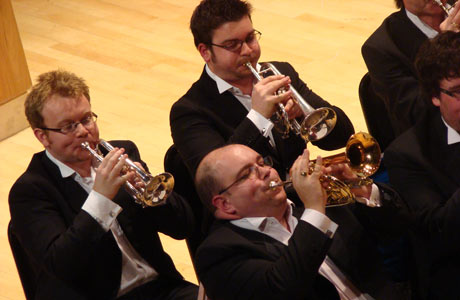 Wired for sound: Wire Brass take sixth place

Wizard bluff

As with the bands in the Challenge Shield some of the choices made by the MDs came from the Wizard of the Emerald City too – sheer bluff. Others bands simply didn't perform on the day, and some were a combination of the two.
Therefore we got a hit and miss 'Whitsun Wakes' from Kinneil, a rather lightweight 'Journey to the Centre of the Earth' from Bon Accord and way too ambitious 'Extreme Make-Over' from Kingdom Brass.
All three had their moments of quality – but moments they were as overall there was never enough consistency to have made more of the complex scores than they did.
Milnrow meanwhile left their best 'Paganini' in the bandroom, whilst Newtongrange delivered a 'Lowry Sketchbook' that rather lacked colour and character.
Kirbymoorside's 'Essence of Time' seemed out of place and lacked purpose, whilst Kirkintilloch Kelvin's 'Rienzi' never stirred the blood.
Stamp

Milnrow will perhaps be the most disappointed – when it was good it had the stamp of quality about it – but that stamp was only fleetingly on show, whilst Newtongrange seemed strangely reticent to allow themselves a bit more free rein to enjoy Wilby's delightful score. Both Kirbymoorside and Kirky Kelvin sounded like decent First Section outfits nothing more, nothing less.
For Fountain City though, a long journey home with a reputation enhanced and a dream come true. They are a class outfit – and now a lot more people are aware of it.
Iwan Fox