2009 Scottish Open Brass Band Championship - Scottish Challenge Shield retrospective
2-Dec-2009
The Scots are famous for invention and innovation, but it seems hubris may be added to that list too...
---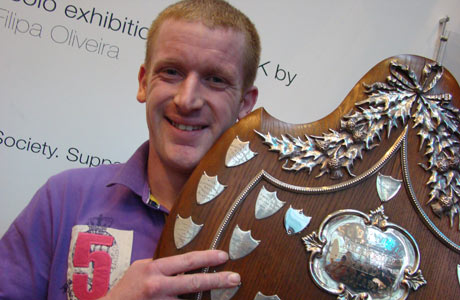 Strength and Shield: Willie Ralston of Campbeltown picks up the top prize

Whereas there was a great deal of hard nosed Scottish sensibility on display in the Challenge Cup, there was a huge dollop of fanciful thinking splashed across the auditorium when it came to the Challenge Shield that followed.
The Scots are an ambitious lot, but even a cursory glance at the own choice selections made by the bands before a note had been blown would have left the neutral listener fearing they had stepped into a Baron Münchausen convention.
Troubles

Nine bands – four top section European test pieces, a recent vintage British Open work, one First Section National reprise, a classic bit of Edward Gregson, a top section regional tester that caused troubles for some of the best in the land just two years ago, and a tricksy bit of Sally Army repertoire mistakenly attributed to a former Radio 4 'Today Programme' presenter.
These were choices either from conductors with minds full of misplaced enthusiasm or uncontrolled hubris. This may have been a contest for bands in the First and Second Section, but due to the choices made, the end result was a contest that only on odd occasions rose above a general level of self-inflicted mediocrity.
Hard to find fault

It was hard to find fault with any of the players, but some of the conductors should been made to stand naked in cold porridge and pelted with three month old haggis. Some had little idea of just what their bands could actually play, and play well.
It must have been hard work for Stan Lippeatt and Peter Roberts in the box too – especially as both men would have played these pieces many times before with bands that could actually play them.
Trying to pull the wool over this pairs eyes is a pointless exercise for any over ambitious conductor to try – you don't survive in Grimethorpe for long if you don't know the difference between musical mutton and lamb in an instant.
Trying to find positives in performances that had so many basic problems would have tested the patience of a saint, let alone two very experienced former Grimethorpe stalwarts.
Generous remarks

Stan's generous remarks did contain a steely ring of painful truth though – and the conductors would have been left in no doubt just where they failed in the written remarks.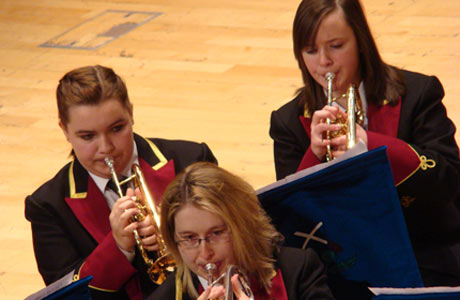 The winners in action...

Uneven

Campbeltown eventually took the title and the £300 top prize after delivering an uneven account of 'Tallis Variations', that although never quite sounding at ease did at least have all the basic elements in place under the direction of Craig Anderson.
Tuning issues (especially when muted) proved to be the main problem from start to finish, but with some fine individual efforts (especially the flugel in the demanding solo and the euph and solo cornet) the MD was able to maintain a persuasive flow to the music.
It was an ambitious choice, but one that was grasped by enthusiastic hands around the stand and an MD who realised the limitations of his performers.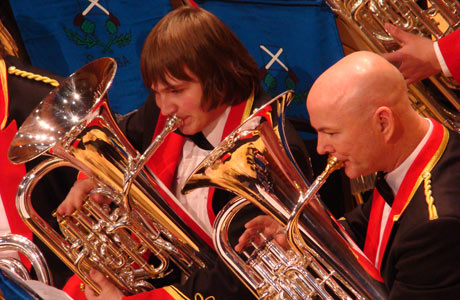 Hair raising stuff from Granite...

Purposeful

The same could also be said of second placed Granite City Brass under Robert Owen, who rounded off the contest with a purposeful, if rather one dimensional account of Robert Redhead's 'Corpus Christi' (not 'Brian' as in the former Radio 4 presenter, nor 'Christie' as in the murderer at 10 Rillington Place as stated in the programme either)
This was sensible, non nonsense playing of a piece, that although not particularly inspired (the mix of 'dem dry bones and what seemed to be the old football chant, 'you're s**t are you know you are' seemed a little odd) provided a solid band, with solid performers and a solid MD the chance to show off their qualities without over exposing their weaknesses.
On a day when other conductors took a shotgun to blow away their chances before they had a musical foot to stand on, this was old school conducting that got a deserved old school result. Others should have followed suit.
Best of the rest

The best of the rest came from Arbroath Instrumental under the direction of Michael Roberston, who opted for a second bash at 'Triumphant Rhapsody' following their recent appearance at Harrogate.
Unfortunately, this one was just as error strewn as that one at the International Conference Centre, and although you were left with the impression that on a really good day this was a piece the band could just about come to terms with, this wasn't one of them.
Hard

From then on, it was increasingly hard to reconcile the reasons behind the choices made by the MDs.
That Newmilns & Galston came 4th told you a great deal about what ended up behind them come the results.
'Diversions on a Bass Theme' is a very fine top section test piece (fine enough to have troubled very nearly all the bands at the British Open just over a decade ago).

Here it received a mauling - despite the very best efforts of the players, many of whom performed out of their skins to come to terms with the technical difficulties (especially the extended quaver run section towards the close).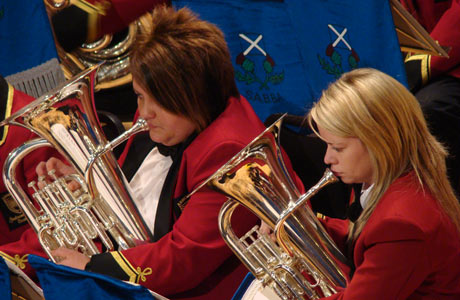 A determined duo from Arbroath

These were perhaps the only positives that could be drawn from a performance that because of its technical deficiencies never remotely came close tocommanding the elegance of George Lloyd's writing.
For Lochgelly the same story – with some absolute champion efforts from individual players to overcome the treacherous opening cadenzas in particular in 'A London Overture'.
The vibrant enthusiasm could not mask the technical problems though and despite some clever camouflage work the piece soon ground into a furrow of one dimensional tempi, balance and volume. Paul Drury is a fine musician, but on this occasion the MD over estimated his band's abilities by a considerable margin.
High hopes

Hopes would have been high for Dunaskin Doon and their selection of 'Land of the Long White Cloud' given they were playing in the top section earlier this year at the Scottish Area Championships.
This though was a struggle, and despite some neat ensemble and solo work (a good back row cornet section kept up their form from start to finish) the band tired and the ensemble balance was eventually swamped by an over enthusiastic percussion section which the MD seemed oblivious to.
Meanwhile, Mike Marzella with Shott's St Patrick's tried to make the most of the musical content of 'Royal Parks', but from the word go he was hampered by inherent problems in ensemble tuning and uneven execution.
The crushing emotion of the second movement was therefore totally missing, as the MD was unable to bring together the disparate elements and mould a warm ensemble sound. The closing movement just seemed tired and joyless. It wasn't a good performance.
Painful lesson

For young Eoin Tonner a painful lesson learnt.
Here is one of Scottish banding's brightest talents – a remarkable young player. He is a gifted conductor too, with elegant baton work, not unlike a young Nicholas Childs for afar. Picking 'Festival Music' though saw him get his backside spanked.
Bathgate sound a solid outfit when they play to their strengths, but trying to mimic Mozart ain't one of them just yet. The MD may well be ambitious for his band (who will be right to indulge that ambition once in a while too), but this was Icarus flying to close to the contesting sun. He fell to the earth with a bump too.
Battlefield

The same too for Annan Town and a bit of time travel back to the 'Plantagenets' of Edward Gregson.
This is sparse Gregson, a piece of motifs, heraldic splendour and the kernels of rhythmic ideas that would flourish in later years. It was a brave old effort, but not helped by the decision of the MD, David Hamilton, to play it at a tempo that would have held up the traffic on the way to the battlefield.
Given that there are so many pieces that a band like Annan could play, and play well, why choose one that had to be undermined by playing it at glacial tempos?
Once again, the players tried manfully to cope with the challenge, but the lack of purposeful flow from the middle sucked the lifeblood out of the music, and the stamina out of the lips.
It all rather summed up a contest that could, and should, have been of a much higher standard. It left you feeling sorry for the hard working players and a little resentful towards the conductors.
Iwan Fox