2009 Scottish Open Brass Band Championship - Scottish Challenge Cup retrospective
2-Dec-2009
There may have been only six bands but there was plenty to enjoy as Coalburn stamped their class to take the Scottish Challenge Cup.
---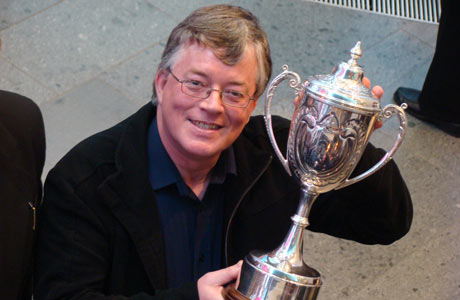 Ornate trophy: A Coalburn supporter enjoys lifting the Cup

The opening contest of the 2009 Scottish Open Championships provided a fair amount of enjoyable entertainment for the hardy souls who braved the sharp chill of the morning air to make their way to the wonderful Perth Concert Hall.
Spikey nip

The spikey nip was welcome too, as it soon woke you from any lingering early morning slumber – although the sight of row upon row of empty seats in the auditorium at 9.00am rather suggested that the good banding folk of Scotland had decided to wait a bit longer before they ventured out of their cosy beds to listen to any bands.
It was a pity, as the six contenders for the Scottish Challenge Cup all gave very good accounts of themselves on some diverse contesting fare, with the winners, Coalburn Silver, confirming the opinion that they are one of Scotland's up and coming lower section bands after posting a highly impressive victory.
Adjudicators Ian Porthouse and Andy Duncan had little difficulty in separating the bands out – the winners well worth the eventual two point winning margin from second placed St David's Brass, with Renfrew Burgh a fair couple of lengths behind in third.
Generous

Ian was generous and constructive in his assessment: "We have heard some good choices of music," he said to 4BR afterwards. "Not everything came off and a couple of choices were perhaps a little ambitious, but each of the bands brought something out of the scores." You couldn't disagree.
The winners also impressed him. "They sounded a really tight and controlled band, " he added. "You've got to hand it to the MD – he certainly knew what he was doing. The ensemble playing was controlled, the soloists secure and all the basics were in place."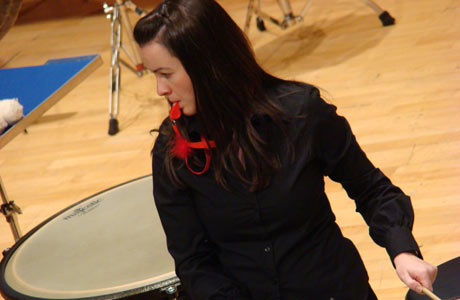 All Belle and whistle for Coalburn's perc player

Vibrant account

Coalburn brought the contest to a close with a colourfully vibrant account of Goff Richard's, 'Hollywood' – or 'Hollyrood', if we had been any closer to Edinburgh.
The all bells and whistles first movement was very well handled (and featured an outstanding xylophone player), and by the time they had overcome the potential pitfalls in the following sections there was little doubt that it was well on the way to take the ornate Challenge Cup and the £300 first prize.
Gareth Bowman's compact direction never wasted a beat, and with sensible tempi and a tight lid on the dynamics, the warm ensemble sound was backed by confident lead solo lines.
After posting Scotland's highest finish at either Harrogate or London, Coalburn are a band to watch out for over the coming year, and to add to their delight, they were also crowned Scottish Band of the Year in the Third Section too. Roll on 2010.
Neat and compact

The band that eventually pushed Coalburn the closest, were the opening band of the day – and the one that had to face an audience fewer in number than were actually sat on stage.
St David's Brass were not unduly put off by that lack of bodies though as they delivered a neat and compact 'St Austell Suite' under the direction of John Dickson, that featured some excellent solo cornet work throughout.
Just a few little moments of unease just robbed the overall picture at times, but that breezy 'World of Sport' theme tune was played with real brio and it came as no surprise that it was only Coalburn's classy account that beat them. They sounded a band moving in the right direction under an astute MD.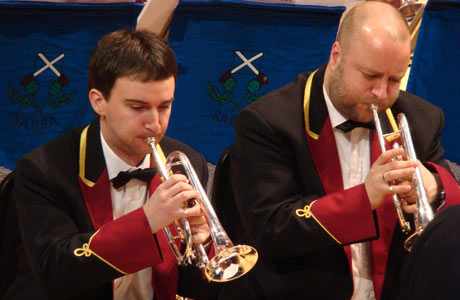 St David's duo: St David's take second place

Balancing act

With six different works chosen for the adjudicators to ponder, it was always going to be a tricky balancing act for the competing bands and their MDs to ensure that they picked pieces that highlighted strengths rather than weaknesses.
The more obvious overall qualities of the top two bands shone through, but David Hutcheson played a crafty old hand with his selection of Rieks Van der Velde's 'Crusade' for third placed Renfrew Burgh.
This is one of those colourfully meaningless 'Euro' pieces that have a catchy title, plenty of crash, bang, wallop and little else besides – but when played with confidence can sound very impressive.
It is doubtful whether Mr Van der Velde has any historical knowledge of the Crusades themselves, as you were left wondering if the Knight's Templar would have enjoyed going into battle with his piece pumping in their lugholes.
However, Renfrew certainly enjoyed it, and even though it got a little red raw in places (perhaps deliberately so given the inspiration), the MDs insistence on keeping flow to the music and with solid contributions from all players (especially a cracking horn section and some neat euph and cornet lines) it just about worked – even if the audience was left in silent contemplation of the possibility of more to come at its rather obscure ending.
We still think bands should steer clear if the composer comes up with his version of the Battle of Culloden though.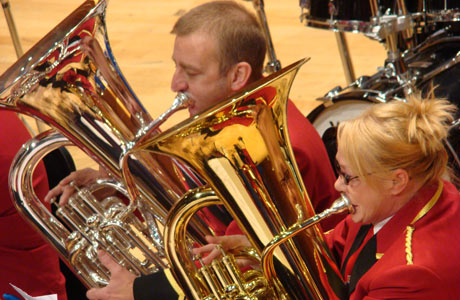 Red and gold: Renfrew take third place

Busy

How Gareth Bowman has time to lead a normal life away from brass bands we may never find out, as the busy young man also led Brass Sounds Inverclyde.
Their performance of Peter Graham's 'Dimensions' was nearly as bright as the players cerise waistcoats, but although there were some problems with ensemble balance and tuning, and a little bit of scrappiness as they came into the final quarter of the piece, the tell tale signs of an MD starting to mould a solid band were clear to the ear.
David Neil and Dunfermline can be very encouraged by their performance of 'Purcell Variants', which although getting a little one dimensional in volume and timbre as they tired, was solidly played and featured some neat solo lines.
The MD never allowed the ensemble sound to become harsh, and was rewarded with a performance of encouraging merit.
Common sense

That left the youngsters of Bon Accord B, directed with real enthusiasm and a great deal of common sense by Richard Kidd.
Although Paul Lovatt-Cooper's 'Dream Catchers' is perhaps more suited to larger youth ensembles (it was written as a showpiece for the National Children's Band of Great Britain) it still just about works in 'mini-me' format, although the endless choreographed standing and sitting becomes rather meaningless after a while.
Still, each of the soloists delivered their little themes with real confidence and although overall it was a little too inconsistent in delivery there was plenty of evidence that the band has a very bright future ahead of itself.
For the winners though, that future is here and now. We could be hearing a great deal more of Coalburn in 2010.
Iwan Fox