2009 Scottish Open Youth Championships - Premier Section retrospective
2-Dec-2009
There was a change at the top of Scottish Youth banding - but what a battle it was to achieve it.
---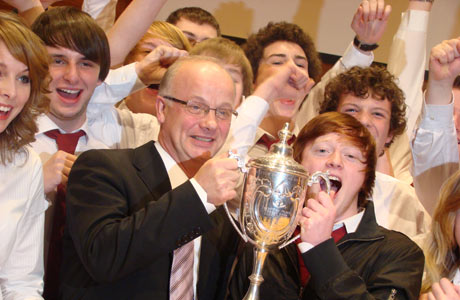 We are the champions: Carnoustie celebrate

Although they may not think it just yet, but losing their long and proud unbeaten record at the Scottish Youth Championships may well be the best thing that could have happened to West Lothian Schools Band – not that some pretty disappointed young performers would have said so on Sunday evening.
Remarkable

The new Premier Champions are Carnoustie & District Youth – and worthy champions they are too; they are a quite remarkable young band.
The battle between these two ensembles over the next couple of years will be one to savour, especially if they are able to pit their skills at the National Youth Championships or Action Research. With Youth Brass 2000, it is hard to think of a trio of better youth ensembles in the banding world.
There is a keen, but friendly domestic rivalry between the two (many play together in the National Youth Brass Band of Scotland), whilst a host of Scottish bands from Fourth to Championship Section benefit from having their talent in their ranks too. Quite a few players performed with up to four bands on the weekend.
As an advert for what is good about Scottish Youth banding, it is hard to beat.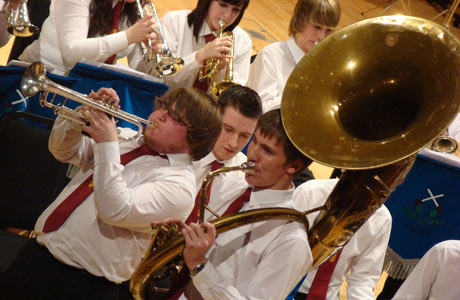 Pointing in the right direction: Carnoustie bare all

Music making

The two adjudicators, Frank Renton and Lynda Nicholson were generous in their assessments on all three bands (Dalmellington Juniors also produced a fine account of themselves), although Frank was careful to make the point that the contest had to remain clear about its primary purpose – rewarding music making, not entertainment programming.
After West Lothian had played, he sought clarification of this from the organisers, after both they and Carnoustie had produced 20-minute programmes that had substantial entertainment elements contained in them.
Frank's query should ensure that in future it's musical excellence that remains pre-eminent, as it would be a pity if all we got here was a tame rehash of the Action Research competition.
Showcase talents

Carnoustie's victory was based on a well balanced set, directed with authority by Michael Robertson, which cleverly allowed just enough leeway for his young players to showcase their talents without losing discipline through misplaced enthusiasm.
That was the crucial difference between themselves and West Lothian, who just let the adrenaline rush get the better of them as they progressed through their programme.
The trump card for the winners was the inclusion of Paul Lovatt-Cooper's 'Skylines', a colourful piece that was first performed at the National Youth Championships earlier this year.
Full of Manchester memories of the mad years of the Gallagher brothers and the explosion of Britpop, Carnoustie revelled in the funky rhythms and high tempo melodies.
That was followed by a lovely contrast in 'A Clare Benediction', played with tasteful restraint, before the fun and games of tuba player Ross Knight and 'Bare Necessities' – complete with Scottish chimps, washboard player and some breathtaking individual riffs from around the band.
To round off a polished set, 'Shine as the Light', played with vibrant control. It was high class playing that fully deserved to take the David Hughes Memorial Trophy.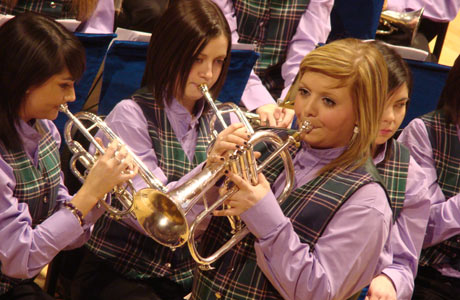 Lead voice: Hayley Edmond heads for Africa

Very nearly

West Lothian knew that they would have to be on top form if they were to hold on to their title, and even though they very nearly did, it wasn't enough to stop Carnoustie from finally ending their domestic hegemony.
They gave it their best shot though (and would have had bleeding feet in the process given the amount of choreography they employed).
They started with a lively 'Amazonia', before Suzannah Downs delivered a composed 'Carrickfergus' cornet solo that was backed by a young bloke sitting on what looked suspiciously like a 1970's Ferguson hi-fi amplifier filled with dried peas. It was top notch playing of a very clever arrangement.
With things going so well, the red mist rather descended thereafter, and an exciting Duke Ellington, 'Caravan', rather veered out of control like a Sudanese gypsy camp on a Saturday night – and left your ears ringing.
Nigel Boddice immediately ensured that calm was restored with Peter Meechan's elegiac 'Hymn for Africa', which was beautifully played – especially by the lead flugel voice of Hayley Edmond.
It just left the finale – and a thumping (and we do mean thumping) rendition of 'Loch Lomond', which probably could have been heard in Loch Lomond itself. The adrenaline though was now coursing through the young veins, so a problem with the microphone for the young singer meant that the reflective opening was lost.
By its close, the mix of Queen's 'Radio Gaga' clapping, winsome Andy and Sandy MacKay from the White Heather Club, a highland drummer, bagpiper and a wannabe Deep Purple rock drummer (who gave the traditional rock star's 'bulls horn' salute when he gave his bow – the lad will be the next Bono we are sure) rather blew away the senses, and their chances of retaining their title.
Highly encouraging

With the two heavyweights a class apart, there was the opportunity to hear a highly encouraging performance from Ian Taylor and Dalmellington Junior Band.
Although not as accomplished as their rivals just yet, there was plenty of evidence that if progress is maintained in the next year or so, the Premier Section will be a very competitive three-way battle.

Pipes and all: Dalmellington head off to Loch Lomond

A bold 'Fanfare & Soliloquy' opened their programme, before a confident David McClaine delivered a thoughtful rendition of 'Lark in the Clear Air', which perhaps would have just benefited more if played closer to the front of the band rather right in its middle.
The up tempo 'Valero' was well handled, before a real highlight, and a tremendous 'Lill' Darling', played just on the button with the lazy tempo and controlled dynamic and style. Then came another visit to 'Loch Lomond' and a chance to hear the bagpipes and clap away to your hearts content with a large helping of tartan haggis and Edinburgh Castle shortbread inspired Scotsmania.
This was very well played too – and closed a performance directed with real enthusiasm by the animated Ian Taylor. Watch out for Dalmellington next year.
Squeals of delight

The results brought the usual mix of squeals of delight and genuine non alcoholic celebration (although given the age limit is under 21 for the contest we think a few little sherbets may have been shifted by older members of the bands).
Dalmellington's Silver Award was well deserved, as were the two Golds for the top two bands. The bonus though came with Carnoustie being declared champions – and there isn't enough gold in the banding world to match that feeling.
Iwan Fox