2009 Scottish Open Youth Championships - Senior Section retrospective
2-Dec-2009
A varied quartet in the Senior Section but everyone deserved a mdeal - even a platinum one...
---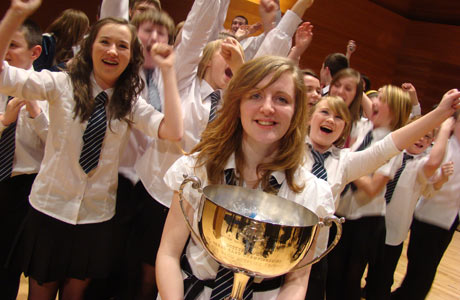 Champion smiles for Cumnock

As a warm up to the Premier Section, there was plenty to enjoy in the Senior Section competition.
Develop

Although the standard between the four competitors varied greatly (a result of the prescribed age limit of the section) at least three of the bands could well develop into 'Premier' outfits over the next couple of years.
The winners, Cumnock Academy will surely be able to make the step up in class without too much difficulty, after they took the Band Supplies Trophy for a highly polished 15 minute set under the direction of Craig Anderson that was full of balanced ensemble sounds and quality individual contributions from every corner of the band.
Right from the start of 'Let Me Entertain You' they sparkled - and that was certainly the case with Aimee Leitch, who swapped her cornet for flugel horn to deliver a confident rendition of the old Crystal Gale classic, 'Don't it Make Your Brown Eyes Blue'.
By the time they came to the end of a controlled 'Zurich March' all that was left was a run through 'Loch Lomond' (the first of many on the day) played with a neat sense of balance that allowed the young piper, April Kilday, to be heard without her being swamped by the combined forces of rousing brass and percussion.
Clear winners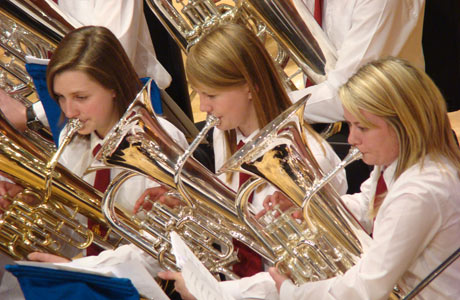 Girl power:

Cumnock were clear winners, and fully deserved the Gold Award that went with the big old ostrich sized egg cup filled with individual medals for each member of the band. No wonder they all looked so delighted after the announcement of the results.
Busy man

Alan Fernie had been a busy man all day on Sunday (taking no less than 3 other bands), but he had just enough energy left to direct a cracking performance from Scottish Borders Youth to claim a Silver Award and second place overall.
A bold 'Fanfare for a New Age' was followed by a confident soprano solo 'On With the Motley', a classic bit of Eric Ball in 'Petite Suite de Ballet' and a rousing old finish with the theme tune to 'Spiderman' (although the mental image of Homer Simpson and Spiderpig is never far from you thoughts when you hear this).
The complete programme was balanced and controlled, and whilst there were little errors and clips, the young performers did the MD proud.
English help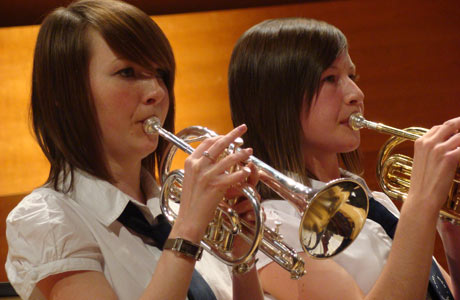 Fife wonders: Fife do thier bit for Bousie

Meanwhile, Fife Youth: Next Generation had brought in a bit of English help for their challenge, with Foden's euphonium player Mark Bousie making the trip north to enjoy himself.
He must have been delighted with his young players too, after a performance that showed just how rich the seam of raw talent is in the Kingdom of Fife.
The band took a little while to heat up in 'Caribbean Holiday' (it was freezing outside), but once they got into their stride a well picked set saw a fine euphonium solo from Katrina Mitchell on 'One Voice' followed by a yellow edged march, 'Kenilworth', played with a touch of Scottish swagger.
The 'Curtain Call' finale saw principal cornet Andrew Samson shine and brought to a close a highly encouraging performance that gained a Bronze Award. Silver wasn't too far away.
Platinum medals

That just left East Lothian Schools under Charlie Farren – and a fantastic effort from a group of teenage players (the age limit for the section is 18 and under) who had only one rehearsal together since Charlie managed to encourage them to start playing in the last couple of months in the schools he visits in the area.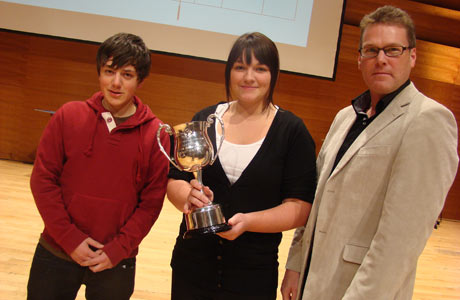 Runners up: Scottish Borders Youth

The playing was more suited to the Novice Section of course, but so what? Getting teenagers of this age to start playing brass instruments is a miracle, and should be wholeheartedly supported in any way possible by SBBA.
This was raw talent giving it their best shot and having the pride to see the job through – so if any medals should have been awarded it should have been platinum ones for each of the players. Charlie should be given the Freedom of East Lothian.
They knew just how hard it had been, but the approach and the determination was worth its weight in anyone's gold. Now SBBA must look to see how it can continue to encourage these groups of players – perhaps giving dispensation to play in the Novice Section.
Iwan Fox