2009 Scottish Open Youth Championships - Development Section retrospective
2-Dec-2009
Things are developing nicely with Perthshire Youth as they won the 16 and under section with some fine playing.
---

Happy smiles: Perthshire Youth's girls give us a smile

With the Novice Section ending bang on time, expectations were high that the excellent standard of playing would be maintained in the Development Section that followed.
The audience, and adjudicators, Ian Porthouse and Andy Duncan were not to be disappointed as seven bands produced will thought out 15 minute programmes that feature sensible repertoire choices and good quality ensemble and solo playing.
Gold standard

In the end it was Perthshire Youth conducted by George Annan that set the Gold standard that couldn't be matched, although Arbroath Instrumental came close under the baton of Ann Ness.
From the opening notes of their first piece 'Raiders March' from the film, Indiana Jones we knew we were in for a real treat, with solid ensemble that featured a great deal of safe playing from all sections.
That was followed by a lovely mix of melodies in 'Albion Treasures', which included tunes 'Highland Cathedral', 'Amazing Grace', and 'Danny Boy', before ending with 'Dear Lord & Father of Mankind'.
'All that Jazz' which featured tap dancing girls from the horn and percussion section in the front of stage which was very entertaining and brought an enthusiastic audience response, whilst they ended their programme with a belter of an old Tom Jones number, 'It's not Unusual' where the band excelled, especially the percussion section.
Smart

Buckhaven Brass Beginnings directed by Gordon Evans followed on stage, dressed in smart with red & black uniforms.
They may have been a little short in numbers, but more than made up for it with a measured programme that included the opening 'Trumpet Tune' followed by 'The Merry Peasant' – a very descriptive piece of bucolic English country life.
Another descriptive piece 'Rothsay Castle' followed before a neat piece of playing on 'Loch Doon', which was as carefully put together as the story of the castle which moved stone by stone to the loch bank side.

To finish their programme the popular 'Rock Around The Clock' played with real brio which gave them an encouraging Bronze Award.
Popular

Perth & Kinross Senior Band conducted by R. McDonald picked up a Silver Award for a programme that saw their large group of players open with the old Rimmer march 'Punchinello'.
The ever popular melody 'Shenandoah' followed in contrasting style, before a neat take on 'See you later Alligator' and the cracking arrangement of 'Back to the Future'.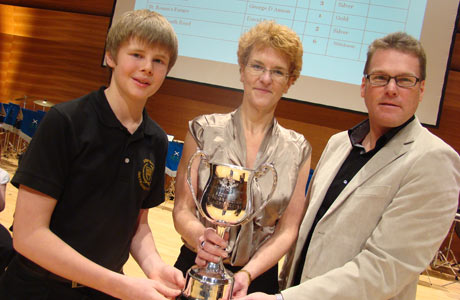 Perthshire Youth take second place

Excellent

Arbroath Instrumental Youth and conductor Ann Ness produced an excellent programme to claim the only other Gold Award on the day and claim the runner up spot in the contest.
With a fine sense of precise deportment, Ann Ness and her troops delivered a cracking march, 'Trailblaze' followed by a lovely bit of horn playing in 'Over The Rainbow' played by Joanna Fryer.
Music from the film 'Mission Impossible' was a neat change of style, and featured an excellent bit of bass trombone playing, whilst their final item, 'Lord of the Dance' provided a vibrant close to a well balanced set of items.
Fully deserved

St Ronans Future Band and conductor David Robb, fully deserved their Silver Award.
Although only a band of 22 players they punched above their collective weight with the popular 'Gonna Fly Now' from the film 'Rocky', before following it up with music from the circus and 'Under the Big Top' and music to the 'Ghostbusters' film.
Just a slightly tired 'Tocatta in D Minor' may have robbed them of a Gold Award..
Inventive

Inverclyde Schools Brass Band under the direction of conductor Andrew Digger also picked up a Silver Award, with a highly inventive programme that fully utilised their eclectic mix of instrumentation – including French horns.
That 'Gonna Fly Now' made another vibrant before a clever arrangement of the Queen classic 'Bohemian Rhapsody' saw them enjoy themselves to the full.
A well played French horn solo called 'A Fond Kiss' was neatly portrayed before the appropriate 'Time To Say Goodbye' closed an interesting 15 minutes of music making.
Finally, Loanhead Brass Roots conducted by Alan Fernie, who fully deserved their Silver Award with a programme that started with an arrangement of Brahms 'Hungarian Dance No 5' before changing styles for a touch of up tempo ABBA and a real old clapfest finisher in Offenbach's 'Can Can', which was played with real French passion.

Paul Boast