2009 Scottish Open Youth Championships - Novice Section retrospective
2-Dec-2009
What a great start to the Sunday after 12 brilliant little (and not so little) bands played their hearts out in the Novice Section.
---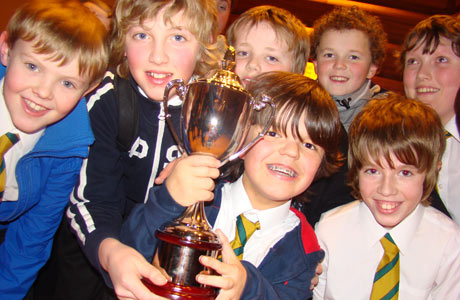 Champion smiles: Hawick Youth celebrate!

As always the Novice Section at the Scottish Youth Championships was a delight.
Taking shape

No less than 12 different ensembles – all under the age of 14, but with anything between 10 to 72 players in the ranks, took to the stage on Sunday morning and showed just how SBBA's long term development plans are starting to take shape.
The approach is admirable, the delivery, brilliant. The kids are inspired by a host of enthusiastic tutors and teachers and the parents must be proud as punch.
If any brass band association is wondering how it can safeguard its future then they need to get up here as soon as possible and start copying what is going on – the absence of any representation from the BFBB just going to show that the age of brass band enlightenment is still an age away south of the border.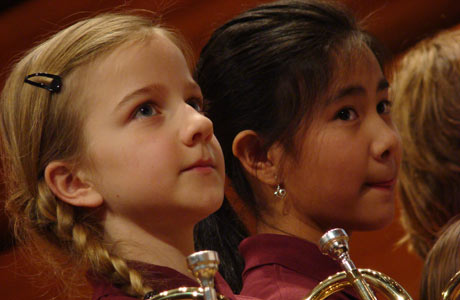 Enjoyment and concentration

Enjoyment

This was all about enjoyment – and by heck did every single young performer enjoy themselves too.
With lots of well chosen repertoire – from Deep Purple's 'Smoke on the Water' to 'Jingle Bells', Dave Brubeck's 'Take 5' to 'Cheesy Feet Rock!", 'La Donna Mobile' to Brahms' 'Hungarian Dance', you couldn't have asked for more, especially as there were bags of great, witty arrangements of well known television theme tunes, football chants and even a bit of Elvis Presley to enjoy.
The conductors all did a great job; encouraging and singing along, giving advice and praise and soothing nerves. The players responded with playing that showed guts and determination and huge dollops of emerging talent. Not every young performer will go onto enjoy the delights of brass band playing as they grow older, but you can bet they will remember the fun they had when they did play here.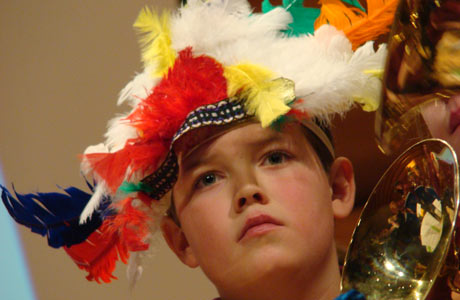 Head star for Kirky...
Part in full

Each of the 12 bands played their part to the full; starting with Anne Crookston's cracking little team from Kingdom Brass who showcased everything from ABBA to 'Amazing Grace' in their Silver Award winning programme.
Danny Harrison and Dunfermline Youth opted for a trio that included 'The Muppet Show', Elvis and 'Hava Nagila' for their Bronze Award, whilst Newtongrange had everything from Rocky Balboa, the Stereophonics and even the 'Floral Dance' in gaining a Silver Award.
Winners

The eventual winners, Hawick Saxhorn under Rob Hume, really did play very well in claiming the Gold Award and the Novice Section Challenge Cup. Any band who can play as diverse a 10 minute programme featuring 'Billie Jean' by Michael Jackson, Dave Brubeck's 'Take 5', and still close with 'William Tell' deserves all the plaudits it can get. It was great stuff.

Runner up: Loanhead Rootlets

Dundee Schools Junior under Gordon Evans claimed a Bronze Award by featuring a trio of items that included a cracking whip through 'Jingle Bells' to close, whilst Loanhead Brass Rootlets and Alan Fernie really went to town to claim their Gold Award with a five item set that had everything from Deep Purple, Elvis, Postman Pat, the Beatles and even a few football chants from the terraces of the local Perth based St Johnstone FC.
Vibrant

Alan stayed on to direct Peebles Burgh Juniors to a Silver Award with a programme that featured a vibrant trio of items as diverse as ABBA, Robbie Burns and Jacques Offenbach, whilst Fife Youth Next Generation and Charlie Farren picked up a Silver Award that featured a lovely little cornet solo from Abbey Young on 'Amazing Grace' as well as that all time classic 'Cheesy Feet Rock!"
The massed ranks of Kirkintilloch Youth (can there be any kids left in that part of Scotland who don't now play a brass instrument!) enjoyed themselves under Lynda Nicholson's direction to claim a Silver Award with the help of a great bit of 'Wild West' magic, complete with guns and pow-wow Indian calls.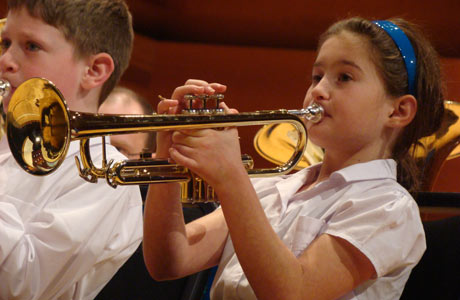 Perfect embouchure

Greater ranks
Meanwhile, the even greater ranks of Perth & Kinross picked up a Gold Award with a super set that included a bit of 'Rocky', Neil Diamond, James Bond and ABBA, whilst Coalburn Silver enjoyed themselves in claiming a Bronze Award for a neat trio that included a robust 'Liturgical Fanfare' to close.
That just left St David's Budding Brass to round things off with a quartet of Bronze Award items that had a European feel from Schubert to Brahms and even a touch of Portsmouth hornpipe too.
No wonder adjudicators Peter Roberts and Stan Lippeatt enjoyed themselves on the day – it would have been impossible not to.
Iwan Fox