2009 Scottish Open Challenge Shield - Introduction and Prediction
25-Nov-2009
Lots to enjoy, even if the selection process to get to compete here is a little bit on the odd side to say the least...
---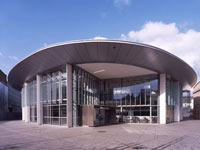 The Scottish Challenge Shield once again provides a tasty domestic battle between First and Second Section graded bands.
Odd

The rules have been tweaked a little this year so we have one band that competed in the Championship Section in March in Dundee, but have been subsequently relegated (the new Scottish season starts in November each year) up against four that competed in the First Section and three that took part in the Second Section – either automatically invited by ballot.
Sounds a bit odd that doesn't it?
Grand battle

Still it should make for a grand old battle of the clans with plenty of well chosen own choice selections for adjudicators Stan Lippeatt and Peter Roberts to enjoy.
Just three bands return from last year: Runners up, Bathgate; 5th placed Campbeltwon and 6th place Lochgelly, with Annan Town who came 6th in the lower section Challenge Cup.
Odder still?
As for form?
Form book

Well this takes some working out too. So here we go - alphabetically.
Annan came 6th here last year in the Challenge Cup Section. They then started 2009 by coming runner up in the Second Section at the Scottish Championships and went on to come 11th at Harrogate.
Meanwhile, Arbroath, who didn' compete here last year, won the Scottish Championships in the Second Section and come to the contest after winning at Fife, posting 4th at the Northern Counties and 10th at Harrogate.
Bathgate came runner up here last year and came 8th in the First Section at the Scottish in Dundee. Campbeltown on the other hand, came 5th here last year and 4th in the First Section in Dundee.
Now then - Dunaskin Doon didn't compete here last year but came 9th in the Championship Section at Dundee. Granite City were also absent from Perth but came 4th in the Second Section at Dundee and 6th at the Northern Counties contest.
Lochgelly came 6th here last year and then 5th in the First Section at Dundee, 6th at the Fife Charities and runner up at Fife. Newmilns meanwhile, didn't compete here either last year but came 3rd in the First Section at the Regionals.
Finally, Shotts St Patrick's who didn't make an apperance here last year, but came 6th in the Seocnd Section at the Regional, runner up at the Borders Contest, 15th at Fife Charities and 4th in the Second Section at Fife.
Confused?
It's a bit of a mixed bag of bands to say the least but somehow it will all work itself out with a good bit of honest Scottish common sense.
With a fine list of test pices, the music should sort the bands out too – we hope.
As for a winner?
Hard one to call, but we opt for Dunaskin Doon followed by Campbeltown and Lochgelly as a top three. After that it's anyone's guess, but we will put our necks on the line with Newmilns, Arbroath and Bathgate. Our dark horse is Shotts.
Prediction:
1. Dunaskin Doon
2. Campbeltown
3. Lochgelly
4. Newmilns
5. Arbroath
6. Bathgate
Dark Horse: Shotts St Patricks
Own choice test piece selections:
Corpus Christi (Robert Redhead)
Diversions on a Bass Theme (George Lloyd)
Festival Music (Eric Ball)
Land of the Long White Cloud (Philip Sparke)
London Overture (Philip Sparke)
The Plantagenets (Edward Gregson)
Royal Parks (George Lloyd)
Tallis Variations (Philip Sparke)
Triumphant Rhapsody (Gilbert Vinter)