2009 Scottish Open Challenge Cup - Introduction and Prediction
25-Nov-2009
Lots of great music and some well matched bands battle it out for the chance to take home the Scottish Challenge Cup.
---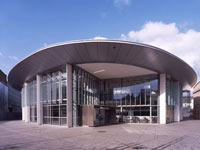 There seems to be the same format applied to the Scottish Challenge Cup as for the Challenge Shield – a mix of automatic invite and ballot, which makes for an eclectic mix and match approach that should provide interesting entertainment, if nothing else, for adjudicator's Andy Duncan and Ian Porthouse.
Interesting facts and figures

In alphabetical order the form book peels open to reveal some interesting facts and figures.
Bon Accord B came 8th last year and followed that up in 2009 with another 8th place at the Regionals in the Third Section and 10th place at the Fife Contest.
Brass Sounds Inverclyde meanwhile were 4th last year and followed that up with a runner up spot at the Regionals in Dundee and a trip to Harrogate where they came 14th. The band also posted an 11th place finish at the Fife Charities contest and won the Fife Contest.
Band to beat?

Coalburn could well be the band to beat after a year in which they won the Regional Third Section title and followed that up with another 3rd place at the Borders Contest, won at Fife and came 5th (the best finish by a Scottish band at the Nationals in any section in 2009) at Harrogate.
Dunfermline has had a busy year too after coming 5th last year. They came runner up at Dundee to Coalburn and posted a 13th place finish at Harrogate to go with another 13th place at Fife Charities, 8th at the Northern Counties and 2nd at the Fife Contest.
Peebles are working hard too and after winning theFourth Section Regional title came joint 9th at the Borders Contest and ended up 18th at Harrogate.
Renfrew too has built on their second place finish here last year, coming 3rd at the Regionals in the Third Section and 10th at the Northern Counties Contest.
Finally, St David's Brass who came 3rd last year and followed that up with 4th place in the Third Section at Dundee and came 5th at the Fife Charities Contest and 3rd in the Third Section at Fife.
As for a winner?
Coalburn seem to be the stand out band in terms of form, with Renfrew and Dunfermline close behind. It could well be a close run thing for the minor placings, but we opt for Bon Accord B, St David's, Brass Sounds Inverclyde and Peebles in that order.
Prediction:
1. Coalburn
2. Renfrew Burgh
3. Dunfermline
4. Bon Accord B
5. St David's
6. Brass Sounds Inverclyde
Dark Horse: Peebles
Own choice test piece selections:
Crusade (Rieks Van der Velde)
Dimensions (Peter Graham)
Dream Catchers (Paul Lovatt-Cooper)
Hollywood (Goff Richards)
Promenade Overture (Frank Bryce)
Purcell Variations (Kenneth Downie)
St. Austell Suite (Kenneth Downie)