2009 Scottish Open & Youth Championships - The Adjudicators
25-Nov-2009
These are the men making the decisions this weekend.
---
Scottish Open: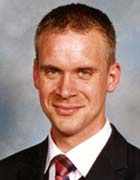 Philip Harper
Philip Harper graduated from the University of Bristol in 1994 before going on to take a Masters Degree in Composition and a Post-Graduate Certificate in Education.

He had a successful performing career and was the principal tenor horn of the National Youth Brass Band of Great Britain and the Sun Life Band in Bristol, as well as winning through to the Brass Final of the BBC Young Musician of the Year in 1991.

Between 1996 and 1998 he lived in Japan and was a guest soloist with most of the 'British-style' brass bands during this time.
Philip began his conducting career in 1998 and by 2001 had become the Musical Director of the Flowers Band in Gloucester, a position he held for nearly eight years. During this time Philip guided the band to wins at the West of England Area, the Grand Shield, Butlins National Championships and four times at the Yeovil Entertainment Contest.

Moreover, with his many new compositions and arrangements he brought a refreshing, innovative approach to concert presentations which led brass band website 4barsrest.com to comment: "Ever since Philip Harper took over the helm 'Flowers' has become one of the most entertaining bands around."
Philip is now in demand as a guest conductor and works with bands of all abilities, from non-contesting bands to the Grimethorpe Colliery Band. He is particularly popular as a Youth Band conductor and has had many repeat bookings with both the Gwent Youth Band and the Cornwall Youth Band.
Philip is a prolific composer, having won the Huntley Cup for Composition and the Prize for 'Best New Composition' at Brass in Concert twice, his music is now played all over the world. He has been commissioned by many bands, including the Black Dyke Band and the National Youth Brass Band of Great Britain. His website gives more detail and a chance to listen to excerpts.
Philip also works as an adjudicator, he is a member of the Association of Brass Band Adjudicators, and he is the Music Editor of the famous 'Wright and Round' publishing company.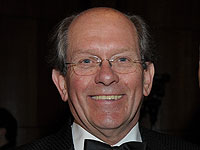 Frank Renton

Born in 1939, Frank was brought up in Yorkshire. He began to study the piano at age seven, and had his first trumpet lesson on his tenth birthday.

Frank first earned a living as a professional trumpet-player, gaining conducting experience where possible. In 1967 he won a Competition for Young Conductors at the Edinburgh Festival. Appointments followed in Germany and in Singapore, where he conducted the first performances of the country's fledgling symphony orchestra. He also worked throughout the Far East.
After his return to England in the mid-70s, Frank variously ran a music school in York, played with Versatile Brass, and eventually began working with the BBC Concert and Radio Orchestras. He also worked with the famed Grimethorpe Colliery Band.
In 1985 Frank returned to London to become Principal Conductor of the Royal Artillery Orchestra, London's oldest professional orchestra. For three years Frank and the Orchestra toured the country giving concerts in venues large and small, and to all kinds of audiences.
In 1988 he was appointed Principal Conductor of the British Concert Orchestra after critically acclaimed recordings with the American soprano Carol Vaness. He also began to broadcast regularly on BBC Radio, writing and presenting his own musical programmes. In 1992 he made the decision to concentrate entirely on conducting and broadcasting.

He is a member of the Worshipful Company of Musicians, and in 1989 became a Freeman of the City of London.

He remains one of the leading freelance Musical Directors in the UK, working with many of the very best brass bands in the country, whilst his high profile presentation of BBC Radion 2 Listen to the Band has given the programme new life and vitality.
---
Scottish Challenge Shield: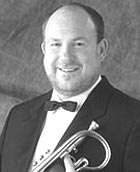 Peter Roberts

Peter Roberts needs no introduction to brass band audiences all over the World. He has long been regarded as the finest exponent of the soprano cornet in the history of the brass band movement and his talents have seen him perform on all the major contesting and concert stages in the UK, Europe and abroad.

He was born in Grimethorpe in 1950 and his early musical career was linked that famous band, where he played soprano cornet for many years. A miner by trade, he lost his job following the end of the pit closures, but immediately retrained himself in music to gain professional qualifications and an honours degree from Barnsley College under Major Peter Parkes.

His roll of honour of contesting wins reads like no other – 7 British Open victories, 1 National Championship, 7 European titles, 2 All England Masters titles, 2 British Open Solo Championships, 6 Granada Band of the Year titles, 4 British Open Eb/Bb solo titles, 1 Granada Band of the Year Soloist Award, 1 Swiss Open Soloist award, 2 Brass in Concert Soloist awards, 3 Mineworkers Senior Solo Champion titles and 1 New Zealand Champion of Champion s title.

Recently he released his eagerly awaited solo CD, entitled appropriately "Legend" which has become a phenomenal best seller by brass band standards. The book of the same name has also been bought by his legion of many fans.

Since 1997 he has been part of the amazingly successful Yorkshire Building Society Band and was a member of the famous Virtuosi Brass Band of Great Britain and the Kings of Brass, whilst in the USA he has been a member of the famous Brass Band of Battle Creek. In 2005 he joined the Black Dyke Band, retiring from playing at the end of 2007.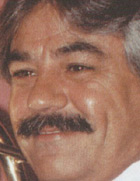 Stan Lippeatt

Born in Hemsworth, South Yorkshire, Stan was for many years the popular and virtuoso flugel soloist with the Grimethorpe Colliery Band – a band he joined as a youngster in the early 1960's.

Stan became one of the most popular players and soloists, featured in many of the famous comic routines of the band at events such as Granada Band of the Year, although he had already built himself an enviable reputation as both a serious ensemble performer and soloist.

His playing career brought many successes as well as a great number of specially commissioned works – one such being the John Golland Flugel Horn Concerto which Stan gave the world premiere of in front of the composer himself.

His wealth of experience has seen him conduct numerous top section bands throughout the country, including a long association with the Thoresby Colliery Band, and he has adjudicated at Pontins, Regional and innumerable brass band contests. Over the last few years he has been an active member of the Association of Brass Band Adjudicators.

His love for the movement was shown in 2003 when he was asked by the Butlins Organisation to help revive the Mineworkers Brass Band Championships, and such has been his involvement that the famous CISWO Mineworkers Contest has become a huge brass band festival held in Skegness and featuring the largest single cash prize to the winners in the history of the banding movement.

He remains one of the most popular brass band personalities in the movement and brings a wealth of experience to his task as an adjudicator today.
---
Scottish Challenge Cup: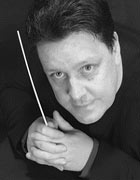 Andrew Duncan

Andrew Duncan was born in Glasgow, Scotland in 1962. After learning to play the Trombone at Primary school he joined local brass bands and studied Tuba at Napier University, Edinburgh and at the Guildhall School of Music and Drama in London.
In 1984 he became the Principal Tuba with the Hallé Orchestra in Manchester, a post he held for 16 years. During this time he travelled worldwide and in 1998 gave the World Premiere of John Golland's Tuba Concerto. As well as playing with most of the major British Orchestras and with London Brass, Andrew was for a member of Hallé Brass.

More recently Andrew has been freelancing with the professional orchestras in Scotland and has played with the Brass Band of Battle Creek in the USA.
Andrew is greatly in demand as a conductor and as well as freelancing with many different bands he has been the Musical Director of the Hepworth Band (2000 - 01) the Whitburn Band (2003 - 06) and since 2007 has been the MD with the Mount Charles Band in Cornwall. In addition, he has recently worked with Grimethorpe Colliery Band, Wingates Band, Scottish Co-op Band, Kinneil Band, Thorsby Colliery Band, Silkeborg Brass (Denmark) and Korpervik Musik Korps (Norway).

Amongst his successes have been winning the Scottish Open (2006 & 07) Winning the Land o' Burns five times consecutively (2004, 05, 06, 07 & 08). Winning the West Lothian Challenge (2003 & 04) Winning the West of England Area (2008) Runner up at the British Open (2003) & 6th at the British Open (2007), 3rd place at Brass in Concert (2005) 4th place at the English Nationals (2008).
Andrew has also been the guest conductor with the National Youth Band of Scotland and has worked with the Midlothian Schools Brass Band.
Andrew left the Halle in 2000 to concentrate on writing and conducting. For a time he lived in Stornoway in the Outer Hebrides but now lives in Linlithgow, near Edinburgh, in Scotland.
He has written and arranged a large number of pieces for brass and wind band which are regularly played all over the world and has won the prize for the 'Best New Arrangement or Composition at the Spennymore Brass in Concert Contest six times since 1996.
Andrew has written specially commissioned works for many bands including - Grimethorpe Colliery, Fodens Band, Leyland Band, Brass Band of Battle Creek, Whitburn Band, Bo-ness and Carriden Band, Ipswich and Norwich Co-op Band, West Lothian Schools Band, Tewkesbury Town Band and the Camberley Church Band.He has also written and arranged pieces for many notable soloists including – Maurice Murphy (A Superhero Suite) Katrina Marzella (Concerto for Baritone) Andrew Berryman (Concerto for Trombone) Philip McCann (Eriskay Love Lilt) Micheal Dodds (Carmen Caprice) and Brett Baker (Rathamatazz!)
Andrew wrote the book 'Scoring and Arranging for Brass Band' in 2005. As well as being a brass band best seller the book is now widely used in university music departments as a reference book. Andrew is currently a lecturer in arranging at the Royal Scottish Academy of Music in Glasgow.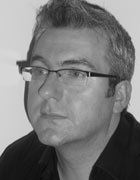 Ian Porthouse

Ian Porthouse was born in Cumbria in 1967 into a family of musicians. His father, a cornettist and mother a pianist/singer. At the age of 5 he began to take an interest in his dads trumpet, before being banned from playing for a short while for losing his fathers best mouthpiece whilst playing outdoors!
Ian joined the Flimby Saxhorn Silver Band on 3rd cornet where his father was principal cornet, within 5 years he would take over on the end himself.
Also around this time Ian became a founder member of the Cumbria Youth Brass Band under Richard Evans, who was to have a big impact on his musical career.
At the age of 16, Ian became the leader of the National Youth Brass Band of Great Britain and led the band for 3 years in total.
Richard Evans invited Ian to join the Leyland Vehicles Band in 1984 and within 6 months he was the new principal cornet at the age of 17.
He went on to play with the Desford Colliery Band under James Watson, becoming National Champions 3 years in succession.
Ian has appeared as guest soloist with the Royal Liverpool Philharmonic Orchestra on a TV soundtrack- Yorkshire Glory, conducted by Vernon Handley.
After living in New Zealand for a year and winning the national title with the St Kilda Band, Ian returned to the UK and became principal cornet with the Black Dyke Mills Band, winning another National title in 1993 and appearing as a soloist with them in the world famous Carnegie Hall- New York.
Ian has been principal cornet with the Yorkshire Building Society Band, winning 3 European Championships and the British Open in 1997, at this contest Ian was awarded the prize as most outstanding soloist.
In 1998 Ian became musical director of the newly formed Pennine Brass, taking them from the 2nd section to the championship in 2 years.
Ian gained another 2 National Championship wins with the Williams Fairey Band in 2002 and 2003 under Alan Withington.

As well as working for Rochdale Music Service, Ian is Director of Brass Band Studies at Birmingham Conservatoire, tutor to the National Youth Brass Band and for the Band Studies Course at Accrington and Rossendale College, again working with Richard Evans.
Last year Ian formed his own 12 piece brass ensemble, IPBrass, who have performed at many prestigious venues in their short existence culminating in the gala concert at the 2006 National Brass Band Championships held in the Royal Albert Hall and broadcast on BBC radio.
Recent conducting projects include several concerts with Grimethorpe Colliery Band and M.D. of this years European Youth Brass Band as part of the European Championships held in Birmingham.
Ian has recently taken up the position of musical director with Tredegar Town Band and is looking forward to a long and successful relationship with this famous band.
In June this year Ian recorded a selection of solos along with Nick Hudson and Steve Sykes accompanied by Pennine Brass for Brass Band Aid, of which Ian is a trustee.
Ian is married to Leanne, a fine cornettist herself and primary school teacher, and they have a son who goes by the name of Harry James Porthouse!