2009 Brass in Concert Championship - Postcard from Gateshead
19-Nov-2009
It's all about having a good time in Newcastle's Bigg Market as well as The Sage at Gateshead's. And girls with little covering and Tricky Dicky are still the star attractions.
---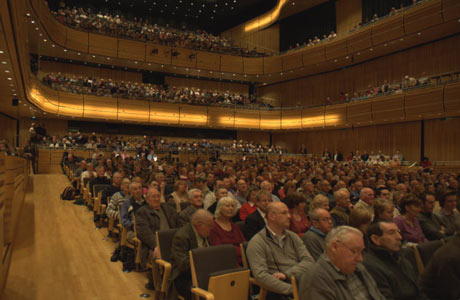 Packing them in: Just the odd seat left at The Sage this year
Picture: Ian Clowes
Further pictures at:
http://www.pbase.com/troonly/2009_brassinconcert
The good folk of the North East certainly know who to have a good time – whatever their age.
DNA

Although it's unlikely that not too many who made the trip to pack out The Sage in Gateshead on the weekend would have been the same people who shoehorn into Newcastle city centre on a Saturday night, the indigenous appetite for entertainment seems to be the same. It's in their DNA.
However, the trip back to the hotel after Saturday's evening Gala Concert was something you wouldn't forget in a hurry.
Hieronymus Bosch

Newcastle's nightlife is like a Hieronymus Bosch painting come to life.
Here the inverse rule of thumb appears to be the colder the weather the less clothing you wear – especially if you are, shall we say, ladies of the more Ruebensian figure.
The flotsam and jetsam of celebratory Stag and Hen night's wobbled bleary-eyed onto the dark streets; hair-gell and cheap perfume, knock off designer shirts and skirts the size of an anorexics belt.
Fun and games, beer and kebabs and thumping music to destroy your remaining brain cells. The yellow jacketed police look tired and fed up, the taxi drivers weary and frightened, the revellers looked as if they could have partied all night.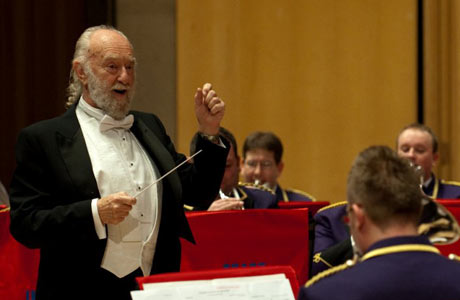 Gateshead pin up boy: This year Dicky will be wearing...
Picture: Ian Clowes

Newcastle Brown Ale

Up the road, the warm, friendly atmosphere created by the middle aged brass band lovers at of The Sage may have been a world apart from the alcopop fuelled excitement and ear piercing music of the Bigg Market, but you suspect that quite a few years back many of those now enjoying Black Dyke on top form where once swilling a few too many pints of Newcastle Brown Ale and enjoying the delights of Noddy Holder and Slade in their pomp.
They've just grown a bit older and a little less mobile. The only small belts you got to see at The Sage were the elasticised ones holding up sensible beige Marks & Sparks trousers on men of a certain age.
Despite that, the audience at Brass in Concert, just like that in the Bigg Market, still knows what it likes – and that invariably features the pin up boy of banding entertainment – Richard Evans.
Brucie

He is, as Frank Renton so neatly revealed, the brass band version of Bruce Forsyth – especially as this year he took to the stage in white bow tie and black tails – like a bearded Fred Astaire.
The man can do no wrong here and the unsuppressed groan of disappointment that met the announcement of Brighouse in fourth place said a great deal in so many senses. Some of Dicky's musical jokes are now almost as old as Brucie's one-liners, but for this audience he is still the 'Entertainment King'.
With Frank Renton he knows just how the DNA of the Brass in Concert audience is constructed – and the pair together work like Professors Crick and Watson in bringing it to life.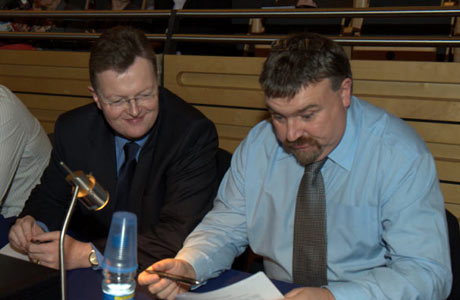 Crick & Watson? No - Wormald and Fernie look at the contest DNA
Picture: Ian Clowes
Tried and tested

The mix of Latin big number, lachrymose solo, swagger march, slapstick comedy and big thumping finisher are the building blokes on which he works his magic (helped by bouncing off Franks clever interjections, which makes for a bit of a double act no other MD can hope to match).
It's tried and tested, and it works a treat.
Blank expressions

If and when Tricky Dicky decides to hang up his boots (and with his energy levels it seems he can party for longer than most down in the Bigg Market) the question will be, who will be able to take his place in the audience's affections?
Looking at the blank expressions on the faces when something a little too new and innovative is tried (the blankness on countenances after Rothwell's Torstein Aagard-Nielsen piece was rather like those found on the faces of Newcastle United fans when they were told about Mike Ashley's idea to rename St James Park), it won't be one of the conductors on show on Sunday.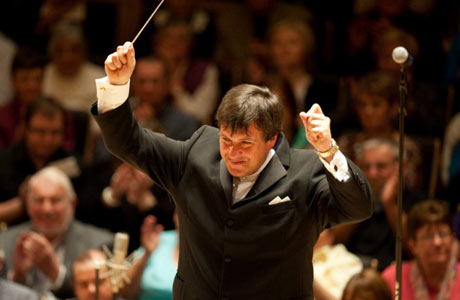 Next man in line? Dr Childs could take over Dicky's mantle
Picture: Ian Clowes

The man most likely

No. The man most likely to take over the mantle was the man who was not in competition at all – Dr Nicholas Childs.
It is unlikely that he will do so with his own band under his wing, but the way in which he gave the audience just what they wanted on Saturday night with a Black Dyke programme that pushed just the right buttons, was a masterclass in prescriptive music making Dicky couldn't have bettered in his prime.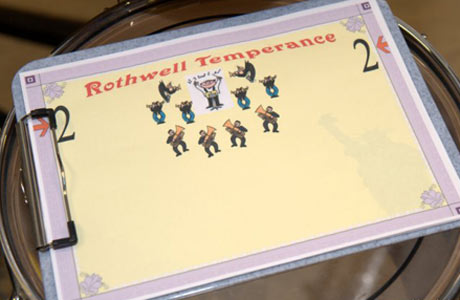 Gateshead map: Rothwell's master plan for an entertaining night out?
Picture: Ian Clowes

Sensible shoes

He has won the contest before of course (twice in fact) and as much as the organisers would love to get Dyke to compete, you sense that the thought of them putting their concert reputation on the line is as likely as batch of hen night party girls wearing sensible shoes and a cardigan for a night on the Newcastle town.
It would appear that the good folk of the region might just have to go without that particular bit of goodtime entertainment for some time yet.
Iwan Fox