2009 Brass in Concert Championship - Retrospective
19-Nov-2009
A year ending in an apogee of delight as Foden's get spaced out to take Brass in Concert title.
---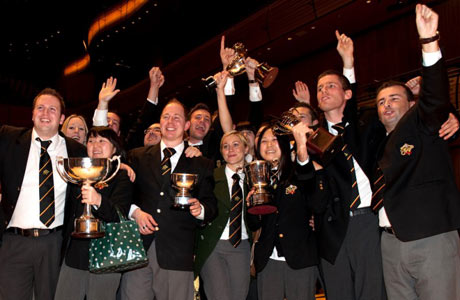 Smiles all round: Fodens celebrate their victory at The Sage
Picture: Ian Clowes
More pictures at:
http://www.pbase.com/troonly/2009_brassinconcert
From the depths of despair in London to the apogee of delight at Gateshead.
Foden's contesting year of near misses and cruel luck ended at The Sage in a close run win thanks to a touch of contesting serendipity on Sunday.
Antiquated

That their eventual victory came courtesy of a single point margin was more to do with an antiquated marking system rather than an inspired effort of runners up Grimethorpe, but the band from Sandbach still acknowledged that a little bit of luck had played a small part in bringing them their sixth Brass in Concert success and £4,600 in prize money.
Last year their somewhat Luddite approach to new technology cost them dear after their misunderstanding of the volume control on the PA system brought claims for industrial deafness from those in the first 10 rows of the hall.
Wobble

This year they mastered the intricacies of the over head projector almost to perfection, with only a momentary technical wobble or two as their standing quartet of players led by Glyn Williams went all 'mutt & jeff' as Bram Tovey was filmed reciting Lemn Sissay's poem, 'My Mountain Top' to the rest of the hall, but not, apparently to them.
Thankfully (and that was the touch of luck given last year's near disaster) the noticeable discomfort passed quickly by, and so by the time they delivered the final massive chords to 'Music of the Spheres' there was no way they were going to let the title slip from their grasp once more.
Worthy

It was a worthy victory (at what turned out to be a rather unmemorable contest), for an intelligently themed programme, tautly conducted by Garry Cutt who kept the band's musical responses right at the tip of his baton. It combined top class musicality with stunning technical flourishes and a neat sense of dry presentational wit.
The standard of their playing fully deserved the three point margin it gained over Grimethorpe in second place from music adjudicators Derek Broadbent and Nigel Boddice, but the Heath Robinson system allowed the Barnsley lads to close the gap to a single digit, and saw both Cory and Brighouse create the illusion of being within touching distance of the top prize too. It was more than that.
No fault

No fault lay with Alan Fernie and Chris Wormald, who gave the marks for entertainment as they saw fit, but it showed how close the contest remains to self induced numerical implosion.
The bands know the score only too well now too – so for the vast majority of a very long day we got the usual prescriptive entertainment programmes born out of fear. Nobody now wants to lose too much ground for attempting something truly innovative.
This safety first approach is giving the contest an increasingly dull musical edge – only Leyland really opted for an inventive musical approach – the rest (including the winners) stayed very much within the borders of the safe middle ground.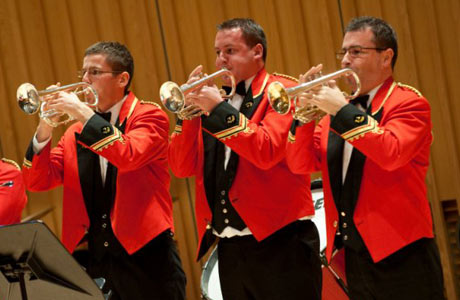 3-2-1: Fodens cornets countdown to blast off...
Picture: Ian Clowes

Spaced out

For Foden's the innovation in their sci-fi space themed programme came with the use of those projected images (including two introductions by Patrick Moore and some witty Star Trek characterisation) as the music they played, and played very well, was pretty mainstream stuff.
The 2001 'Zarathustra' opening gave way to a witty 'Star Trek' theme and the clever mix and match of Andy Scott's punchy music and screen images of an original 1978 Tomohiro Nishikado 'Space Invaders' game.
The wobbly moment of 'My Mountain Top' was overcome, before a relaxed rendition of Stevie Wonder's 'Saturn' and that final wizz through 'Spheres' brought a well-constructed programme to a rousing close.
Despite the science fiction theme, the musical content wasn't that out of this world in purely innovative terms, but the majority of the playing certainly inhabited the highest levels of excellence, and it delivered a victory that was fully justified.
Foden's left The Sage delighted (and with prizes for 'Best Basses', 'Best Percussion', 'Quality of Performance', 'Winning Conductor' – Garry Cutt's seventh victory - and 'Winning Band Secretary') and it was hard not to smile along with them too.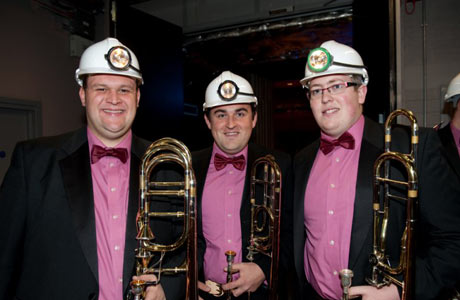 This season the Grimey lads will be wearing a fetching match of...
Picture: Ian Clowes

Colliers accoutrements

Grimethorpe meanwhile delivered something that approached what the vast majority of the audience would have believed was a stereotypical performance – right from the start of 'Londonderry Air' complete with collier's accoutrements and bucketfuls of 'Brassed Off' memories, to the finale from the Saint-Saens 'Organ Symphony'.
That it didn't quite end up in a bucket of cloying sentimentality was down to James Gourlay's bonkers bit of Karaoke singing on ABBA's 'Super Trouper' (complete with personalised lyrics) and the band's innate ability to remind you that despite the albatross of that film permanently hanging around their necks, they can still produce playing of the rarest brilliance.
That included Michael Dodd's flawless rendition of 'Bluebells of Scotland' to take the 'Best Soloist' Award, and Robert Westacott's 'Best Principal Cornet' prize – a well deserved acknowledgment that he has now made the seat very much his own.
Lack of swing

For Cory, an outstanding contesting season (and a wonderful career for principal cornet Ian Williams) ended in disappointment.
Their 'anniversary' themed programme was slick and polished all right – but perhaps a bit too precise and stilted when it came to their rather strange homage to the 'King of Swing' – Glen Miller according to the Welsh band – Benny Goodman according to just about everyone else with a smattering of swing band knowledge.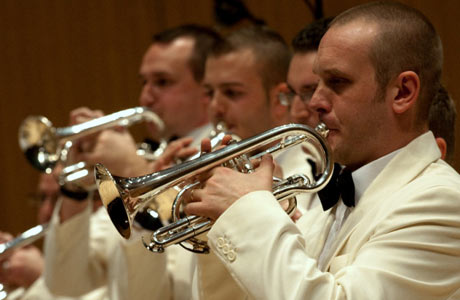 Not a single swinger: Cory's cornets in close up action
Picture: Ian Clowes

That aside, the actual lack of swing in the playing (which was so starkly shown in comparison with some authentic genre playing by Fountain City) was palpable.
The solo interjections too (although brilliantly played) were also way out of context. David Childs' amazing pyrotechnic display sounding as appropriate as Jimmy Hendricks popping up to add an electric guitar riff at the end of 'In the Mood'.
Given that they had sparkled with their Philip Wilby opener, had Owen Farr on quite stupendous solo form to add to a lyrical interlude from the pen of Gareth Wood and a stunning condensed finale from Peter Graham, the lack of any appreciable 'Swing', however so precisely played, was surely their undoing.
Audience vote

If there were to be an audience vote for the Brass in Concert title then Brighouse would have been a clear winner.
However, a prescriptive programme, however enjoyable (and which took the 'Entertainment Prize' as well as 'Best March'), was never quite played well enough to have secured Richard Evans and his band the title.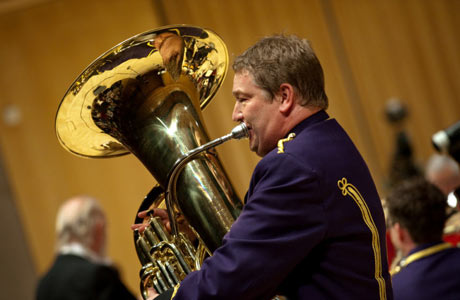 Dead pan genius: Shaun Crowther gets ready to let rip...
Picture: Ian Clowes

The usual ingredients were there for everyone to hear: the high tempo Latinesque opener, the lachrymose solo, swagger march (a slightly strange one this year with real Germanic undertones), slick slapstick comedy and flashy finisher – and despite some wonderful moments (Shaun Crowther and his deadpan comedy routine on 'Tiger Rag' the best bit of humour all day) there were too many rough edges in the execution for it to be a winner.
Good times back

For Reg Vardy, the good times are back – and well deserved they are too.
After their confidence boosting performance at London, they upped their game to another level with some high class playing mixed with inventive choreography.
Ray Farr brought a little of his own musical magic to the proceedings with a couple of quality arrangements, and whilst an eyebrow or two will be raised by Mark Nightingale's impressive contribution, there was more to their eventual fifth place finish than his wonderfully stylish trombone playing.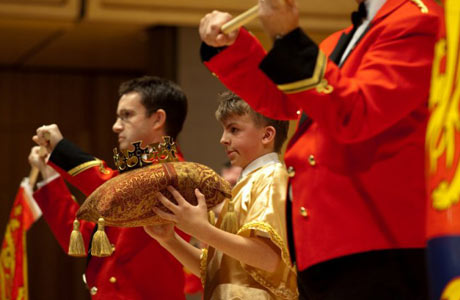 You are the one and only...Not quite a Reg Vardy coronation
Picture: Ian Clowes

Even as 12 year old Keiran Johnson (who picked up the 'Youngest Player Award') lifted a tin crown skywards on a cushion that looked as if it came from the soft furnishings department at IKEA at the conclusion of 'An Age of Kings', there was no doubt this was as good as most people had heard the band at this contest for a few years – and the result proved it too.
Invention

The final top six place was taken by Leyland – the one band that really produced a programme of musical invention on the day.
The highlight of a slightly unevenly played set was undoubtedly Simon Dobson's darkly hued march (so dark the parts and score were surely edged in black) called 'Lock Horns Rage On', which took its inspiration from his brother in law's Obsessive Compulsive Disorder.
Earlier we heard the classic march 'O.R.B.' – now we heard a one that could have been subtitled, 'O.C.D.': Now that is what innovation is all about – however dark the inspiration, especially is it was quite brilliantly constructed. It should have taken the 'Best New Composition Award', but instead it went to another of their inventive offerings, 'O Magnum Mysterium' arranged by Philip Littlemore.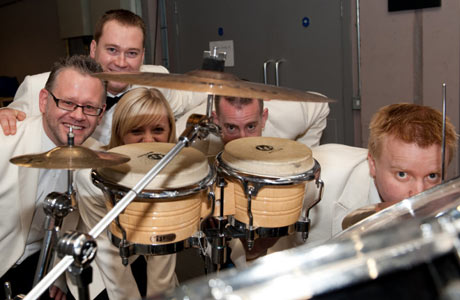 Lets try something a bit different eh? Leyland prepare for action...
Picture: Ian Clowes

Polished

The one band that could count itself unlucky not to just have crept into the prizes was Fountain City, who delivered a stirring programme highlighting their strengths and minimising their weaknesses.
This was polished playing of polished entertainment (especially their star flugel player Matt Vangjel who took the 'Best flugel' Award).
Right from the slick choreography of the Shostokovish inspired introduction through an authentic approach to that O.R.B. march, a bravura solo from assistant third cornet Raquel Rodriquez, a warmly textured 'Ave Maria', that great bit of swing on 'Foggy Day' and rounded off by a slightly tired finale from Bertand Moren's horrendously difficult 'Dreams' – polish, polish, polish.
That last item may just have cost them a chance for a top six finish, but it was nevertheless a fine performance, excellently led, from an impressive band.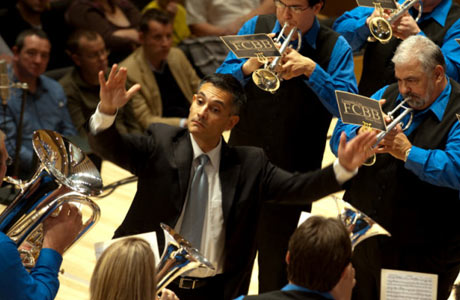 Stand and deliver: Joe Parisi leads Fountain City in the ORB march
Picture: Ian Clowes

Mediocre fare

After the top seven, it was a question of separating out some fairly mediocre entertainment packages – with playing that varied from the great to the sub standard and presentation that was at times almost inspired, at others, certainly lamentable.
For Fairey, eighth place was about par for the course after an uneven performance in terms of choice and execution.
When they fired on all cylinders it was decent stuff, but when they misfired it sounded all over the place. After last year's highly inventive approach this conservative programme was something of a disappointment from a band that has not been afraid to try something a little different.
Bread and butter

Much the same of Desford too – after their eclectic choice of genres and styles never really gelled coherently from first note to last to have made any more of an impression than it did come the results.
The odd gem (the Mozart 'Bread & Butter' feature was a reminder that a great deal of musical humour is just that – musical) was mixed with the odd off piece too (a Bill Haley swing item that was dreadful), so despite a bravura close they could have no complaints to have ended up where they did come the results.
Puzzled

For Rothwell, a rather chastening debut at Brass in Concert – right from the moment when the idea to open with synthesizer backing to a strange arrangement of 'Something's Coming' left nothing but puzzled faces looking back at them from the audience.
Some brave choices of repertoire were to be applauded but this was an off colour Rothwell (many of the players were recovering from a nasty bout of flu we were later told) and it showed.
With the organisers under pressure to try and bring in new faces to the contest, both Flowers and Carlton Main will know that perhaps this will have been their last appearance at The Sage for some time to come.
No defence

In Flowers defence they did enter the contest as a late substitute for Norwegian SIDDIS Champion, Manger – but there was no defence for the way in which their programme disintegrated into a horrible mess after such a promising start.
A great flugel solo was followed by a lamentable piece of humour and by increasingly harsh playing, before the coup de grace was applied by an almost catastrophic moment of unease in the final section of Philip Wilby's 'Peel Park'.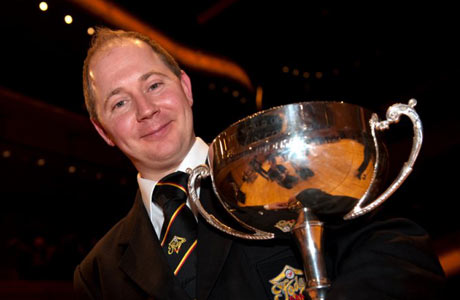 Secretary of a happy state: John Barber with the BiC Cup
Picture: Ian Clowes

Uncomfortable

For Carlton Main, an uncomfortable echo of an opener from 30 years ago set the tone for what followed – plenty of solid but uninspired playing under the direction of Russell Gray.
Usually the Scotsman can be a dead cert to bring something a little different to proceedings (the 'Pie in the Face Polka' was mercifully left alone however), but on this occasion nothing came the audiences way as the contest opened on a rather subdued note.
For the bands occupying 9th – 12th places, time to look at just what they wish to bring to a contest such as this. On this evidence it is certainly nowhere near good enough if the organisers wish to stay true to their desire to promote the contest as the self proclaimed 'World's Leading Entertainment Contest'.
Smiles

In the end though nothing could subdue the celebrations of Foden's players and supporters alike.
The last major championship title of the 2009 season had finally found its way back to the Sandbach bandroom for the first time since 2000 and with it so did the smiles on the player faces, which had been conspicuously missing after their last major appearance in London.
It was a great way to round off their year.
Iwan Fox